Sonny Sonerstein is an insult stand-up comic and ghost who appeared in the episode "Be My Ghost". He debuted his iconic rubber chicken act at a Ski Resort Hotel, and continued to regularly perform there as a ghost after it was bought out, though he left.
Relationships
Larry meets Sonny after falling down an elevator in the hotel, and thinks his jokes are hilarious even when at his own expense. He enjoys Sonny's old act, including the chicken jokes, and they become friendly. Larry even helps reunite Sonny with his favorite rubber chicken, which was kept behind glass, which ghosts could not pass through. Although Rippen and Larry are tasked to capture Sonny and send him to limbo to succeed their mission, Larry begins crying at the thought of hurting his new friend, opening limbo and leaving, and Rippen gives up. They remain friends afterwards.
Trivia
Sonny may be inspired by the Rat Pack, a supergroup often associated today with singer Frank Sinatra, who was close friends with insult comic Don Rickles.
v - e - d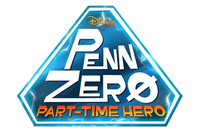 Locations
Middleburg • Middleburg Central High • The Odyssey • Fish Stick on a Stick • North Pole • Knight World • Superhero World • Arabian World • Plush Toy World • Clown World • Dinosaur Cowboy World • Cereal World • Old English World • Giant Monster World • Zombie World • Space World • Ocean World • Color World • Musical Fairy Tale World • Caveman Spy World • Future Barbarian World • Ultrahyperball World • Demon World • Alien World • Galaxy World • Temple World • Dragon World • Gothic Mystery World • Plant World • Animal Barbarian World • Toy World • Outer Space Court World • Robot World • Pirate World • Fairymania World • Steampunk World • Ball World • Ghost World • Rock, Paper, Scissor World • Beast World • Anime World • Sitcom World • Nothingness • Most Dangerous World Imaginable • Least Dangerous World Imaginable
Objects
Multi-Universe Hologram Uplink • Multi-Universe Transprojector • Pigoilet • The QPC Unit • Vortex Tops • Specs
Community content is available under
CC-BY-SA
unless otherwise noted.