Doctor Strange in The Multiverse o Madness - The Loop
Play Sound
This article is about the protagonist of Kingdom Hearts. For the Gargoyles character, see Sora (Gargoyles).
"I know the Keyblade didn't choose me, and I don't care. I'm proud to be a small part of something bigger - the people it did choose. My friends. They are my power!"
―Sora

Sora (ソラ) is the protagonist of the Kingdom Hearts video game series. He is a teenager who originates from the Destiny Islands but obtains the Keyblade, a weapon used to fight creatures known as the Heartless. In order to find their king Mickey Mouse, his allies Donald Duck and Goofy recruit him in their journey across various worlds to save them from darkness, as well as find Sora's friends. Throughout the games, Sora journeys throughout worlds, interacting with various Disney characters and gains experience with the Keyblade as well as his growth as its wielder.
Background
Development
Sora was designed by Tetsuya Nomura as the protagonist of Kingdom Hearts. However, he was not originally slated to be the protagonist, as Disney wanted Donald Duck to be the protagonist of the game, while Square wanted to have Mickey Mouse as the protagonist. Nomura wanted neither as the protagonist of the game, and went on to design his own protagonist with the concepts of the Disney characters in mind, which resulted in the creation of Sora. Sora originally wielded a weapon resembling a chainsaw; however, the weapon was not well received by Disney which led Nomura to redesign the weapon into a Keyblade. Sora's original outfit in Kingdom Hearts was also designed with Mickey Mouse in mind with Mickey Mouse's trademark white gloves, red shorts and giant yellow shoes due to Square's original preference to have Mickey as the main character of the game. The tail was removed because the staff found his design to be similar to the one of the Final Fantasy IX protagonist Zidane Tribal who also had a tail. After a talk with the Disney staff, the design was further reworked, and Nomura finished it after a night's worth of work.
One of the main concepts of Sora's character in the series is that, according to Nomura, he is a normal boy instead of a supernatural being even though he is deeply connected with other characters from the series. With Sora, Nomura wants to give players the message that even though they are not important people, they can have the opportunity to accomplish notable actions. This was emphasized in Birth by Sleep; Nomura thought that Ventus would actually be Sora before being reborn, but due to overseas opinions, such portrayal was discarded. Nomura has stated that Sora's name can be interpreted as "sky" as his name, means sky in Japanese and was also chosen by Nomura to symbolize his role as well as personality in the story.
Personality
Sora is a brave and heroic boy who is extremely loyal to his friends, valuing his friendship with them above all else. He is an optimist and has a strong sense of justice, enabling him to take charge of his group when no one else can. However, he is rather oblivious and quite childish at times, and is often quick to anger whenever he's confused. He is also quite impulsive, as he tends to jump into things without thinking them through beforehand.
In addition, a recurring trait Sora possesses is competitiveness, which has often pitted him against fights with those stronger than him, to the point he developed a level of arrogance witnessed in Dream Drop Distance when Sora claims that he is already unbeatable even after the threat of Xehanort has been explained to him. When Sora is captured and nearly converted into a pawn of Xehanort, Sora remembers his humility, learns of his limits and humbly accepts his failure of the exam.
Despite his flaws, Sora is dedicated and kind, making up for his weaknesses with his benevolent and endearing personality. As such, his ability to forgive is incredible along with his ability to connect to others and quickly befriend them. As the series progresses, Sora learns from his past mistakes and becomes less selfish over time as he learns how powerful the heart can be and fights with this in mind.
Physical appearance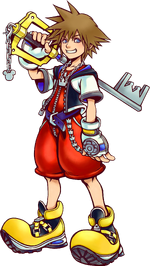 In most of his appearances, Sora is a slender teenager with spiky brown hair (later becoming a caramel color), peach skin, and blue eyes. When he was fourteen, Sora's attire was based around Mickey Mouse's: he had a red jumpsuit with puffy shorts with a long zipper, white gloves with blue, black and yellow straps, and large black-and-yellow shoes. In addition, he wore a black hoodie with white sleeves and a blue inside over his jumpsuit and a loose blue belt with a crown-chain hanging on the left side of his shorts. He wears the crown pendant around his neck.
At the age of fifteen in Kingdom Hearts II, Sora undergoes a growth spurt, but his appearance does not change that much other than having more matured looks. Sora wears a new outfit that is a black edition of his previous clothing, with the exception of the undershirt; the hoodie is completely black with white lining but has silver patches on his shoulder. His black pants have yellow straps across them along with a patch of navy blue and silver edges. His undershirt is navy blue with a red patch in the center with a black belt under it. Red pockets appear on the sides of the pants with a black cross over them. His gloves, now black, have a white inside with a yellow line running around them. His shoes remain with a similar color scheme to his previous outfit, but with a few modifications: the black-and-yellow pattern is reversed and now has a zipper running across the top with white edges along the rim.
In Kingdom Hearts III, Sora has a red-and-black outfit that appears sleeker than any of his previous ones, with the sneakers and pants appearing slimmer than before. Similar to his outfit in Kingdom Hearts 3D: Dream Drop Distance, he wears a black hoodie with gray pockets separated with white lining and a gray strip on each sleeve. The hood, sleeves, and jacket have a red lining, while the lapel has a black-and-red checkerboard pattern buttoned back by two of the six golden buttons on the front. Underneath, Sora wears a black tank top with a V-neck collar and white trimming. His gloves are replaced with elbow-length gray gauntlets with red-white lining and grey circles on the backs, with yellow buckled straps wrapped around Sora's wrists. Sora's shorts are dark gray, with several grey pockets forming a large strip on each side. A red band wraps around each leg. His shoes resemble those of his Kingdom Hearts II outfit, but with the blue straps and zipper removed in favor of black collars around the heel and a single black strap around the arch.
Sora's appearance can vary on the world he visits. He becomes a Merman when visiting Atlantica, a classic black and white anime character in Timeless River (where he also wore his KH1 outfit despite it being KH2), and more drastically, a brown-furred lion cub in the Pride Lands. He sometimes wears an appropriate outfit as well, such as a Data armor in Space Paranoids, and a Halloween and Christmas outfit in the Nightmare Before Christmas world.
Powers and abilities
Sora's primary strength lies in his ability to use the Keyblade, which not only allows him to vanquish the Heartless and other Darkness-based beings but also acts as his primary weapon against foes big and small. Unlike other Keyblade wielders, Sora did not inherit the ability to use the Keyblade from someone else. Instead, it chose him over Riku, its true owner, due to the darkness in Riku's heart when the two of them were being absorbed by the darkness engulfing Destiny Islands. Over the course of the series, Sora becomes a skilled fighter and has triumphed in various feats against the most dangerous of the game's enemies. He is extremely strong, as he can crush rocks and some extremely powerful Heartless with a strike of the Keyblade. (His strength affects the Keyblade's strength).
Sora is also knowledgeable with magic, which allows him to cast various spells to aid him or cause damage onto foes. He can also use spells to heal himself and his allies or revive them whenever they fall in battle. Applying magic with his fighting skill, Sora can access other magical abilities that affect his own physical prowess, such as Drive Forms. However, these abilities only last for short periods of time.
Sora is also able to fight in combined attacks with allies or other characters. With allies, Sora can perform special attacks known as Limits in combat. In cases when the character is not physically available, Sora has the ability to summon them via Summon Gem, card, or charm for a temporary time.
Appearances
In the Destiny Islands, Sora and his two friends, Riku and Kairi, begin work on a raft, hoping to leave the island and sail to new worlds. One day while exploring, Sora rediscovers the "Secret Place" he and Riku found when they were young. On the wall, he draws himself giving a paopu fruit to Kairi. Suddenly, an unknown figure in a brown hooded cloak warns Sora that the world will be consumed by darkness before vanishing when Sora looks away at the strange door in the rock wall at the back of the cave.
That night, when a great storm hits the island, Sora checks the raft, unaware that after he left his house to check on the raft, his mother called him down for dinner, but had no idea she would not see Sora again for some time. He sees a dark cloud in the sky and notices that the islands are being overrun with Heartless. As the island is being devoured by the darkness, Sora searches for his friends and finds Riku near the paopu tree. Although Sora wishes to get Riku to safety, Riku refuses and tells Sora that the door to other worlds has been opened and that he does not fear the darkness on the other side. As Sora reaches towards his friend, they both sink into the darkness. Before Sora is consumed, he receives the Keyblade, which chooses him as its wielder and frees him from the darkness. Using the Keyblade, Sora fights the Heartless and reaches the Secret Place, finding Kairi. Before he can help, the door he looked at earlier flies open. Kairi disappears and Sora is blown outside where he disappears into the darkness after defeating the large Pureblood Darkside Heartless he had last fought at the end of his Dive to the Heart while asleep.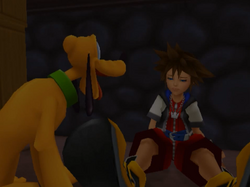 Thanks to Pluto licking his face, Sora comes to in Traverse Town. After Pluto runs off, Sora meets Leon and Yuffie. The two explain the Keyblade and the Heartless to him. Next, he meets Donald and Goofy. The three fight numerous surrounding Soldier Heartless alongside their leader, the Emblem Heartless Guard Armor. After they introduce themselves, Donald and Goofy invite Sora to travel to other worlds with them, because of King Mickey's request. Hoping to find his friends, Sora agrees to accompany them.
Sora begins traveling through many worlds, becoming good friends with Donald and Goofy and making other friends also. Sora encounters Riku, who is being manipulated by Maleficent, numerous times and each time he sees Riku, his old friend becomes increasingly more aggressive and hostile. Riku eventually turns against Sora, leaves him alone to fight off Heartless, and takes Kairi with him.
Fighting courageously, Sora goes on to Hollow Bastion, where Maleficent set up her headquarters. Again, he encounters Riku, who has just defeated the Beast, who had come to rescue Belle out of sheer willpower. Defending the Beast, Sora stands against Riku. However, Riku takes control of Sora's Keyblade, claiming that he is the true master of the Keyblade. Reluctantly, Donald and Goofy go with Riku, because of the King's instructions to stay with the Keyblade. Sora is left alone with the Beast, but the two join forces and go into the castle. When they are separated by Beast falling for a trick regarding Belle becoming a Shadow Heartless, Riku, along with Donald and Goofy, confronts Sora again, but Sora will not give in to Riku. Donald and Goofy choose to abandon Riku and go with Sora because of their friendship with him. Because he has his friends, his heart finds new strength, allowing Sora to take the Keyblade back, to Riku's disbelief and shock that the Keyblade abandoned him so shortly after claiming it, and brings down Riku, who retreats in disgrace and shame.
When the group finds a comatose Kairi with the rest of the princesses in the Great Hall, Sora rushes to her to wake her up. Riku (now possessed by Ansem) appears and reveals that Kairi is asleep because her heart was within Sora the whole time, and proceeds to extract it from Sora, but Sora refuses to let Ansem take it so easily and faces him in combat. After defeating Ansem, Sora stabs himself with Ansem's Keyblade in order to release Kairi and the rest of the princesses' hearts, causing Sora to fade away and turn into a Shadow Heartless. Although confused in his new form, Sora follows Donald, Goofy, and Kairi back to the Entrance Hall, where Kairi is able to recognize him and manages to turn Sora back to normal just as they are pounced on by Shadows. However, the group is forced to flee as Heartless begin to flood Hollow Bastion from the unsealed Keyhole, placing Kairi in the safety of Traverse Town while the trio returns to close the final Keyhole, being aided by the awoken Princesses with holding back the darkness coming from the Keyhole, and the Beast, who refused to leave Hollow Bastion so long as he was reunited with Belle and could protect her from the Heartless.
Although successful, they discover that Ansem has departed to open Kingdom Hearts itself. Sora and company proceed to track Ansem down to the Door to Darkness in the End of the World and defeat him after he transforms himself and his Guardian into the World of Chaos in a final attempt to defeat them and claim victory. Ansem, severely weakened and in desperation, tries to open the door, but Sora states that behind the door is light, which vaporizes Ansem.
Unfortunately, with the door opened, Heartless begin appearing. Sora, Donald, and Goofy attempt to close the door before the Heartless can come through, and receive help from the other side by Riku and King Mickey, where Sora and Mickey use their Keyblades to seal the Door to Darkness, leaving Riku and Mickey on the other side.
As the End of the World breaks apart, Sora finds Kairi and promises to return to her before they are separated, with Kairi returning to Destiny Islands. The game concludes with Sora, Donald and Goofy ending up in a grassy field when Pluto appears with a letter from Mickey, causing the trio to chase after the dog, believing he will lead them to King Mickey and Riku.
Continuing from Kingdom Hearts, Sora appears alongside Donald and Goofy chasing after Pluto. After losing the dog, the group stumbles upon the mysterious Castle Oblivion. After entering it, the trio finds themselves trapped in it and have forgotten their abilities. In order to restore them, they will need to go through the castle and pass every floor. On each floor, figments of Sora's memories are used to create memory-based duplicates of worlds they have visited in the past, interacting with the facsimiles of all the characters they meet in the first game.
As they journey, Sora begins to "remember" a girl named Naminé and becomes obsessed with finding her. However, when he finally meets Naminé, Naminé tries to remind Sora of Kairi, but the Riku Replica interrupts. In order to stop him from fighting, Naminé breaks the memories in his heart. Larxene arrives and reveals that the Riku that Sora was fighting is actually a replica created by Vexen and that Naminé has been manipulating both his and Sora's memories as part of Marluxia's plot to take control of the Organization by controlling Sora.
After the defeat of Larxene, Naminé explains her wrongdoings to the group, but Sora forgives her.
On the thirteenth floor, the group comes to face Marluxia, so that Naminé can restore their memories. When the trio confronts Marluxia, they find aid from the Riku Replica, who protects Naminé from the final battle while Sora takes on Marluxia. Although Sora succeeds in destroying Marluxia's decoy and the real one, Naminé has Sora, Donald, and Goofy enter Memory Pods where they will sleep in order to restore their memories.
Although the process will cause them to forget Naminé, Sora promises that her memory will stay in his heart and he will find her again.
Sora awakens from his year-long slumber in the basement of the Old Mansion in Twilight Town following the merging of him and Roxas, his Nobody. After visiting Master Yen Sid (and a brief encounter with Mickey and Pete beforehand), Sora embarks on a new quest to defeat the Heartless remaining in the worlds and meet friends old and new. As the journey progresses, Sora vows to find both Kairi and Riku after learning that Kairi was spotted in Twilight Town with Hayner, Pence, and Olette, but was then kidnapped by Axel with her whereabouts after that unknown.
In Hollow Bastion, Sora, Donald, and Goofy reunite with Mickey, who reveals to them that the "Ansem" they defeated in End of the World was a Heartless who had been impersonating Ansem the Wise, and that his Nobody counterpart heads Organization XIII, whom they had fought members of back at Castle Oblivion. As the realization dawns upon the group, and Sora is initially angry at what Ansem, Seeker of Darkness, put him and his friends through, Organization XIII begins a massive invasion of Hollow Bastion at the same time as Maleficent and Pete, and the residents start taking on waves of Heartless and Nobodies. Sora, Donald, Goofy, and Mickey enter the battle until Sora confronts the Organization's leader, Xemnas, who Mickey realizes is the Nobody of Ansem's apprentice, Xehanort. Xemnas retreats, with Mickey following after him. Saïx informs Sora that he has custody of Kairi and that the goal of the Organization is the formation of Kingdom Hearts, which Sora is helping to complete by slaying so many Heartless. Sora is conflicted by this, but is able to escape the battle with unlikely help from Maleficent. Afterward, Sora becomes determined to find Riku and Kairi and stop the Organization, despite Sora's worries about using the Keyblade to fulfill exactly what Xemnas wants with adding more hearts to the Organization's Kingdom Hearts and allow them to realize their goal.
Eventually, the group encounters Axel in Twilight Town, who sacrifices himself to wipe out the Nobodies ambushing them. As he lays fading away, Axel apologizes for kidnapping Kairi and opens a portal to the Organization's world, The World That Never Was.
Once inside the Organization's castle, the group fights their way through the castle until Sora reunites with Kairi and Riku, the latter in the form of Xehanort's Heartless, on the castle's upper level. Together, the group continue onward and destroy the remaining Organization members, including Luxord and Saïx. When they reach Mickey and Ansem, Ansem tries to seal Kingdom Hearts by encoding it as data, only to be confronted by Xemnas, who taunts Ansem over his past mistakes. The encoder explodes, severely damaging Kingdom Hearts, which restores Riku to his true form, but causes Ansem to disappear. The damage causes Heartless to spawn, but Maleficent and Pete hold them off while everyone heads for Xemnas.
At the top of the castle, the group confronts Xemnas, who begins to fight Sora. After being defeated, Xemnas merges with the remains of Kingdom Hearts, forcing Sora and company to pursue him and manage to defeat him. After Xemnas' apparent death, Roxas and Naminé appear before Sora and Kairi before returning to them. While everyone begins evacuating from the world through Naminé's Corridor of Darkness, the portal suddenly closes on Sora and Riku before they can follow Kairi, and Xemnas reappears to them, forcing them into battling him. After many battles, the duo finally destroys him for good.
Trapped in the Realm of Darkness, Sora and Riku wander until they find a bottled letter from Kairi. Reading the letter, the Door to Light appears before them and sends them back to Destiny Islands, where they are reunited with Kairi, Donald, Goofy, and Mickey. Sora returns Kairi's Lucky Charm to her, happy to be back.
Sora himself does not appear in the game, but a data version of Sora created by Mickey is sent into Jiminy's Journal to discover the source of the mysterious message and rid the journal of countless bugs. Eventually, Data-Sora and Mickey find Data-Naminé, who reveals that she was responsible and the message is for the real Sora, who must venture out on another quest to save those connected to his heart, namely the real Naminé, Roxas, Xion, Axel, Terra, Aqua and Ventus. In the real world, Sora is seen receiving the bottled letter from Mickey that had appeared at the end of Kingdom Hearts II.
Set during the year after Kingdom Hearts, the game follows Sora's Nobody Roxas and his time in the Organization XIII; Sora himself remains in stasis. While sleeping, his Memory Pod is moved to Twilight Town's Old Mansion by Naminé and DiZ. When Xion, a replica of Roxas, absorbs Sora's memories through Roxas, she eventually takes on Sora's form until she is absorbed by Roxas. To complete Sora, DiZ sends Riku to capture Roxas with the intention of merging him with Sora, which begins the events of Kingdom Hearts II.
In the prequel set ten years before Kingdom Hearts, Sora appears as a 4-year-old found in the Destiny Islands along with a young Riku. During this time, he saw Terra and Aqua, two Keyblade wielders, though he does not communicate with Terra. When Aqua met Sora and Riku, she senses that their friendship parallels that of Ventus and Terra, and she tells Sora to protect Riku if he ever falls into darkness, to which Sora agrees to. It is later revealed that when Sora was born, his heart had joined with Ventus' when the Keyblade wielder was damaged by the creation of Vanitas, enabling Ventus to later contact the young Sora when his heart was lost after the destruction of Vanitas. Wanting to make Ven feel better, Sora accepted the heart and allowed it to merge with him.
Sora and Riku are first seen in the Destiny Islands in this game. They are attacked by Ursula but manage to defeat her in a quick battle. Then, in response to the imminent return of Xehanort, they are summoned to the Mysterious Tower in order to take the Mark of Mastery exam and become Keyblade Masters. Sora boasts that he can take down Xehanort without the need of a test, although he follows the task when Yen Sid presents their test to enter the Sleeping Worlds which were left submerged in sleep following Ansem's defeat and awaken them.
At the beginning of his journey, Sora is given new attire and abilities, including the ability to summon Dream Eaters. After meeting Neku Sakuraba in Traverse Town, Sora begins venturing across more sleeping worlds and sealing their keyholes.
After Sora seals all seven keyholes, he finds himself in The World That Never Was and is confronted by Xigbar, who explains that he and his companions had orchestrated Sora's journey. Eventually, Sora approaches both Xemnas and Xigbar, who explain that the true purpose of Organization XIII was to create thirteen vessels to harbor pieces of Master Xehanort's heart, with Sora being their intended thirteenth vessel. Sora refuses to give in and, motivated by those connected to him, he fights and defeats Xemnas. However, Sora's heart is badly weakened and he falls into a deep sleep and is taken to the Castle That Never Was.
Riku and Mickey locate Sora in the castle and save him with the help of Donald, Goofy, and Lea. However, Sora is still comatose when he is brought back to the Mysterious Tower, so Riku must dive into Sora's heart and battles Sora enveloped by Ventus's heart, which has been possessed by a Nightmare. Riku defeats the Nightmare, allowing Sora to wake up. Yen Sid concludes the exam with naming Riku as a Keyblade Master.
Despite failing, Sora congratulates Riku and decides to embark on a new journey, ending the game by traveling to the sleeping Traverse Town, where he is reunited with the Dream Eaters he had befriended.
Sora only makes a minor appearance in the game's ending where he returns to Mysterious Tower from his journey after Mickey, Riku, and Kairi had left. Sora is informed by Yen Sid that he lost most of his powers due to Xehanort's attempt to take control of his body and he needs the help of someone who lost their strength but later learned to regain it to help provide the necessary advice on where he might go to in order to get his powers back with Donald and Goofy accompanying him.
Despite some initial trouble in getting the Gummi Ship to work due to the closed lane, remembering Yen Sid's advice about "let your heart be your guiding key", Sora is able to open a pathway to his next destination with his Keyblade, Olympus Colosseum.
Sora returns to find the Guardians of Light and defeat Master Xehanort once and for all. Having lost most of his abilities following the events of Dream Drop Distance, Sora travels back to Mount Olympus to train with Hercules to regain them. Afterwards, he sets off with visiting new worlds and protecting them from the likes of Master Xehanort and his True Organization XIII, along with the Heartless, Nobodies, and Unversed, all while trying to reacquire the power of waking he had lost.
His adventures soon lead to him arriving back home on the Destiny Islands, where he comes across Master Eraqus' Keyblade, which allows him to enter the Dark Margin in the Realm of Darkness to rescue Aqua. Riku and King Mickey had previously traveled to the Realm of Darkness to save Aqua, but to no avail. As they finally find her corrupted by darkness from Ansem, Seeker of Darkness as Anti-Aqua and she attacks them in a vengeance-fueled fury, Sora arrives and purifies the darkness within her by defeating her in battle, forcing the darkness that corrupted her to be expunged, returning her to normal. After bringing her back to the Destiny Islands and reuniting her with Eraqus' Keyblade, Sora joins Aqua as they return to Castle Oblivion to restore it to the Land of Departure. Once there, they are confronted by Vanitas, who had arrived to try and stop them from reviving Ventus, instead wanting to rejoin with his sleeping "brother". Before Aqua is struck down by Vanitas, Sora's power of waking miraculously reawakens inside of him, restoring Ventus' sleeping heart to his body, allowing him to be revived at long last and save Aqua.
With Aqua and Ventus bringing their total Guardians of Light to seven alongside Kairi, Riku, King Mickey, and Lea, Sora heads for the Keyblade Graveyard to confront Master Xehanort. However, before it can happen, Terra-Xehanort and the Demon Tide manage to wipe out the entire team, sans Sora and Riku, leaving Sora devastated. Riku makes a heroic last stand against the Demon Tide before he is claimed by it, and the Demon Tide then goes after Sora. Sora soon finds himself in the Final World, where he discovers that his body and heart were not completely destroyed, having managed to hang on by a thread thanks to Kairi. He encounters Naminé, whom he promised to thank once he sees her again, and a nameless star who is waiting for her friend. After managing to recover his body, he sets about rescuing everyone else and reversing time to moments before the encounter with Terra-Xehanort. When Terra-Xehanort tries to repeat history, the Lingering Will appears to stop him, forcing him into retreat, and the support of the Keyblades of fallen Keyblade Warriors from around the Keyblade Graveyard allows Sora to destroy the Demon Tide once and for all. His attempt to win prematurely now lost, Master Xehanort creates a labyrinth for Sora and the others to face off with his thirteen darknesses.
During the battle against Terra-Xehanort and Vanitas, Sora aids Aqua and Ventus in defeating them, but Terra-Xehanort captures them in chains representing their bonds with Terra and prepares to kill Aqua and Ventus, only to be stopped by his own Heartless Guardian, who rescues Aqua and Ventus and frees Sora, before subduing Terra-Xehanort and ripping the straps over its mouth off, allowing it to speak and reveal itself to be Terra's Heartless, who is bent on regaining his body at long last, much to Terra-Xehanort's horror. Sora aids Terra with paralyzing Terra-Xehanort long enough for Terra to release his heart from the Guardian and have it go back to his body, purging it of Xehanort's influence for good. After Terra reunites with Ventus and Aqua, Sora leaves them to reunite as he then moves on to aid Kairi and Lea against Saix and the hooded member of Master Xehanort's group. When the figure hesitates to strike down Lea when given the chance, Sora steps in to talk her down, only for the figure to attack him until he says her name in Roxas' voice, revealing the hooded figure to be Xion in a new body from the Replica Program. Roxas soon arrives in person to save his best friends from Xemnas, but Xemnas manages to grab Kairi and escape, leaving Sora to have to face Saix with Roxas and Xion's support.
After that, Sora meets up with Riku and King Mickey to confront the last of Master Xehanort's pieces of darkness in Ansem, Seeker of Darkness, Young Xehanort, and Xemnas. After they are eliminated, Master Xehanort brings out an unconscious Kairi, stating that Sora needs motivation to attack him and re-forge the χ-blade, and strikes down Kairi in cold blood, infuriating Sora, Riku, and King Mickey, forcing them to attack him, thus allowing the χ-blade to be reforged. By the time Roxas and Ventus arrives with their friends, it is too late to stop Master Xehanort. However, deciding to use Master Xehanort's power over time against him, with support from his fellow Keyblade bearers, Sora, supported by Donald and Goofy, is able to drag Master Xehanort into Scala ad Caelum, his former home, for their final confrontation. After Master Xehanort is finally bested in combat, and the other Keyblade wielders arrive to join Sora, Eraqus' spirit appears to convince him to stand down and surrender peacefully. Accepting his actions were in error and he had strayed off his intended path, Master Xehanort accepts defeat, entrusts the χ-blade to Sora, and passes peacefully on to the afterlife with Eraqus. Supported by everyone else, Sora uses the χ-blade to close Kingdom Hearts for good before returning to the Keyblade Graveyard.
Afterwards, despite pleas by King Mickey with not going through with it, but encouraged by Riku and everyone else, Sora uses his power of waking one last time to find Kairi and bring her home. He returns to the Final World and explains to Chirithy that he wants to save Kairi. Though Chirithy warns him that abusing the power of waking will cause him to disappear from the world, never to return, Sora's determination causes Chirithy to relent and tell Sora to return to just before the clash between light and darkness in order to connect with the other guardians of light.
Sora relives the clashes, connecting with Ven, Aqua, Terra, Roxas, and himself. After reliving Kairi's death, Sora goes to Scala ad Caelum to retrieve the remnants of Kairi's heart. However, he is only able to retrieve five of them before Xehanort tells him that he is too late. As Xehanort unleashes the Replica Xehanorts to attack the guardians, Sora connects with Riku and Mickey, forming the final two connections before finally reviving Kairi. The replicas form into a copy of Xehanort and fight the two, but are vanquished.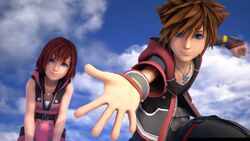 Sora returns to the Final World with Kairi and decides to take Chirithy to meet its friend. They watch the fireworks at Disney Castle, reunite Chirithy with Ventus at the Land of Departure, watch the sunset at Twilight Town, and help revive Naminé at Radiant Garden before returning to Destiny Islands. However, Sora is only able to spend one last moment with Kairi back on the Destiny Islands before vanishing as punishment for misusing the power of waking, just as Chirithy warned, and having violated the Master of Masters' prophecy written in the Book of Prophcies.
Later, Sora wakes up at a nighttime version of the Final World, where he meets Yozora, the protagonist of Verum Rex whom the Nameless Star had told him about earlier. Yozora cryptically explains that he was sent to "save Sora" before facing Sora in battle at the city of Quadratum. Sora manages to defeat Yozora, who disintegrates in light. However, if Yozora instead wins the fight, Sora instead crystallizes as Yozora vows to save him.
Kingdom Hearts Melody of Memory
A dream replica of Sora appears in Kingdom Hearts Melody of Memory, in which he is the leader of Team Classic songs and battles his way through Kairi's memories.
The real Sora does not appear until the very end, in which he takes control of Kairi's body while she is attacked by an illusion of Master Xehanort in the Final World. Though Xehanort is aware Sora's voice cannot be heard there, he ultimately fights Sora in a final battle. Sora manages to win and relinquishes the final fragment of Kairi's heart.
Back in the real world, the Fairy Godmother takes Riku and Kairi to the Final World to meet the Nameless Star, who reveals that Sora is trapped in the city of Quadratum. Riku chooses to go to Quadratum to save Sora, while Kairi stays behind to train to her friends' level.
Other appearances
Sora makes a cameo in The Proud Family: Louder and Prouder episode "Home School", where KG Loibowitz-Jenkins can be seen playing the original Kingdom Hearts game.
Appearances in other video games
Sora makes a guest appearance as a Free DLC Summon champion in the PlayStation 4 and PlayStation Vita game World of Final Fantasy.[1] This mark's Sora's first appearance in a mainstream Final Fantasy title. In this title he sports his outfit worn in Dream Drop Distance.
On October 5, 2021, Masahiro Sakurai, the director of the Super Smash Bros. series, announced that Sora would become the 12th and final DLC fighter in Super Smash Bros. Ultimate, which is included in Fighters Pass Vol. 2. He was released on October 18, 2021.
Before that, on a poll Nintendo held in 2015 allowing players to request characters for the previous Smash title, Super Smash Bros. for Nintendo 3DS / Wii U, Sora emerged as the overall winner (However, for Smash for 3DS and Wii U, Bayonetta was chosen due to Sora not being realizable and negotiable at that point) leading to discussions between Disney, Square Enix, and Nintendo that would culminate in Sora becoming the final DLC fighter in Ultimate.
According to Sakurai, Sora's costumes also based on his appearance in other Kingdom Hearts series. The first four costumes (marked as Player 1-4) are based on Sora's default costume from Kingdom Hearts, Kingdom Hearts II, Kingdom Hearts 3D: Dream Drop Distance and Kingdom Hearts III, and the last 4 costumes (marked as Player 5-8) are based on Sora's Timeless River design, Valor, and Wisdom Drive Forms from Kingdom Hearts II, as well as the Form change's Ultimate Form from Kingdom Hearts III.
Sora briefly appeared as a walk around character at Mickey's Not-So-Scary Halloween Party when Chain of Memories was first released at the Magic Kingdom. The costume was used for other promotional events for the series around that time in Japan.
A statue of Sora was viewable for a month to promote the release of Kingdom Hearts Re: Coded at Tokyo DisneySea.
Gallery
Trivia
Sora's name is Japanese for "sky" (空), as part of the name theme he shares with Riku and Kairi. Together, their names mean "Land, Sea, Sky".
It was initially believed that Sora was in the Tapper scene in the 2012 feature film Wreck-It Ralph, though it was later discovered to actually be a cowboy from Tapper. Had he appeared, Sora would've been the only Disney character originating from a Disney game to appear in the film, though a graffiti of his crown necklace appears in the portal to Hero's Duty.
Sora's necklace and cover art crown appeared in Star vs. the Forces of Evil episode, "St. Olga's Reform School for Wayward Princesses" where a rat princess has the crown, she is seen in other episodes with the same school for wayward princesses.
Although none of the parents of the characters on the Destiny Islands are shown on screen, Sora's mother can be heard calling him for dinner during the calamity in the original game. Also, in Kingdom Hearts: Chain of Memories, Sora mentions both his mother and father while reminiscing about Naminé, and Riku mentions Sora's father to Terra in Kingdom Hearts Birth by Sleep.
According to Santa Claus, when Sora was eight, he told everyone that he did not believe in Santa Claus. However, it was hinted that Riku told him not to.
Sora appeared in the 92nd episode of DEATH BATTLE! where he fought Pit from Kid Icarus and won.

Both characters would ultimately be featured in the same game when Sora was added to Super Smash Bros. Ultimate as a DLC fighter.

Sora holds the record for having the most hearts in a single body with a total of five: Ventus', Kairi's, Roxas', Xion's, and his own heart.
Unlike his friends Riku and Kairi, Sora was not bequeathed a Keyblade, which is normally required to be able to wield one. Riku was bequeathed when Terra performed the succession on him, and Kairi was accidentally bequeathed when she touched Aqua's Keyblade upon meeting her for the first time in Radiant Garden. This makes Sora the only character known so far to obtain a Keyblade in this manner.
Interestingly, in Melody of Memory, even though Xehanort claims Sora's voice cannot reach him or Kairi in the Final World, Sora still has a "voice" during the final battle, courtesy of reused voice clips from III.
Sora's inclusion in Super Smash Bros. Ultimate makes him the first and only character in the series owned by a company that does not primarily make video games.
Sora was voted the most requested character to appear in Super Smash Bros. in Japan. Series creator, Masahiro Sakurai, managed to get him into the game after having a chance encounter with a Disney representative at an awards show. Ironically, the entirety of the Kingdom Hearts franchise came about because Shinji Hashimoto ran into a Disney executive in an elevator.[2]
References
External links
| | |
| --- | --- |
| | This page uses content from the Kingdom Hearts Wiki The list of authors can be seen in the page revision history (view authors). As with Disney Wiki, the text of the Kingdom Hearts Wiki is available under the GNU Free Documentation License. |
v - e - d
Characters
Main Characters: Sora • Riku • Kairi • King Mickey • Donald Duck • Goofy • Roxas • Axel/Lea • Naminé • Xion • Aqua • Terra • Ventus


Villains: Xehanort • Ansem • Xemnas • Maleficent • Pete • Vanitas • Xigbar/Braig • Xaldin • Vexen • Lexaeus • Zexion • Saïx/Isa • Demyx • Luxord • Marluxia • Larxene • Terra-Xehanort • Young Xehanort • Xehanort's Guardian
Other Characters: Jiminy Cricket • Ansem the Wise/DiZ • Yen Sid • Master Eraqus • Dilan • Even • Aeleus • Ienzo • Lingering Will • Hayner • Pence • Olette • Kairi's Grandma • Riku Replica • Jiminy's Journal • Foretellers • Master of Masters • Luxu • Ephemer • Skuld • Chirithy • Lauriam • Elrena
Original Monsters: Heartless • Nobodies • Unversed • Dream Eater
Disney Characters introduced in Kingdom Hearts: Queen Minnie • Daisy Duck • Pluto • Chip and Dale • Huey, Dewey, and Louie • Magic Brooms • Alice • White Rabbit • Doorknob • Cheshire Cat • Queen of Hearts • Card Soldiers • Tarzan • Jane Porter • Clayton • Terk • Kerchak • Kala • Sabor • Hercules • Philoctetes • Hades • Cerberus • Rock Titan • Ice Titan • Aladdin • Abu • Jasmine • Genie • Carpet • Jafar • Iago • Peddler • Cave of Wonders • Pinocchio • Geppetto • Monstro • Cleo • Ariel • Flounder • Sebastian • Ursula • King Triton• Flotsam and Jetsam • Glut • Jack Skellington • Zero • Sally • Oogie Boogie • Lock, Shock, and Barrel • Dr. Finkelstein • Mayor of Halloween Town • Peter Pan • Tinker Bell • Captain Hook • Mr. Smee • Wendy • Crocodile • Merlin • Winnie the Pooh • Tigger • Piglet • Eeyore • Rabbit • Owl • Roo • Bees • Beast • Belle • Snow White • Cinderella • Fairy Godmother • Aurora • Pongo • Perdita • Dalmatian Puppies • Simba • Mushu • Dumbo • Bambi • Chernabog
Disney Characters introduced in Kingdom Hearts II: Flora, Fauna, and Merryweather • Maleficent's Raven • Scrooge McDuck • Mulan • Li Shang • Shan Yu • Hayabusa • Yao, Ling, and Chien Po • The Emperor • Lumiere • Cogsworth • Mrs Potts • Chip • Wardrobe • Pegasus • Megara • Pain and Panic • Hydra • Horace Horsecollar • Clarabelle Cow • Clara Cluck • Jack Sparrow • Elizabeth Swann • Will Turner • Captain Barbossa • Bo'sun • Jacoby • Twigg • Cursed Crew • Prince Eric • Attina • Andrina • Santa Claus • Skeletal Reindeer • Timon • Pumbaa • Nala • Rafiki • Scar • Shenzi, Banzai, and Ed • Mufasa • Kiara • Pridelanders • Hyenas • Tron • Master Control Program • Commander Sark • Kanga • Gopher • Stitch • Chicken Little
Disney Characters introduced in Birth by Sleep: Prince Phillip • Maleficent's Goons • Doc • Grumpy • Happy • Sleepy • Bashful • Sneezy • Dopey • The Prince • Evil Queen • Magic Mirror • Prince Charming • Jaq • Lady Tremaine • Anastasia • Drizella • Lucifer • Grand Duke • Grand Councilwoman • Captain Gantu • Jumba • Experiment 221 • Lost Boys
Disney Characters introduced in Dream Drop Distance: Quasimodo • Esmeralda • Phoebus • Judge Claude Frollo • Victor, Hugo, and Laverne • Kevin Flynn • Sam Flynn • Quorra • CLU • Rinzler • Black Guards • Blue Fairy • Beagle Boys • Chernabog's Minions • Julius
Disney Characters introduced in Kingdom Hearts χ: Mad Hatter • March Hare • Razoul • Royal Guards • Maurice • Gaston
Disney Characters introduced in Kingdom Hearts Union χ: Sultan • Samson • Vanellope von Schweetz • Fix-It Felix Jr. • Sergeant Calhoun • King Candy • Sour Bill • Cy-Bugs • Hero's Duty Troops
Disney Characters introduced in Kingdom Hearts III: Zeus • Apollo • Athena • Hermes • Lava Titan • Tornado Titan • Little Chef • Woody • Buzz Lightyear • Rex • Hamm • Sarge • Green Army Men • Little Green Men • Rapunzel • Flynn Rider • Pascal • Maximus • Mother Gothel • Sulley • Mike Wazowski • Boo • Randall Boggs • Child Detection Agency • Trailer Son and Mom • Elsa • Anna • Kristoff • Olaf • Sven • Marshmallow • Hans • Mr. Gibbs • Tia Dalma • Davy Jones • Kraken • Cutler Beckett • Baymax • Hiro Hamada • Go Go Tomago • Honey Lemon • Fred • Wasabi • Lumpy • Wreck-It Ralph
Disney Characters introduced in Kingdom Hearts Dark Road: Tweedledee and Tweedledum
Disney Characters introduced in the manga: Caterpillar • Chi-Fu
Square Enix Characters: Leon • Cloud • Moogle • Others
v - e - d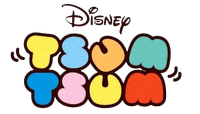 Disney
Mickey & Friends:

Mickey • Minnie • Donald • Daisy • Goofy • Pluto • Chip and Dale • Oswald • Ortensia • Duffy • ShellieMay • Gelatoni • StellaLou • CookieAnn • 'Olu Mel • Huey, Dewey, and Louie • José Carioca • Panchito Pistoles • Clarabelle Cow • Horace Horsecollar • Max Goof • Clarice • Pete • Scrooge McDuck • Ludwig Von Drake • Dr. Frankenollie • Julius

Pooh and Pals: Pooh • Tigger • Piglet • Eeyore • Rabbit • Owl • Roo • Kanga • Gopher • Christopher Robin • Lumpy
Lilo & Stitch: Stitch • Lilo • Scrump • Pleakley • Jumba • Angel • Leroy • Dr. Hämsterviel • Ugly Duckling • Sparky • 627 • Gigi • Babyfier • Yang • Slushy • Shortstuff • 625 • Amnesio • Dupe • Sample • Clip • Tank • Yin • Hunkahunka • Plasmoid
Silly Symphonies: Donald Duck • Big Bad Wolf • Practical Pig • Fiddler Pig • Fifer Pig • Ugly Duckling
Snow White and the Seven Dwarfs: Snow White • Evil Queen • Doc • Grumpy • Happy • Bashful • Sneezy • Sleepy • Dopey
Pinocchio: Pinocchio • Jiminy Cricket • Figaro • Cleo • Geppetto • Blue Fairy • Honest John and Gideon • Lampwick • Monstro
Fantasia: Mickey • Yen Sid • Chernabog • Hyacinth Hippo • Ben Ali Gator
Dumbo: Dumbo
Bambi: Bambi • Thumper • Miss Bunny • Friend Owl • The Great Prince of the Forest
The Three Caballeros: Gauchito • Burrito
The Adventures of Ichabod and Mr. Toad: Mr. Toad
Cinderella: Cinderella • Jaq and Gus • Prince Charming • Fairy Godmother • Lady Tremaine • Lucifer • Suzy • Perla • Bruno
Alice in Wonderland: Alice • Mad Hatter • March Hare • Dormouse • White Rabbit • Cheshire Cat • Tweedle Dum and Tweedle Dee • Queen of Hearts • King of Hearts • Caterpillar • Dinah • Oysters
Peter Pan: Peter Pan • Tinker Bell • Wendy Darling • John Darling • Michael Darling • Captain Hook • Mr Smee • Nana • Tick Tock • Tiger Lily
Lady and the Tramp: Lady • Tramp • Si and Am • Jock • Trusty • Peg
Sleeping Beauty: Aurora • Phillip • Maleficent • Flora • Fauna • Merryweather • Diablo • Samson • King Stefan • Goon • Owl • Rabbit
Mary Poppins: Mary Poppins • Bert • Penguin Waiter • Carousel Horse
One Hundred and One Dalmatians: Cruella De Vil • Lucky • Patch • Rolly
The Jungle Book: Mowgli • Baloo • Bagheera • Shere Khan • Kaa • King Louie • Hathi, Jr. • Raksha
Pete's Dragon: Elliott
The Fox and the Hound: Tod • Copper
The Aristocats: Marie • Berlioz • Toulouse • Duchess • Thomas O'Malley
The Rescuers: Bernard • Bianca
Oliver & Company: Oliver • Dodger • Tito • Rita • Francis • Einstein
The Little Mermaid: Ariel • Flounder • Sebastian • Eric • Ursula • Triton • Max • Scuttle
Beauty and the Beast: Belle • Beast • Lumiere • Cogsworth • Mrs. Potts • Chip • Maurice • Philippe • Gaston • LeFou
Aladdin: Aladdin • Abu • Genie • Jasmine • Jafar • Sultan • Iago • Rajah
The Nightmare Before Christmas: Jack Skellington • Sally • Zero • Lock, Shock, and Barrel • Oogie Boogie • Dr. Finkelstein • Mayor of Halloween Town • Santa Claus
The Lion King: Simba • Nala • Timon • Pumbaa • Zazu • Rafiki • Scar • Ed
Pocahontas: Pocahontas • John Smith • Meeko • Flit • Percy
Hercules: Hercules • Megara • Hades
Mulan: Mulan • Li Shang • Mushu • Fa Zhou • Khan
The Emperor's New Groove: Kuzco • Yzma • Kronk
Mickey, Donald, Goofy: The Three Musketeers: Mickey Mouse • Minnie Mouse • Donald Duck • Goofy
Chicken Little: Chicken Little
The Princess and the Frog: Tiana • Dr. Facilier
Tangled: Rapunzel • Flynn Rider • Pascal • Maximus • Mother Gothel • Queen Arianna • King Frederic • Cassandra • Fidella • Pub Thug
Wreck-It Ralph: Wreck-It Ralph • Fix-It Felix Jr.
Frozen: Anna • Elsa • Olaf • Kristoff • Sven • Hans • Snowgies • Bruni
Big Hero 6: Hiro • Baymax • Fred • Wasabi • Honey Lemon • Go Go Tomago • Tadashi Hamada • Yokai • Mochi
Zootopia: Judy Hopps • Nick Wilde • Mayor Lionheart • Flash • Yax • Gazelle • Chief Bogo • Clawhauser • Finnick • Mr. Big • Bellwether • Jerry Jumbeaux Jr.
Moana: Moana • Maui • Pua • Heihei • Tamatoa • Kakamora
Chip 'n Dale Rescue Rangers: Chip • Dale • Gadget • Monterey Jack
Phineas and Ferb: Perry
The Lion Guard: Kion • Ono • Bunga • Beshte • Fuli
DuckTales (2017): Scrooge McDuck • Huey, Dewey, and Louie • Webby Vanderquack
Kingdom Hearts: Sora • Riku • Kairi • Aqua • Xemnas • Ansem, Seeker of Darkness • Ventus • Terra • Chirithy • Lea • Young Xehanort
UniBEARsity: Mocha • Pudding • Whip • Puffy • Mont • Blanc • Souffle • Blue Rose • Charmant • Portiron • Rogue Rose • Fauve • Lucien • Horloge • La Mer • Ma Puce
Sofia the First: Sofia • Minimus • Skye
Elena of Avalor: Elena
Enchanted: Giselle
Disney Fairies: Periwinkle • Rosetta • Silvermist
The Sword in the Stone: Wart • Merlin
Oliver & Company: Oliver
Raya and the Last Dragon: Raya • Sisu
Twisted Wonderland: Grim • Riddle Rosehearts • Azul Ashengrotto • Leona Kingscholar • Kalim Al-Asim • Vil Schoenheit • Idia Shroud • Malleus Draconia • Dire Crowley • Mirror of Darkness