| | |
| --- | --- |
| | Sour Bill is a featured article, which means that it has been identified as one of the best articles produced by the Disney Wiki community. If you see a way this page can be updated or improved without compromising previous work, please feel free to contribute. |
"They call you Sour Bill for a reason!"
―Ralph after tasting Sour Bill
Sour Bill is the (former) tertiary antagonist of Disney's 2012 animated feature film, Wreck-It Ralph and a supporting character in its 2018 sequel. He is a gloomy, monotonous sour ball that served as King Candy's henchman during the latter's reign over Sugar Rush.
Background
Sour Bill is a non-playable character in Litwak's Arcade's kart-racing game, Sugar Rush, where he was programmed to act as Princess Vanellope von Schweetz's assistant. Shortly after the cabinet was first plugged in, however, Sugar Rush was hijacked by a deranged racer named Turbo, who sought to rule the game under the guise of a kindly sovereign known as King Candy. Through unknown circumstances, Sour Bill became involved in King Candy's schemes, and assisted him in infiltrating the game's codes. From there, King Candy severely damaged Vanellope's code, turning her into a glitch. He then locked away the memories of the game's inhabitants—including Sour Bill's—allowing King Candy to pose himself as their ruler. However, should Vanellope cross the finish line, the game would reset, undoing King Candy's machinations. To prevent this, King Candy banned Vanellope from racing on the grounds of being a glitch.
In the years that followed Sugar Rush's reprogramming, Sour Bill served as King Candy's right-hand man and confidant. He was the second most powerful figure in the kingdom, being left in charge of the castle in the king's absence and having access to King Candy's "fungeon". Despite his high-ranking position, Sour Bill was also left to oversee more demeaning duties, such as sanitation work and fanning the king when the latter was under stress.
Though King Candy's motives and true identity remained confidential, Sour Bill was aware of the king's nefarious nature and that Vanellope was not actually a glitch. Despite this, he diligently worked alongside King Candy to prevent Vanellope from restoring her code and resetting the game, while also hiding the truth from everyone in Sugar Rush.
Official Description
As King Candy's diminutive henchman, Sour Bill is often left to handle the stickier situations — but this long-faced little ball isn't exactly happy about his depressing duties.
Development
According to storyman, Raymond S. Persi, the idea of Sour Bill came from the belief that King Candy would be funnier with a sidekick. Early character sketches by Rich Moore and Mike Gabriel depict King Candy with a red-colored, candy ball minion. The color would later be changed to green.[1] It was Gabriel's idea to depict the character with floating hands and jelly beans for feet. Eric Goldberg—a veteran Disney animator—did some 2D tests of Sour Bill to get an idea of how the character would work.[2]
Voice
Rich Moore, who served as the film's director, provided the scratch dialogue for a number of characters over the course of development, including Sour Bill. His performance as Sour Bill was so well-liked that producer John Lasseter proposed that Moore voice the character in the final film, which Moore accepted. In spite of considering himself a "reluctant actor", Moore would reprise his role as Sour Bill in subsequent appearances.[3]
Personality
Juxtaposing with the energetic and bombastic nature of King Candy, Sour Bill—as his name implies—is not exactly a ball of sunshine. He is gloomy, reserved and speaks in a flat monotone. Though loyal to King Candy, he hates his job and carries out his orders with a scowl. Sour Bill is expressive during intense moments, however. For example, he has a crippling fear of being eaten, and the threat is enough to drive him into a panic.
Sour Bill's state of morality is highly questionable. He was the only individual in Sugar Rush to know the truth about Vanellope's glitch, and diligently worked alongside King Candy to keep her from resetting the game. Described as a "tiny little ball of unsweetness", he was remorseless to those who posed a threat to Candy's plot—he voiced frustration in not imprisoning Wreck-It Ralph when they had the chance, and imprisoned Fix-It Felix Jr. to prevent further interferences. When Ralph demands to know the truth about Vanellope, Sour Bill is initially steadfast in keeping King Candy's secrets, only caving when his life was put on the line. Sour Bill has demonstrated some level of rectitude, however; he apparently agrees with the consensus that "messing with the program" is a wrongful act, evidenced by his cowering when King Candy went into Sugar Rush's codes to retrieve Ralph's medal.
Sour Bill's exact motives are unknown. As he was quick to (unenthusiastically) praise Vanellope as sovereign once King Candy was killed and his memories were restored, it appears that Sour Bill will simply condone acts of villainy or heroism, in relation to whom he serves.
Physical appearance
Sour Bill is a small, green candy ball that resembles a jawbreaker. He has large, round, green eyes characterized by their heavy lids and dark, baggy circles; this gives him a perpetually tired and worn look. His mouth is small and usually frowning. Bill has small, jellybean-like hands and feet that are detached and float independently from his body.
Appearances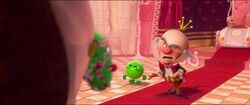 Sour Bill is first introduced attending Sugar Rush's daily Random Roster Race to cordially introduce King Candy, the host of the race's opening ceremony. After the racers deposited their coins, Sour Bill is asked by the king to identify a mysterious hooded figure amongst the line-up of racers. The figure is revealed to be Vanellope, who is forbidden from racing. The king furiously orders his guards to capture her, but a taffy monster disrupts the ceremony, distracting the guards and allowing Vanellope to escape. Once apprehended by the guards, the monster is taken to King Candy's castle. Sour Bill de-taffys the monster, who is revealed to be the bad-guy from the game Fix-It Felix Jr.—Wreck-It Ralph. Ralph explains that the coin Vanellope deposited was actually a medal he earned from the war game Hero's Duty and that he needs it back. The king explains that the medal was part of the game's codes and can only be retrieved at the end of the race. The king orders Ralph to leave Sugar Rush at once, as he sets out to find Vanellope. As he does, Sour Bill silently departs, as well.
After learning Vanellope has built a kart with Ralph's assistance, King Candy and his goons try to arrest her and Ralph, but the duo manage to escape. The king orders Wynnchel and Duncan to find her, and returns to the castle. There, the king nervously paces about in the throne room as Sour Bill attempts to ease his nerves by fanning him with a lollipop. Eventually, the donuts return and announce their failure. Sour Bill silently expresses his grief, before following the king into a hidden elevator behind the throne. The elevator takes the duo to a hidden passageway leading to the game's codes. Inside, King Candy retrieves Ralph's medal and journeys out to find him. In his absence, Sour Bill is left in command of the castle. While in charge, Sour Bill is visited by Fix-It Felix Jr., who is searching for Ralph. Realizing the two have some sort of connection, Sour Bill imprisons Felix to prevent further trouble from outsiders.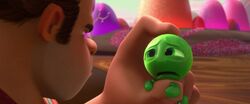 Later on, Sour Bill is sent out to clean up the shattered remains of Vanellope's kart. He is confronted by Ralph, who demands to know why Vanellope was on the game's cabinet despite being a glitch. When he refuses to cooperate, Ralph licks Sour Bill, threatening to eat him to his center. Sour Bill eventually reveals that Vanellope was once a racer until King Candy tried to delete her code. When Ralph asks of the king's motives, Sour Bill is unable to answer, due to his memory loss. Nevertheless, he informs Ralph of Vanellope's whereabouts and the key to saving her, claiming it's all he knows. As Sour Bill tearfully begs for mercy, Ralph sticks him onto a giant lollipop tree.
Afterward, Vanellope is freed from her prison, King Candy is defeated, and Vanellope crosses the finish line, thus resetting the game and restoring the memories of all the inhabitants. Sour Bill then returns (having somehow escaped the lollipop tree, though it's still stuck to his backside) and rushes to Vanellope's side to declare her sovereign of the land, resuming his position as her assistant.
Sour Bill returns in the sequel, but with a much smaller role. After Sugar Rush breaks, Mr. Litwak is forced to unplug it. This renders the game's inhabitants homeless. While most of the citizens fall into panic, Sour Bill treats the situation as more of a mild inconvenience. He is later taken in by Gene, who refers to him as an olive.
In the epilogue, Sour Bill accompanies Gene, Ralph, Felix and other arcade characters, for various social activities during the weekend. In the final scene at Game Central Station, Sour Bill is seen being held by Gene as they walk pass Ralph and Felix.
Other appearances
Sour Bill makes an appearance in the Disney Animated application that was released in 2013. Users are able to experiment with the animated process of "squash-and-stretch". Another template is available to turn Sour Bill into a simple beige-colored circle.
Video games
Sour Bill appears as a resident of his homeworld, Candy Kingdom, inside Game Central Station. He and King Candy are first seen evading a swarm of Heartless, who appear just as Vanellope sneaks her way onto the race track. Sour Bill deduces that Vanellope may have something to do with the Heartless' sudden arrival, prompting King Candy to entrust the Keyblade wielder in finding and capturing the glitch. Sour Bill is wary of the Keyblade wielder, but King Candy declares that he'll use any tool at his disposal to stop Vanellope.
Aboard the Disney Dream, Sour Bill is featured as an audio-animatronic in the candy shop cabana, Vanellope's Sweets and Treats. He can be found popping out of the center gumball gas tanks, where he resides and sleeps, giving comments and factoids in a dry, depressed, or aggravated tone.[4] He also has a dessert named after him called "Sour Bill Sweet n' Sour Green Apple".
Gallery
Trivia
His name is a play on "sour ball".
In early sketches, Sour Bill donned a large black, biker-like hat and gloves.
When Ralph interrogates Sour Bill by trying to eat him, he tells him "I wonder how many licks it will take to get to your center." This is an obvious reference to the well-known classic Tootsie Pop commercial featuring its owl mascot Mr. Owl.

Ralph also asks him, "What's going on with that candy-coated heart of darkness?", a reference to the Joseph Conrad novel Heart of Darkness.

In the German version of the movie, Sour Bill's name is "Sauer Drops", which can be translated as "Sour Fruit Drops". Fruit Drops are small balls of candy with fruit flavoring. Based on this, Sour Bill is most likely a lime-flavored sweet (limes are sour, hence his sour personality).
References
External links
v - e -

d

Disney
Mickey Mouse & Friends:

Mickey • Minnie • Donald • Daisy • Goofy • Pluto • Fifi • Pete • Clarabelle Cow • Horace Horsecollar • Willie the Giant • Chip and Dale • Mortimer Mouse • Chief O'Hara • Detective Casey • Butch the Bulldog • Golden Harp • Father Time • Peter Pig


The Lion King: Simba • Nala • Shenzi, Banzai, and Ed • Ostrich • Gazelle • Rhino • Hippo • Zebra • Blue Beetle • Grub • Zazu • Rafiki • Timon • Pumbaa • Mufasa • Scar
Tangled: Rapunzel • Flynn Rider • Stabbington Brothers • Pub Thugs • Attila • Vlad • Big Nose • Hook Hand • Ulf • Shorty • Pascal • Maximus • Mother Gothel • The King • The Queen • Captain of the Guards • Warthog • The Lantern
Wreck-It Ralph: Ralph • Vanellope • Felix • Sgt. Calhoun • King Candy • Taffyta Muttonfudge • Candlehead • Surge Protector • Gene • Nicelanders • Rancis Fluggerbutter • Other Sugar Rush Racers • Sour Bill • Blue Racer • General Hologram
Big Hero 6: Hiro Hamada • Baymax • Robert Callaghan • Go Go Tomago • Honey Lemon • Wasabi • Fred • Fred's Dad • Tadashi Hamada • Cass • Yama • Alistair Krei • Heathcliff • Abbigail Callaghan • Attila • Sergeant Gerson • Cass
Zootopia: Judy Hopps • Nick Wilde • Flash • Clawhauser • Gazelle • Yax • Bogo • Mayor Lionheart • Bellwether • Doug • Finnick • Mr. Big • Mr. Otterton • Manchas • Gideon • Jerry Jumbeaux Jr. • Nanga • Priscilla • Mr. Hopps • Mrs. Hopps • Business Lemming • Duke Weaselton • Fru Fru • Kozlov • Officer McHorn • Wrangled • Wreck-It Rhino • Pig Hero 6
The Jungle Book: Mowgli • Kaa • Baloo • Akela • Raksha • Gray • Shere Khan • Colonel Hathi • King Louie • Bandar-Log Monkey • Flying Squirrel • Crocodile • Peacock • Vulture • Elephant • Bee Hive
Alice Through the Looking Glass: Alice Kingsleigh • Dormouse • Tweedledee and Tweedledum • Cheshire Cat • Bandersnatch • Bayard • White Queen • March Hare • White Rabbit • Mad Hatter • Absolem • Time • Wilkins • Humpty Dumpty • Red Queen • Borogrove • Frog Delivery Man • Gentleman Fish • Vegetable Soldier • Vegetable Servant • Vegetable Executioner • Armored Chess Piece
Pirates of the Caribbean: Jack Sparrow • Will Turner • Elizabeth Swann • Joshamee Gibbs • Tia Dalma • James Norrington • Marty • Cotton • Bootstrap Bill Turner • Pintel • Ragetti • Angelica • Blackbeard • Prison Dog • Maccus • Davy Jones • Helmsman • Philip Swift • Syrena • Captain Salazar • Ghost Lesaro • Shansa • Henry Turner • Carina Smyth • The Redhead • Murtogg • Mullroy • Treasure Chest • Stray Cat • Tiny • Pirate With Pigs • Ghost Shark • Ghost Seagull • Auctioneer
Aladdin: Aladdin • Jasmine • The Sultan • Prince Achmed • Gazeem • Razoul • Rajah • Iago • Abu • Genie • Jafar • Magic Carpet • Pink Flamingo • Beggar Jafar • Golden Scarab Beetle • Magic Lamp • Snake Charmer • Golden Camel
The Nightmare Before Christmas: Jack Skellington • Sally • Lock, Shock, and Barrel • Oogie Boogie • Easter Bunny • Santa Claus • Behemoth • Wolfman • Corpse Family • Mummy Boy • Mayor of Halloween Town • Dr. Finkelstein • Jewel • Zero
Mulan: Mulan • Yao, Ling, and Chien Po • Fa Li • Fa Zhou • Hayabusa • Khan • Cri-Kee • Little Brother • Mushu • Shan Yu • Captain Li Shang • The Emperor of China • The Matchmaker • General Li • Grandmother Fa • First Ancestor Fa • Chi-Fu • Great Stone Dragon
Moana: Moana • Sina • Frigatebird • Chief Tui • Gramma Tala • Pua • Frigatebird • Kakamora Chief • Maui • HeiHei • Ghost Matai • Eel • Tamatoa • Frog Monster • Sloth Monster • Eight Eyed Bat • Chicken Feed • Maui's Hook • The Ocean
Beauty and the Beast: Belle • Maurice • Chip Potts • Mrs. Potts • Gaston • LeFou • FrouFrou • Chapeau • Plumette • Beast • Cogsworth • Lumiere • The Enchantress
Lilo & Stitch: Lilo Pelekai • Nani Pelekai • David Kawena • Mrs. Hasagawa • Mertle Edmonds • Stitch
DuckTales: Scrooge McDuck • Donald Duck (Classic) • Huey, Dewey, and Louie • Webbigail Vanderquack • Mrs. Beakley • Beagle Boys (Big Time, Burger, and Bouncer) • Gyro • Darkwing Duck • Falcon Graves • Pixiu Chinese Dragon • Peghook's Ghost • Launchpad McQuack • Hack and Slash Smashnikov • Gizmoduck • Shadow Magica • Ma Beagle • Flintheart Glomgold • Pharaoh Toth-Ra • Headless Man-Horse
v - e - d
Characters
Main Characters: Sora • Riku • Kairi • King Mickey • Donald Duck • Goofy • Roxas • Axel/Lea • Naminé • Xion • Aqua • Terra • Ventus


Villains: Xehanort • Ansem • Xemnas • Maleficent • Pete • Vanitas • Xigbar/Braig • Xaldin • Vexen • Lexaeus • Zexion • Saïx/Isa • Demyx • Luxord • Marluxia • Larxene • Terra-Xehanort • Young Xehanort • Xehanort's Guardian
Other Characters: Jiminy Cricket • Ansem the Wise/DiZ • Yen Sid • Master Eraqus • Dilan • Even • Aeleus • Ienzo • Lingering Will • Hayner • Pence • Olette • Kairi's Grandma • Riku Replica • Jiminy's Journal • Foretellers • Master of Masters • Luxu • Ephemer • Skuld • Chirithy • Lauriam • Elrena
Original Monsters: Heartless • Nobodies • Unversed • Dream Eater
Disney Characters introduced in Kingdom Hearts: Queen Minnie • Daisy Duck • Pluto • Chip and Dale • Huey, Dewey, and Louie • Magic Brooms • Alice • White Rabbit • Doorknob • Cheshire Cat • Queen of Hearts • Card Soldiers • Tarzan • Jane Porter • Clayton • Terk • Kerchak • Kala • Sabor • Hercules • Philoctetes • Hades • Cerberus • Rock Titan • Ice Titan • Aladdin • Abu • Jasmine • Genie • Carpet • Jafar • Iago • Peddler • Cave of Wonders • Pinocchio • Geppetto • Monstro • Cleo • Ariel • Flounder • Sebastian • Ursula • King Triton• Flotsam and Jetsam • Glut • Jack Skellington • Zero • Sally • Oogie Boogie • Lock, Shock, and Barrel • Dr. Finkelstein • Mayor of Halloween Town • Peter Pan • Tinker Bell • Captain Hook • Mr. Smee • Wendy • Crocodile • Merlin • Winnie the Pooh • Tigger • Piglet • Eeyore • Rabbit • Owl • Roo • Bees • Beast • Belle • Snow White • Cinderella • Fairy Godmother • Aurora • Pongo • Perdita • Dalmatian Puppies • Simba • Mushu • Dumbo • Bambi • Chernabog
Disney Characters introduced in Kingdom Hearts II: Flora, Fauna, and Merryweather • Maleficent's Raven • Scrooge McDuck • Mulan • Li Shang • Shan Yu • Hayabusa • Yao, Ling, and Chien Po • The Emperor • Lumiere • Cogsworth • Mrs Potts • Chip • Wardrobe • Pegasus • Megara • Pain and Panic • Hydra • Horace Horsecollar • Clarabelle Cow • Clara Cluck • Jack Sparrow • Elizabeth Swann • Will Turner • Captain Barbossa • Bo'sun • Jacoby • Twigg • Cursed Crew • Prince Eric • Attina • Andrina • Santa Claus • Skeletal Reindeer • Timon • Pumbaa • Nala • Rafiki • Scar • Shenzi, Banzai, and Ed • Mufasa • Kiara • Pridelanders • Hyenas • Tron • Master Control Program • Commander Sark • Kanga • Gopher • Stitch • Chicken Little
Disney Characters introduced in Birth by Sleep: Prince Phillip • Maleficent's Goons • Doc • Grumpy • Happy • Sleepy • Bashful • Sneezy • Dopey • The Prince • Evil Queen • Magic Mirror • Prince Charming • Jaq • Lady Tremaine • Anastasia • Drizella • Lucifer • Grand Duke • Grand Councilwoman • Captain Gantu • Jumba • Experiment 221 • Lost Boys
Disney Characters introduced in Dream Drop Distance: Quasimodo • Esmeralda • Phoebus • Judge Claude Frollo • Victor, Hugo, and Laverne • Kevin Flynn • Sam Flynn • Quorra • CLU • Rinzler • Black Guards • Blue Fairy • Beagle Boys • Chernabog's Minions • Julius
Disney Characters introduced in Kingdom Hearts χ: Mad Hatter • March Hare • Razoul • Royal Guards • Maurice • Gaston
Disney Characters introduced in Kingdom Hearts Union χ: Sultan • Samson • Vanellope von Schweetz • Fix-It Felix Jr. • Sergeant Calhoun • King Candy • Sour Bill • Cy-Bugs • Hero's Duty Troops
Disney Characters introduced in Kingdom Hearts III: Zeus • Apollo • Athena • Hermes • Lava Titan • Tornado Titan • Little Chef • Woody • Buzz Lightyear • Rex • Hamm • Sarge • Green Army Men • Little Green Men • Rapunzel • Flynn Rider • Pascal • Maximus • Mother Gothel • Sulley • Mike Wazowski • Boo • Randall Boggs • Child Detection Agency • Trailer Son and Mom • Elsa • Anna • Kristoff • Olaf • Sven • Marshmallow • Hans • Mr. Gibbs • Tia Dalma • Davy Jones • Kraken • Cutler Beckett • Baymax • Hiro Hamada • Go Go Tomago • Honey Lemon • Fred • Wasabi • Lumpy • Wreck-It Ralph
Disney Characters introduced in Kingdom Hearts Dark Road: Tweedledee and Tweedledum
Disney Characters introduced in the manga: Caterpillar • Chi-Fu
Square Enix Characters: Leon • Cloud • Moogle • Others