"You are go for launch in T-minus 10, 9, 8, 7, 6, 5, 4, 3, 2, 1...liftoff."
―Mission Control.

Space Mountain is a roller coaster attraction located in Tomorrowland at Disneyland at the Disneyland Resort in Anaheim, California. It opened on May 27, 1977, as the second incarnation of the Space Mountain concept, the first version having opened at Walt Disney World's Magic Kingdom in 1975. Unlike the Magic Kingdom version, Disneyland's version only features one track. From November 16, 2015 to June 1, 2017, the attraction operated as Hyperspace Mountain, a temporary seasonal overlay themed to Star Wars, placing riders in a starfighter battle between the New Republic and the Galactic Empire over the planet Jakku, one year after the events of the 1983 film, Return of the Jedi.
Between; 1998 and 2004, as part of the New Tommorrowland Project, all of Tommorrowland was given a Steam Punk look. This also means that Space Mountain was given a Copper looking paint job too, though the attraction itself remain the same?
Many minor additions were made to the ride over the years, including a synchronized soundtrack performed by Dick Dale. On April 10, 2003, Space Mountain was suddenly closed for a long-rumored refurbishment, which included replacing the original track except from the back end of the station to the top of third lift, storage and spur tracks were retained. As evidenced by the weld marks on these two track sections where the original and new tracks were joined together. Updating the effects and sound track. The exterior was also re painted back from Copper to it's original White colour scheme. Space Mountain soft opened on July 1, 2005, and officially reopened two weeks later on July 15, two days before the 50th anniversary of Disneyland.
Attraction Synopsis
Guests enter through a ramp that takes them to an outdoor concourse. Once guests navigate the queue they approach the merge point where safety videos play on a loop. Before guests enter the hallway a picture depicting Space Station 77 is on display.
Seasonal overlays
Since Space Mountain's reopening in 2005, there have been a few seasonal overlays of Space Mountain.
Rockin' Space Mountain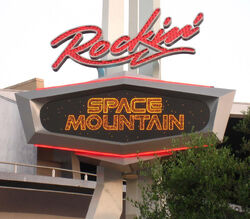 From January to April 2007, the Disneyland Resort held the "Rockin' Both Parks" promotion, in which Space Mountain and California Screamin' both had their soundtracks changed to songs by Red Hot Chili Peppers. While California Screamin' received no special effects and was unchanged other than the new soundtrack, Space Mountain had significant changes. LED concert lighting was added along the tracks of the ride, which made much of the track and interior of the mountain visible, in contrast to the almost-pitch darkness normally found in Space Mountain.
Red Hot Chili Peppers' 1989 cover of Stevie Wonder's "Higher Ground" was used for the ride, with an introduction by "Uncle Joe" Benson from 95.5 KLOS, a Los Angeles-based classic rock station formerly owned by Disney prior to ABC Radio's merger with Citadel Broadcasting. Rockin' Space Mountain is similar to Walt Disney Studios Park's Rock 'n' Roller Coaster avec Aerosmith at Disneyland Resort Paris, which features concert-like lighting effects rather than the cartoon-like Los Angeles freeway theme found in the original version at Disney's Hollywood Studios.
The Rockin' promotion did not return in 2008.
Space Mountain: Ghost Galaxy
Main article: Space Mountain: Ghost Galaxy
For Disneyland's Halloween Time promotion in 2009, Space Mountain was converted to Space Mountain Ghost Galaxy, which had already been running at Hong Kong Disneyland's Haunted Halloween every year since 2007. Ghost Galaxy uses projections of an enormous ghost chasing riders throughout the mountain. This overlay was extremely popular with guests, and finding a wait time of 120 minutes or longer was not uncommon.
Hyperspace Mountain
Main article: Hyperspace Mountain
On November 14, 2015, a Star Wars-themed overlay known as Hyperspace Mountain debuted as part of "Season of the Force"—an event celebrating the release of Star Wars: The Force Awakens. The overlay featured a soundtrack with selections from John Williams's score of the Star Wars films, with projections depicting a mission towards the planet Jakku (a site introduced during The Force Awakens) to investigate the presence of an Imperial-class Star Destroyer as commanded by Admiral Ackbar, flight through a hyperspace jump and battles with X-Wings and Tie fighters.[1][2][3] The overlay was temporarily removed on September 6, 2016, for the Ghost Galaxy recreation. The overlay was brought back the following November then was removed again on June 1, 2017. It was brought back again for a Disneyland After Dark Star Wars-themed event on May 4, 2018, which then got removed on June 3 of that year.
Changes after 2003-05 refurbishment
The queue line is dark red and the ride viewing windows have been removed.
The station is different from the old version.
There is a blue strobe tunnel that is almost the same as the Walt Disney World version but curved.
There is a spinning tunnel at the second lift hill.
At the end of the ride, there is a tunnel that has colorful stars rather than a reentry tunnel.
The red geodesic satellite has been replaced with an asteroid.
The stars etc. inside the building have been changed; in particular, the projection of a tumbling asteroid encountered upon first entering has been removed.
In 2018, the queue was extended into the Starcade's upper level, which extends the attraction's lore with the Astraeus Space Telescope
Gallery
Videos
References