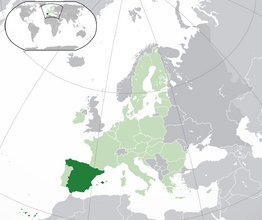 Spain, officially the Kingdom of Spain (Spanish: Reino de España), is a sovereign state and a member of the European Union located in southwestern Europe on the Iberian Peninsula. Its mainland is bordered to the south and east by the Mediterranean Sea except for a small land boundary with the British Overseas Territory of Gibraltar; to the north and northeast by France, Andorra, and the Bay of Biscay; and to the northwest and west by the Atlantic Ocean and Portugal.
Spanish territory also includes the Balearic Islands in the Mediterranean, the Canary Islands in the Atlantic Ocean off the African coast, and two autonomous cities in North Africa, Ceuta and Melilla, that border Morocco. Furthermore, the town of Llívia is a Spanish exclave situated inside French territory. With an area of 505,992 square kilometers (195,365 square miles), it is the fourth largest country in Europe.
Films
TV Shows
Actors and Crew born in Spain
Gallery
Community content is available under
CC-BY-SA
unless otherwise noted.