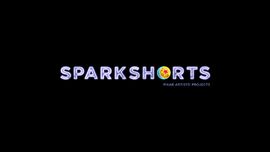 SparkShorts is a series of animated short films produced by Pixar filmmakers and artists. The films are independent shorts launched as an experimental storytelling initiative that gives employees of varying backgrounds the studio's resources and funding to explore their ideas, experiment, and develop a low-budget project of their own within six months. The first episode, Purl, premiered at Siggrph 2018.[1] The first three episodes of SparkShorts were released on YouTube. The rest of the SparkShorts, along with the first three that were already released, were all released on Disney+ original programming on November 12, 2019.[2]
Episodes
No. in
Series
No. in
Season
Title
Air date
01
01
"Purl"
February 4, 2019 (YouTube)
An earnest ball of yarn named Purl gets a job at a fast-paced, high energy, male-centric start-up. Things start to unravel as she tries to fit in with this close-knit group. Purl must ask herself how far is she willing to go to get the acceptance she yearns for and in the end is it worth it?
02
02
"Smash and Grab"
February 11, 2019 (YouTube)
After years of toiling away inside the engine room of a towering locomotive, two antiquated robots will risk everything for freedom and for each other.
03
03
"Kitbull"
February 18, 2019 (YouTube)
An unlikely connection sparks between two creatures: a fiercely independent stray kitten and a pit bull. Together, they experience friendship for the first time.
04
04
"Float"
November 12, 2019 (Disney+)
A father discovers that his son floats, which makes him different from other kids. To keep them both safe from the judgment of the world, Dad hides, covers, and grounds him. But when his son's ability becomes public, Dad must decide whether to run and hide or to accept his son as he is.
05
05
"Wind"
December 13, 2019 (Disney+)
Wind is a magical realism story about a Grandma and a Grandson trapped in a massive, never-ending sink-hole, living on a large boulder suspended by strong winds. Together they scavenge falling debris to build an escape, hoping to find a better life in the outside world.
06
06
"Loop"
January 10, 2020 (Disney+)
A non-verbal, autistic girl and a chatty boy are partnered on a canoeing trip. To complete their journey across an urban lake, they must both learn how the other experiences the world.
Gallery
Video
References
External links
v - e - d

Shorts
Marvel Studios: Expanding the Universe

• Lamp Life
Community content is available under
CC-BY-SA
unless otherwise noted.