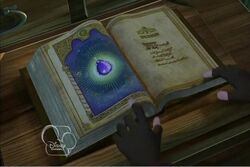 Spells and magic, potions, and other magic and items that were mentioned throughout the Sofia the First movies, series, and games.
Flower Shower: Mohit Flora
'Mohit' means 'Charming', 'Happy' or 'Happiness' in Hindi.
The Sleeping Spell: Somnibus Populi Celae
The Awakening Spell: Populi Celae Excitate
The word 'Populi' is a plural word for 'Populus', meaning 'People' in Latin. 'Somnibus' means 'Dream' in Latin.
To turn into sea creatures: Earth to water, Land to sea, Octoscelam maritee
To revert back from being sea creatures: Water to air, Sea to land, Turn us back to bird and man
The only sad part about this spell is that Cedric still has a tail after he tried to revert back into a human, though he got rid of it afterwards/before Amber and James' birthday.
To make items vanish or disappear: Vanitzo Wayfaria
The successful spell that Cedric used to take Oona's Comb: Eclipso Fatto, Break the charm and float into my waiting arms
Other spells that Cedric attempted to cast on Oona's Comb to disperse the protection charm but failed:

Four seas of magic, with power beyond measure, break the enchanted and bring me the treasure
Suspendos Denati Venite
Princess Ivy's dragonflies
Princess Ivy's black and white magic
First Season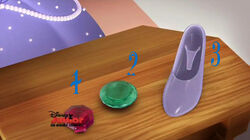 "Cedric's Apprentice"

Turning objects into:

A Ruby - Mutato Rubio
An Emerald - Mutato Emeralde
A Crystal - Mutato Krystallos
The word 'Mutato' can be translated into two languages, one in Italian meaning 'Changed', the other from the Latin word 'Mutare' meaning 'to change,' or, more directly, 'Mutabo,' meaning 'I change.' However, 'Rubio' in Spanish is 'Blond', unless you take the Latin word 'Rubeo' meaning 'red'. 'Krystallos' means 'Crystal' from Greek.
Golden Horses: Auro Equisium

Lizard Potion: Its content is glowing yellow liquid in a potion bottle
Lizard Counter Spell: Lizardo Chango

To make a rabbit fly: Flotilla Rabbitsa
'Flotilla' means 'a small fleet' in Spanish, which came from another Spanish word 'flotar' meaning 'to float'.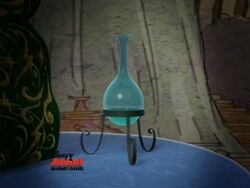 Invisibility Potion
"A Royal Mess"

To magically magnetize objects to the spell user: Petuzzi
A fixing magic spell cast by James: Za Prasen Za Prasu, free our friend and fix the window too
'Prasen' means 'To Empty' in Slovenian, and 'Prasu' means 'Please' in Lithuanian.
Sudzo came from Sudsy
"Tea for Too Many"

Making things float up: Floaticus Haver Aboon
Making things float down: Floaticus Downitso
'Aboon' is a 900BC Middle English word for 'Above'.
"Princess Butterfly"

To turn into a Human Butterfly - Sprinkle some cauldronized magic crystals over yourself and say the words Lepidop Leonitis
The Fairies' counter-spell to remove the Human Butterfly spell: Discitur, Discutorm, Now Return to Your True Form
Second Season
Season Three
Season Four
Sofia the First (Games)
A Spell For Mr. Cedric

Fireworks Potions: A bottle of Dragon's Breath, 6 pieces of cave crystals, and 3 golden carrots
v - e - d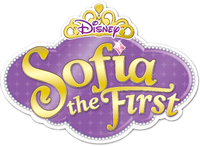 Characters
Princess Sofia • Queen Miranda • King Roland II • Prince James • Princess Amber • Princess Hildegard • Cedric the Sorcerer • Wormwood • Baileywick • Robin • Mia • Clover • Whatnaught • Goodwyn the Great • Winifred the Wise • Jade • Ruby Hanshaw • Princess Clio • Prince Zandar • Princess Jun • Prince Hugo • Minimus • Princess Vivian • Crackle • King Marcus and Queen Cecily • Trolls• Lucinda • Prince Jin • Magic Carpet • Jasper • Prince Khalid • Meg and Peg • Madam Ubetcha • Prince Desmond • Miss Nettle • Sir Gillium • Professor Popov • Helen Hanshaw • Oona • Queen Emmaline • Cora • Plank • Aunt Tilly • Wilbur the Wombeast • Sven • Emperor Quon • Empress Lin-Lin • Rex • Prince Axel • King Garrick • Electra • Vaughan and Vance • Marla • Sir Bartleby • Sir Maxwell • Sir Finnegan • Gwen • Chef Andre • Sofia the Worst • Lady Joy • Lord Gilbert • Wu-Chang • Jade Jaguar • Sir Dax • Boo • Princess Lani • Mamanu • Kamea and Halia • Praline • Freedo • Princess Zooey • Princess Astrid • Slickwell • Greylock the Grand • Princess Ivy • Dragons of Enchancia • Winter • Whiskers • Glacia the Ice Witch • Elliot, Amy, and Kurt • Tizzy • Master Erwin • Bryce Twigley • Button, Benngee, and Brody • Mossy • Carol of the Arrow • Jane • Princess Kari • Miss Elodie • Fluke • Slim • Shelly • Flip • Mantacorn • Onyx and Opal • Wendell Fidget • Mrs. Fidget • Saffron • Muck, Gunk, and Grime • Spruce • Ballerina • Mazzimo • Prince Roderick • Gavin • Kazeem • Sergeant Fizz • King Habib and Queen Farnaz • Chief Gnuckles • Flinch • Grotta • Elfonso • Elfred • Milo the Snake • King Henrik • Cordelia the Conjuror • Calista • Morgana • Crispy • Barley • Sassofras • Professor Zacharias Fleeber • Grand Mum • Gemina and Argus • Count Barnstorm • Sir Oliver • Sir Jaxon • Willawing • Kai • Princess Charlotte • Morris • Zinessa • King Philip and Queen Everly • Lily • Indigo • Marty and Maple • Mandy • Grimtrix • Wriggley, Pumpkin, and Chester • Skye • Piccolo • Baron Von Rocha • Professor Pecullian • Sea Monsters • Malachite and Fig • Omar • Prisma • Azurine • Orion • Vega • Chrysta • Sizzle • Cinder • Singe • Mare of the Mist • King Roland I • Roma • Giggling Goblin • Captain Quivers • Twitch • Vor • Nerissa


Elena of Avalor: Princess Elena • Princess Isabel • Francisco • Luisa • Shuriki • Alacazar • Zuzo • Mateo • Migs, Luna, and Skylar • Rafa • Chancellor Esteban • Armando • King Raul and Queen Lucia • Naomi Turner
Guest Characters: Flora, Fauna, and Merryweather • Cinderella • Jasmine • Magic Carpet • Belle • Ariel • Aurora • Snow White • Mulan • Rapunzel • Tiana • Merida • Olaf • Merlin • Archimedes
Community content is available under
CC-BY-SA
unless otherwise noted.