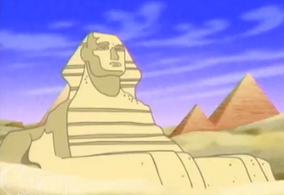 The
Great Sphinx of Giza
, commonly referred to as
the Sphinx
, is a limestone statue of a sphinx (a mythical creature with a lion's body and a human head) that stands on the Giza Plateau on the west bank of the Nile in Giza, Egypt. It has made appearances in various
Disney
media as both a monument and a living creature from mythology.
Physical Appearance
Egyptian
In Egypt, Sphinxes are usually depicted as having a lion's body and the head of a human. Their face is usually male, but representations of female figures have also occurred. Sphinxes can also have the head of a ram. They were often considered benevolent and placed at the doors of temples.
Greek
In Greece, Sphinxes also have the body of a lion and a human's face. However, the head is exclusively female, in contrast to the Egyptian Sphinx. In most depictions, they also have a giant pair of wings. In ancient Greece, they were considered treacherous and merciless.
Appearances
The Muppet Show
The Sphinx has made an appearance in the show.
It appeared in "Throw Mummy from the Train", as the guardian of the Pharaoh's diamonds.
During the "A Whole New World" segment, Aladdin and Jasmine wave to an Egyptian sculptor hammering a nail on the Sphinx, while riding on the Magic Carpet. But the sculptor becomes distracted, so the nose falls off the Sphinx.
Sphinxes are mentioned as magical creatures issued from ancient Egyptian and Greek mythology. They are the source of a major weakness to Dragons. The reason for this is that a Sphinx' hair has a draining power that can absorb a Dragon's strength until it reaches a weakened and powerless state. Strands of Sphinx hair are often used to create Dragon slaying gear, mostly full-proof nets. Because they are only mentioned and never seen in the series, their true form currently remains unknown.
The Sphinx first appeared in The Legend of the Golden Pyramid. In the episode "The Puzzle of the Sphinx", the Sphinx shows off a snowflake puzzle to impress the team. But when the pieces bounce away, the team must retrieve the pieces before time runs out or the puzzle's magic won't work.
Trivia
Gallery
Community content is available under
CC-BY-SA
unless otherwise noted.