Spider-Man: Far From Home is a sequel to the Marvel Cinematic Universe film Spider-Man: Homecoming, and the concluding chapter of the Infinity Saga. It was confirmed in December 2016 after the successful release of the first Homecoming trailer. Sony and Marvel Studios released the film on July 2, 2019.
A second sequel was released on December 17, 2021.
Premise
Our friendly neighborhood Super Hero decides to join his best friends Ned, MJ, and the rest of the gang on a European vacation. However, Peter's plan to leave super heroics behind for a few weeks is quickly scrapped when he begrudgingly agrees to help Nick Fury uncover the mystery of several elemental creature attacks, creating havoc across the continent!
Plot
Eight months following Avengers: Endgame, Nick Fury and Maria Hill arrive in Mexico to investigate the damages caused by a supposed elemental and are greeted by a mysterious man who attempts to defeat it. Peter and his classmates are having their final day of school where he reveals he has fallen in love with classmate Michelle Jones and plans to tell her how he feels about this year's upcoming science trip to Europe, specifically the Eiffel Tower in Paris, but his friend Ned doesn't agree as he wants him and Peter to explore things with women in Europe. After school is done, Peter goes to get a new passport, take down robbers in a restaurant, and attends a benefits meeting held by Aunt May to support those displaced by the blip (as those brought back have lost their homes and belongings due to others moving in while they were dead), as Spider-Man.
Peter gets a call from Nick Fury but doesn't want anything to do with him or any superhero things whilst he is on vacation, believing he just needs a break as he is still grieving from the loss of Tony Stark. On the plane, it is revealed that a student named Brad Davis has joined the trip, which annoys Peter and he asks for Ned's help to sit next to MJ, but the plan backfires when Peter has to sit next to Mr. Harrington, MJ sits next to Brad and Ned ends up sitting next to Betty Brant. On the journey, Ned and Betty realize they have a lot in common and start dating, shocking Peter.
Whilst everyone is exploring Venice, Italy, Peter goes to buy MJ a black dahlia necklace (named after the murder) and the two teens explore the area together, but trouble starts when there are attacks from the water elemental and a mysterious superhero comes to save the day – who also appeared in Mexico – who Peter tries to help but also desperate to hide his identity. The mysterious superhero is later revealed to Mysterio, who Brad describes as a complication of both Iron Man and Thor. Whilst Peter is speaking with Ned about MJ, Ned is tranquilized by Nick Fury (who followed Peter to Europe) and Fury gets Peter to join him where Peter meets Maria Hill and then Mysterio. Nick also gives Peter sunglasses that hold the A.I. E.D.I.T.H, which Tony left for him before his death.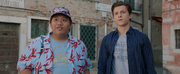 After speaking to Fury about wanting to just have a normal vacation and not deal with superhero antics, Peter finds out the trip is now skipping Paris and heading to Prague, because of Fury. When the bus has a rest stop, everyone goes to explore and Peter is guided by his bus diver (who works for S.H.I.E.L.D) and meets a S.H.I.E.L.D agent who gives him a black suit (later known as Night Monkey). When Peter is changing, Brad walks in looking for the bathroom and believes Peter is trying to hook up with the woman, showing his true colors by taking a picture of Peter in his underwear to show MJ so she will like him instead of Peter. On the bus ride back, Peter uses E.D.I.T.H to erase the photo Brad took of him, but it backfires when he accidentally ends a drone to kill Brad. Peter manages to stop the drone and erase the photo. When everyone arrives in Prague and Peter talks with Fury and Mysterio, he agrees to join them to stop the fire elemental that is due to arrive shortly so uses E.D.I.T.H to keep his classmates inside for a few hours, which is revealed to be the opera.
When the class attends the opera, Peter has a brief, sweet moment with MJ, complimenting her, but sending her mixed signals when he is called in by Fury when she asks him to sit with her. After Peter leaves, MJ follows him out, completely ignoring Brad. Peter and Mysterio take on the fire elemental, which MJ watches from afar. Betty and Ned sneak out of the opera and go on the wheel, where they end up trapped from the attack. Ned, worried, tells Betty that the guy in the black suit is named Night Monkey who saves them. Mysterio destroys the creature, which injures him. However, he is alive and he and Peter go to get a drink, where Peter tells Beck that he just wants to go on his trip and tell MJ how he feels, with hopefully also giving her a kiss and leaves after giving Beck the E.D.I.T.H., who reveals the bar is fake and an illusion and reveals his plan to kill innocent lives and become the next Iron Man. After Peter returns to the hotel and speaks to Ned, Peter asks MJ to join him on a walk on the Charles Bridge, who happily accepts.
On their "date", Peter tries to tell MJ how he feels but is taken by surprise when she reveals she knows he is Spider-Man after seeing him as the web-slinging superhero in Washington DC. After the teens find a projector covered in webs, Peter realizes he has made a mistake in giving Beck the glasses and reveals he is Spider-Man. The two flee to the hotel where Peter changes into his "night monkey" suit – which MJ ends up watching him change into, much to her delight – and explains to Ned that Mysterio is a fraud before taking the projector and heading to Berlin to see Fury. Ned and MJ ring Aunt May who manages to arrange for Peter to be off the trip to hide his identity.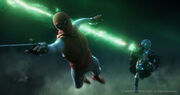 When Spider-Man arrives in Berlin, he is picked up by Nick Fury who asks him about E.D.I.T.H., Peter starts to explain Beck's plan before the whole place is attacked and Nick Fury and Maria Hill are revealed to be illusions, which soon causes Peter to be in a bunch of Mysterio's illusions, including a zombified Iron Man, holding the infinity glove. Nick Fury shoots "Mysterio" and then is revealed to be Beck himself and messes with Peter's mind so much that it results in Peter getting hit by an oncoming train. Believing Peter to be dead, Mysterio orders E.D.I.T.H to change the school trip's route to London for the class to fly home from London. However, Peter survives the damage and passes out on the train.
Spider-Man soon wakes up in the Nederlands, Holland where he finds himself in a prison cell with four sports fans. Peter breaks out and gets in contact with Happy Hogan from a local's phone. Happy picks Peter up who is scared at first, thinking Happy is just another illusion but is revealed when he realizes he is the real Happy. On the Stark jet, Peter opens up to Happy about missing Iron Man and that everyone expects Spider-Man to be the Iron Man, which Happy assures him he isn't the next Iron Man and that he never will be. After Happy tells Peter that his friends are in trouble, Peter realizes he needs to fight Mysterio to get his tech back and save his friends. Happy open a secret area where Peter makes his own suit and his classmates head to the airport to fly to London.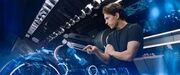 When the classmates are about to get food, Brad notices that Peter has gone and tries to get him in trouble (in hopes to seem like a better romantic option for Michelle). However, to keep Peter's identity safe, MJ asks Brad why he took the picture of Peter, which creeps her and the other classmates – including Flash Thompson – out and this stops Brad from trying again throughout the trip, to get with MJ. Meanwhile, Peter is in the middle of creating his own suit and asks Happy to give him the necklace so he can give it to MJ, with Peter worried he might not make it out alive.
Whilst the students are in London, Mysterio prepares with his team to kill the kids and for the next attack, the air elemental. MJ becomes suspicious saying it doesn't look good in the sky, which Ned reminds her is just fake so she doesn't have to worry. The attack starts to happen and all the students flee from the bus. MJ, Ned, Betty, and Flash all run into Happy who has landed the Stark Jet to get them out of the city. However, the jet is destroyed and everyone flees to the crown jewels volt. Everyone admits something to each other, worried they might die and Happy reveals he is in love with May, Peter's aunt, much to everyone's shock. The kids escape after MJ destroys a drone and Spider-Man comes in to stop the attacks but is thrown overboard the bridge after being hit by a few drones.
However, Peter is able to reach Mysterio and takes him down using his spider-senses (or "Peter-Tingle). Mysterio is hit by one of the drones and dies from his wounds after Peter takes the glasses back and stops the entire thing. Delighted, Flash, Ned, and Betty leave the volt whilst MJ runs out to find Peter. MJ finds an injured Peter walking on a bridge where she runs to him, where the teens embrace tightly. MJ reveals to Peter that Happy gave her the necklace and he is upset when he realizes it is broken. Peter starts to apologize to MJ and tries to explain his plan to her but is stopped by MJ, who kisses him, much to his delight. MJ admits to Peter that she struggles to get close to people, which is why she misdirected him back in Prague and that she wasn't just interested in him because of his double life. The two admit their feelings for each other and finally share their first kiss, with MJ heading back to the class and for Peter to change, with him leaving in delight.
Fury speaks to Happy after he speaks to Aunt May. Fury wants to speak to Peter but Happy, no longer afraid of Fury, tells him that Peter will call him next time. Peter and MJ arrive back in New Jersey now as a couple and Peter asks Ned and Betty to go on a double date with him and MJ, but they reveal to him that they have now broken up after realizing they are better off as friends. Peter reunites with Aunt May, who is revealed he is safe. Peter talks to both May and Happy about their current relationship, thinking they are now dating. Even though Happy believes they are, May tells Peter that she and Happy are not together but it was more of a "summer fling". Feeling awkward about the conversation, Peter leaves for his date with MJ.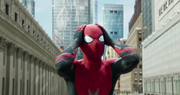 Peter picks MJ up and they go swinging around the city with her screaming in fear, but he makes sure she is safe. To Michelle's demand, Peter puts her down and they agree to never do it again after how scared she is feeling. Peter and MJ watch a live broadcast following the attacks in London. J. Jonah Jameson appears on the Daily Bugle showing Beck's final message before his death, who blames Spider-Man for the attacks and Beck's death, which makes Jameson believe that Mysterio was a hero and Spider-Man to be the villain. Things get worse when the bugle shows Mysterio revealing Spider-Man's identity to the world, much to Peter's horror, making him look bad.
The post-credits reveal that both Nick Fury and Maria Hill have been Skrulls Talos and Soren the whole time and Talos explains everything to the real Nick Fury, who is in space. The call ends with Fury cutting Talos off and asking who got his shoes.
Cast
J. B. Smoove as Julius Dell
Martin Starr as Roger Harrington
Tony Revolori as Flash Thompson
Angourie Rice as Betty Brant
Remy Hii as Brad Davis
Numan Acar as Dimitri Smerdyakov
Jorge Lendeborg Jr. as Jason Ionello
Toni Garrn as Seamstress
Peter Billingsley as William Ginter Riva
Clare Dunne as Victoria Snow
Nicholas Gleaves as Gutes Guterman
Claire Rushbrook as Janice Lincoln
Dawn Michelle King as E.D.I.T.H.
Sharon Blynn as Soren
Development
Spider-Man 2 was first announced and confirmed in December 2016 and was produced by Marvel Studios and distributed by Sony Pictures Releasing with Tom Holland reprising his role as Spider-Man from Captain America: Civil War, Spider-Man: Homecoming and Avengers: Infinity War as part of the deal made by Marvel and Sony that Spider-Man will be having 3 solo movies and 3 movies with Spider-Man. The movie is a part of Phase Three and happens just after Avengers: Endgame, and it was released on July 2, 2019.
Music
Main article: Spider-Man: Far From Home (soundtrack)
Spider-Man: Homecoming composer Michael Giacchino was confirmed to return to score Far From Home in October 2018. Whitney Houston's "I Will Always Love You" plays during the Marvel Studios opening logo as part of the film's opening "in memoriam" scene. The soundtrack album was released by Sony Classical on June 28, 2019.
Release
Spider-Man: Far From Home was originally scheduled for release on July 5, 2019, but was moved up to July 2, and was released in 3D and IMAX.
Reception
On review aggregator Rotten Tomatoes, the film holds an approval rating of 90% based on 451 reviews, with an average rating of 7.43/10. The website's critical consensus reads, "A breezily unpredictable blend of teen romance and superhero action, Spider-Man: Far from Home stylishly sets the stage for the next era of the MCU."
Trivia
This is the first Marvel Cinematic Universe film not to feature Stan Lee, due to Lee not being well enough to film one prior to his passing in November 12, 2018.
This is the last MCU film that Stan Lee produced before his death.
J.K. Simmons had previously played the role of J. Jonah Jameson in the Sam Raimi Spider-Man trilogy.
This is the highest-grossing Spider-Man film ever made worldwide, surpassing Spider-Man 3.
This is the highest-grossing film distributed by Columbia Pictures worldwide, surpassing Skyfall.
This is the first Spider-Man film to gross $1 billion worldwide, as well as Sony's highest-grossing film ever.
This is the last Marvel film to include the 1967 MPAA logo in the end credits.
MJ's full name is not given in the film.
Peter's relationship with Michelle Jones is a tribute to Peter Parker's relationship with Mary-Jane Watson in the comics and the Sam Rami trilogy.
This is the first time we see Tom Holland's Spider-Man fly around New York City.
This was going to be the final Spider-Man movie after Sony and Disney couldn't come to an agreement for future films. However, by late 2019, the companies agreed on a contract and profit to allow Spider-Man to stay within the Marvel Cinematic Universe.
When Peter kisses MJ, the number plate on the car behind MJ (that is turned over) references the comic book issue of Spider-Man where Peter kisses Mary-Jane for the first time.
With Mysterio's lies turning the public against him and revealing his real identity, Peter likely went into hiding with help from Happy's access to Stark tech and facilities.
Despite all the exposition about helping those returned by the Blip, nothing is ever mentioned about families; like parents who moved on and have new partners (breaking the hearts of their previous partners who still love them), or children who were born to replace/fill the void their missing siblings left.
With about 14 minutes of end credits (including post-credits scenes), this film has the longest running time of end credits to date for a film.
Gallery
Videos
References
External links