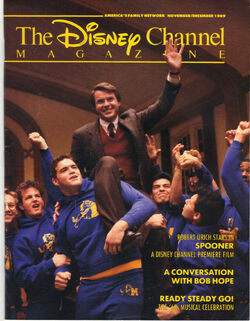 Spooner is a 1989 film that originally aired as a Disney Channel Premiere Film on the Disney Channel on December 2, 1989. It was later rebroadcasted on NBC as a 2-part episode of The Magical World of Disney on April 22 and April 29, 1990. The telefilm was directed by George Miller and written by Peter I. Baloff.
Synopsis
Spooner stars Robert Urich as a forger, recently escaped from prison. Urich cooks up a phony resume and assumes the identity of a high-school teacher. He becomes the wrestling coach for a group of misfit kids with the lowest of low self esteem. In urging the kids not to give up, Urich's eyes are opened to the possibility of his turning his own life around. Jane Kaczmarek and Brent Fraser costar in Spooner, which premiered over the Disney Channel cable service on December 2, 1989.
Cast
Conrad Bachmann
Gary Bairos ... Wrestler
Katie Barberi ... Caroline
Brandi Burkett ... Marie
Keith Coogan ... D.B. Reynolds
Brent David Fraser ... Shane (as Brent Fraser)
Paul Gleason ... Roland Hyde
Jane Kaczmarek ... Gail Archer
Rick Lenz
Henry Priest ... Tim Braden
Jim Townsend ... Robert - Referee
Robert Urich ... Harry Spooner / Michael Norlon
Gallery
Community content is available under
CC-BY-SA
unless otherwise noted.