"Let's get nuts!"
―Squirrel Girl
Squirrel Girl (real name Doreen Green) is a Marvel Comics character, who is shown as a comedic character. She appeared in the Ultimate Spider-Man and Marvel Rising: Secret Warriors.
Squirrel Girl was created by Steve Ditko and Will Murray.
Background
Personality
Squirrel Girl is a peppy and hyperactive teen, whose energy seems almost endless. She seems extremely sure of herself, and almost deluded as to the fact that despite her age, she can be a powerful superhero. She also is seen to like to make people laugh. Doreen is a very trustworthy person who loves to do good. Kamala Khan says in the "Kamala Khanfidential" shorts, she makes training fun.
Powers and Abilities
Communication with Squirrels: Squirrel Girl can talk to squirrels, and she is very good at convincing them to help her in battle.
Leaping/Climbing: She can also move in agility much like that of a squirrel, which is limited too slightly faster running speed, and jumping higher.
Superhuman Strength
Appearances
Squirrel Girl's name could be seen on one of the news tickers promoting her new line of perfume. Later, when Spider-Man checked if he was still the number one superhero in New York City, he's shocked to find himself listed on the 15th place of a poll. Behind Dazzler, Hawkeye, Nova, and Squirrel Girl. While he knows Hawkeye and Nova, he wonders who Squirrel Girl is. She tries to stop Juggernaut's rampage with her Squirrel Army, which she succeeds. However, with collateral damage to the streets, where Spider-Man swings in and scolds at her for so, saying it doesn't make her a hero, but she said that people can and ran away into the distance.
In the episode "Nightmare on Christmas", she appears in a S.H.I.E.L.D base hibernating with her squirrels when Spider-Man comes in and asks her where his teammates are.
In the episode "S.H.I.E.L.D Academy", she's seen as a student at the Triskelion.
In the episode "Burrito Run", Squirrel Girl sneaks out after hours for late-night burritos with Spider-Man and Power Man, and along the way, they must contend with some of Spider-Man's enemies.
Squirrel Girl appeared in the Marvel movie Marvel Rising: Secret Warriors.
Disney Parks
Doreen Green is set to appear as a member of WEB in Web Slingers: A Spider-Man Adventure. According to the queue, Doreen developed the AI for the attraction, codename: Sharin, which she integrated into the Slinger Vehicles. Her identity of Squirrel Girl is foreshadowed, where her bio refers to her as a "squirrel whisperer". [1]
Gallery
Trivia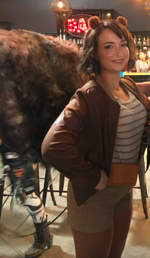 In the comics, Squirrel Girl was originally a joke character, in an adventure that saw her team up with Iron Man, and with her help, actually managed to defeat Doctor Doom with her squirrel sidekicks. Since then, a running gag throughout her appearances shows her being able to beat some of the most powerful villains and threats in the Marvel Universe, including Thanos, M.O.D.O.K., Galactus, Ronan the Accuser, Mandarin, Terrax, Bi-Beast, Abomination, Ultron, Fin-Fang Foom, and even Deadpool. Joining the obscure hero team the Great Lakes Avengers, Doreen eventually rose to prominence after she realized the team wasn't pulling their own weight. She would be hired by Jessica Jones and Power Man as a nanny to look after their infant daughter Danielle Cage. Doreen was incredibly responsible with this task, fiercely protecting Danielle from many threats intent on kidnapping her.
Milana Vayntrub, who voices Squirrel Girl in the Marvel Rising series, was to portray the character in live action in the ultimately unproduced New Warriors. She was to serve as the lead protagonist and head a group of untrained c-list heroes. Shannon Purser of Stranger Things fame and Mae Whitman were both considered with Whitman almost cast, though she had to drop out due to scheduling conflicts. Anna Kendrick was a popular choice, but she had no interest in the role.
See also
References