"Buzz Lightyear to Star Command. Come in, Star Command."
―Buzz Lightyear
Star Command is a fictional space agency mentioned by Buzz Lightyear in the Disney/Pixar Toy Story franchise.
Appearances
Throughout the film, Buzz (under the impression that he is a real Space Ranger), tries to makes contact with Star Command to no avail, and would continue to do so until he came to the realization that he was a toy.
Star Command is again mentioned by Ultra Buzz Lightyear (who too is under the impression that he is a real Space Ranger) when he suddenly comes to life and apprehends the original Buzz.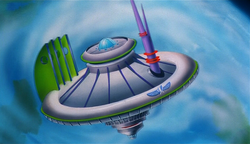 The spin-off animated series, Star Command is a large space station orbiting Capital Planet, the headquarters of the Galactic Alliance. It is the base of operations of the Space Ranger Corps, whose main purpose is to keep the galaxy safe from criminals. The station is shaped like two three-dimensional triangles wedged together at their bases. Its exact size is unknown, but it can easily accommodate hundreds of Space Rangers, LGMs, and Star Cruisers alike.
There are several launch bays, cafeterias, and training decks. The Briefing Room is where Space Rangers get the information on important missions from Commander Nebula. A large table is centered in the middle of the room with many chairs. The room also contains a large window which overlooks Capital Planet. The Launch Bay is where Star Command's ships are docked, serviced, and launched from here. Mission Control is the main deck of Star Command. Here, LGMs and Space Rangers alike regulate traffic and give clearance to vessels launching out of the station and vessels to and from the Galactic Alliance's territory. The Science Bay is where the LGMs spend their time developing new weapons and technology, as well as where they repair XR the numerous times he's blown up or malfunctioned.
Star Command is mentioned by Buzz as he tries to contact the station until Alisha asks what he is doing as he was narrating and he stops from embarressment.
Trivia
Star Command's design in the animated spin-off is based on Space Mountain at Disneyland.[1]
The dominant color of the Space Ranger suit is white to reflect the space suits of the early Apollo astronauts. The colors lime green and purple were also added because they are John Lasseter and his wife Nancy's favorite colors respectively.[2]
References