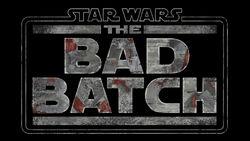 The following episodes of the Disney+ animated series, Star Wars: The Bad Batch, produced by Lucasfilm and Lucasfilm Animation. The first season priemered on May 4, 2021, and ran for sixteen episodes until August 13. On August 5, 2021, the show had been renewed for a second season which will be released on Disney+ on September 28, 2022.[1]
Series overview
Season
Episodes
Originally aired
Season premiere
Season finale
1
16
May 4, 2021
August 13, 2021
2
TBA
September 28, 2022
TBA
Total
Series premiere
Series finale
1-2
16
May 4, 2021
TBA
Season One (2021)
No. in
Series
No. in
Season
Title
Original Airdate
Production
Code
01
01
"Aftermath"
May 4, 2021
101-101B
Before the end of the Clone Wars, while the Bad Batch—defective clones Hunter, Tech, Crosshair, and Wrecker plus cyborg clone Echo—are assisting Jedi Master Depa Billaba and her Padawan Caleb Dume on Kaller, Order 66 is issued and Billaba is killed by her clones. The Bad Batch receives the order too, but only Crosshair feels compelled to obey it, and Hunter lets Dume escape. Returning to Kamino, the Bad Batch learns that the war is over, that an Empire has replaced the Republic, and they meet a young girl, Omega, who is another defective clone. Admiral Tarkin arrives to evaluate the clones' viability and sends the Bad Batch to eliminate a group of insurgents on Onderon. When they discover that these "insurgents" are fugitives under Saw Gerrera who refuse to submit to the new Empire, Hunter has his men abandon the mission and return for Omega. They are arrested for treason, and Tarkin has Crosshair's inhibitor chip enhanced, turning him against his squadmates and forcing the Bad Batch and Omega to flee without him.
02
02
"Cut and Run"
May 7, 2021
102
The Bad Batch and Omega seek refuge on Saleucami with clone deserter Cut Lawquane, who tells them about the inhibitor chips which programmed the regular clones and Crosshair to be loyal to the Empire after Order 66. With increased military presence from the Empire, Cut plans to escape with his family, but they discover that newly introduced chain codes are needed to book public transport. Knowing Cut would be arrested if he tried to get one, Tech and Echo steal some chain codes, and Omega helps deliver them to Cut and his family in time for them to board the transport. Hunter attempts to send Omega with Cut as he thinks she needs a family, but she decides to stay with the Bad Batch.
03
03
"Replacements"
May 14, 2021
103
The Bad Batch and Omega are stranded on a moon after their ship was damaged on Saleucami, and an Ordo Moon Dragon steals the part they need to repair it. Hunter and Omega set out to retrieve it, but Hunter is incapacitated. Omega continues alone and tracks the Dragon, retrieving the part without a fight. On Kamino, Tarkin and Admiral Rampart put Crosshair in command of a new unit of conscripted soldiers that are sent to Onderon to wipe out Gerrera's camp. Gerrera is already gone, and Crosshair kills one disloyal recruit, but the rest comply and are otherwise successful. Tarkin sees potential for conscripted soldiers, concerning Kaminoan Prime Minister Lama Su.
04
04
"Cornered"
May 21, 2021
104
On their way to a proposed hiding-place on Idaflor, the Bad Batch is forced to stop on the nearest planet, Pantora, so they can gather supplies and Tech can modify their ship's signature since it now appears on the Empire's wanted list. A landing bay attendant on Pantora identifies the Bad Batch and informs Fennec Shand, a mercenary who has been hired to retrieve Omega. Hunter, Echo, and Omega search for supplies while Tech and Wrecker work on the ship. Omega is approached by Shand, which leads to Hunter chasing Shand throughout the city. Hunter and Omega lose Shand, and after the modifications are completed the Bad Batch departs from Pantora.
05
05
"Rampage"
May 28, 2021
105
Hoping to discover who hired Shand, the Bad Batch goes to Ord Mantell where Echo knows of a Jedi informant named Cid. She offers to find out about Shand in exchange for their help: slavers have kidnapped a child named Muchi, and Cid will receive a reward from Jabba the Hutt if the Bad Batch helps her rescue the child. The Bad Batch finds and fights off the slavers, rescuing Muchi, who is a young rancor. Taking her to Cid, Muchi is then given to Jabba's right-hand man Bib Fortuna in exchange for the reward. Cid gives some of the reward to Hunter but is unable to learn who hired Shand. She offers to give the Bad Batch more mercenary work in the future.
06
06
"Decommissioned"
June 4, 2021
106
Cid hires the Bad Batch to retrieve a Separatist tactical droid for its battle intel before it is destroyed at a Corellian decommissioning site. They encounter police droids guarding the facility, as well as Trace and Rafa Martez who are also after the droid. Wrecker accidentally hits his head and his inhibitor chip begins to activate. Tech and the sisters program the tactical droid to turn on the police droids, allowing them to escape, but the tactical droid is destroyed in the process. The sisters explain that they were retrieving it for a client who is fighting the Empire. Hunter gives them a copy of the droid's data that Tech made during the fight, and the sisters later tell their client how to find the Bad Batch.
07
07
"Battle Scars"
June 11, 2021
107
After they fail to return with the tactical droid's data, Cid tells the Bad Batch that they will need to do a big job to pay off their debt to her. They are interrupted by Trace and Rafa's mystery client, their old friend Captain Rex, who is alarmed to learn that the Bad Batch have yet to remove their inhibitor chips as he has. They go to Bracca, a starship graveyard planet controlled by the Scrapper Guild, and sneak onto an old Jedi cruiser to use its medical bay. Wrecker's agitation activates his chip and he attacks his teammates, but he is subdued and the chip removed. Rex takes his leave once the extractions are completed; as they say goodbye, Hunter is seen by members of the Scrapper Guild.
08
08
"Reunion"
June 18, 2021
108
The Scrapper Guild informs the Empire of the Bad Batch's location, and Crosshair is sent to kill them. Concerned that Omega will not be returned safely, Lama Su hires a second bounty hunter to retrieve the girl. Crosshair cuts the Bad Batch off from their ship, so they attempt to escape through the cruiser's ion engine. Crosshair pins them inside and has the engine turned on, but they use explosives salvaged from the cruiser's armory to escape, and Crosshair is injured by the engine's ignition. Hunter and Omega are confronted by bounty hunter Cad Bane, who shoots Hunter in the chest and kidnaps Omega. The rest of the group catch up, carry the injured Hunter onto their ship, and escape.
09
09
"Bounty Lost"
June 25, 2021
109
While chasing after Bane, the Bad Batch learns from Tech that Omega is an unmodified replication of Jango Fett, making her the only available source for fresh cloning material. En route to an old Kaminoan cloning facility on Bora Vio for her delivery, Omega tricks Bane's droid aide Todo into releasing her and is able to signal the Bad Batch. Lama Su sends Taun We to retrieve Omega and orders Nala Se to eliminate the girl after extracting genetic samples from her. Concerned for Omega's safety, Nala Se sends Fennec Shand to rescue Omega. Shand kills Taun We and duels Bane, allowing Omega to escape and be retrieved by the Bad Batch.
10
10
"Common Ground"
July 2, 2021
110
On Raxus, which was the seat of the Separatist government during the Clone Wars, the Empire institutes new curfew laws with the support of local senator Avi Singh. While addressing the public, Singh speaks out against the Empire instead and is arrested. His protocol droid GS-8 hires Cid to help rescue Singh, and she sends the Bad Batch who are reluctant to help after fighting against the Separatists in the Clone Wars. Omega is left behind due to the multiple bounty hunters that are targeting her, and she wins Cid enough money playing dejarik to pay off the Bad Batch's debt. With the help of GS-8, the Bad Batch rescue Singh and take him to Cid for payment.
11
11
"Devil's Deal"
July 9, 2021
111
When Senator Orn Free Taa announces a new Imperial refinery on Ryloth and encourages Twi'lek freedom fighters to disarm, resistance leader Cham Syndulla publicly supports the Empire. His lieutenant Gobi Glie takes Cham's daughter Hera on a secret mission to retrieve new weapons that are delivered by the Bad Batch, during which Hera befriends Omega. Crosshair tracks them, and the Empire arrests Glie and Hera for treason. Cham attacks the Imperial convoy to rescue them with his wife Eleni and other freedom fighters, but Crosshair shoots Orn Free Taa, which enables Rampart to frame Cham for Taa's attempted assassination. Cham, Eleni, and Glie are arrested, while Hera escapes.
12
12
"Rescue on Ryloth"
July 16, 2021
112
Hera contacts Omega and asks the Bad Batch to help rescue her parents. Hunter does not think such a mission would be worth the risk, but Omega convinces him to intervene. Hera, Omega, Tech, and Wrecker attack the new Imperial refinery on Ryloth as a distraction while Echo and Hunter free Cham, Eleni, and the other freedom fighters. Crosshair discovers this and sets a trap for them, but clone Captain Howzer—who is loyal to Cham—warns the escapees of the trap and then confronts his fellow soldiers. Howzer is arrested, but the Bad Batch and freedom fighters escape. Rampart realizes that he has underestimated the Bad Batch and gives Crosshair permission to hunt them down.
13
13
"Infested"
July 23, 2021
113
The Bad Batch return from a mission to find Cid's Parlor under the ownership of crime boss Roland Durand. They find Cid outside, and she reveals a plan to take back the parlor by stealing a shipment of spice from Roland that is intended for the Pyke Syndicate. The Bad Batch and Cid enter her office via underground tunnels infested with a hive of Irlings. They successfully retrieve the spice, but are chased down by Roland's guards who awaken the hive. The group escape from the tunnels, but the spice is taken by the hive. They are caught by the Pykes, who take Omega hostage while the Bad Batch and Cid retrieve the spice from the hive. The Pykes then let Cid reclaim her parlor.
14
14
"War-Mantle"
July 30, 2021
114
The Bad Batch are contacted by Rex, who asks them to help clone commando Gregor who is sending a distress signal from the planet Daro. At the source of the signal, they find an Imperial base where conscripted troopers are being trained by clone commandos to replace the Clone Trooper army. Hunter, Tech, and Echo infiltrate the base while Omega and Wrecker stay in the ship as backup. The Bad Batch rescue Gregor, but Hunter is captured during the escape. On Kamino, Lama Su and Nala Se plan to escape after the Empire cancels their clone army contracts, but they are caught by Admiral Rampart, who has use for Nala Se as a scientist but not for Lama Su.
15
15
"Return to Kamino"
August 6, 2021
115
Hunter is taken to Tipoca City on Kamino, where the Empire has evacuated critical personnel and eliminated the rest. Crosshair activates Hunter's comm-link, luring the rest of the Bad Batch into a trap. Omega shows the others a hidden entrance into Nala Se's secret laboratory, where they were all originally created and where they find the friendly droid AZI-3 in hiding. They find Hunter, who tries to convince Crosshair to have his inhibitor chip removed, but Crosshair reveals that it has already been removed and he is willingly working for the Empire. Hunter stuns Crosshair as Rampart, under the orders of Tarkin, begins destroying Tipoca City with the Bad Batch and Crosshair still inside.
16
16
"Kamino Lost"
August 13, 2021
116
When the wreckage of Tipoca City begins to sink into the ocean, Rampart and the Empire depart while the Bad Batch aim to escape the city before it fully submerges. Omega and AZI-3 save Crosshair when they are trapped in a flooding room. Once the wreckage settles on the ocean floor, the group make their way to the tube that leads to their ship, but find it damaged. AZI suggests that he guide them to the surface inside lab capsules but runs out of power on their way up. Omega tries to save him at the risk of drowning, until Crosshair saves them both. When they reach the ship, Crosshair chooses to part ways with the Bad Batch. Elsewhere, Nala Se is brought to an Imperial facility.
References