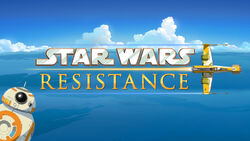 The following is a list of episodes of Star Wars Resistance, listed in the order they originally aired. The series premiered on October 7, 2018 with a one-hour pilot, "The Recruit". It was announced on August 14, 2019 that the Disney Channel had ordered a second and final season for October 6, 2019.
Overview
Season
Episodes
Originally aired
Season premiere
Season finale
1
21
October 7, 2018
March 17, 2019
2
19
October 6, 2019
January 26, 2020
Total
Series premiere
Series finale
1-2
40
October 7, 2018
January 26, 2020
Season One (2018-2019)
No. in
Series
No. in
Season
Title
Original Airdate
Production
Code
01-02
01-02
"The Recruit"
October 7, 2018
101/102
Poe and BB-8 assign newly-appointed spy Kaz to the Colossus, a massive aircraft re-fueling platform on an outer rim water planet, home to colorful new aliens, droids and creatures. While undercover, Kaz works as a mechanic and lives with Poe's old friend Yeager, a veteran pilot who operates a starship repair shop run by his crew: Tam, Neeku, and their old battered astromech droid, Bucket. Kaz soon finds himself in over his head with his new friend BB-8 as he will have to compete in dangerous sky races, keep his mission a secret from his newfound family, and avoid the danger of the First Order.
03
03
"The Triple Dark"
October 14, 2018
103
While Kaz struggles to maintain his cover as a mechanic at Colossus, Yeager's shop receives a new customer in the form of the Neimoidian Hallion Nark, who wants the repairs to his ship to be completed before the next "triple dark", a storm that causes low visibility on Castilon. Besides juggling his work as a mechanic and spy, Kaz also has to contend with the Aleena Grevel over debts accumulated during a game of holodarts. The Quarren pirate Kragan Gorr and his gang attack the Colossus during a "triple dark" storm. Kaz manages to drive away the pirates by using a comlink to beam a jammer into their communications systems. At the exposition, it is revealed that Kragan and his pirates are proxies serving the First Order, which hope to use the chaos to establish a foothold at Colossus.
04
04
"Fuel for the Fire"
October 21, 2018
104
Still struggling to fit in as a mechanic at Yeager's repair shop, Kaz is befriended by the young racer Jace Rucklin and his associates. Having gained Kaz's trust after staging a rescue during a swoop bike ocean race, Rucklin convinces Kaz to let him visit Yeager's trophy room under the pretext of seeing Yeager's racer. Rucklin steals a bottle of Corellian hyperfuel for his racer. Upon learning of the theft and the volatile nature of hyperfuel, Kaz saves Rucklin's life but earns the enmity of the young racer and his friends. Despite his unsatisfactory performance, Yeager gives Kaz a second chance because he views him as a good person who saved Rucklin from himself.
05
05
"The High Tower"
October 28, 2018
105
Captain Doza's fuel rationing forces Kaz and the rest of Yeager's team down to Aunt Z's cafe, where Kaz meets Hype Fazon. Hype reveals that the First Order is bringing fuel to Colossus, and Kaz runs outside to watch the First Order's ship as it comes in. Hype then invites Tam, Kaz, and BB-8 to visit the High Tower, and Kaz excitedly agrees, hoping to find out what the First Order is doing on the platform. Using a comm link, he is able to listen in to Major Vonreg's meeting with Doza and discovers the First Order is offering protection from the pirates in exchange for control of the station, however as he leaves Vonreg discovers Kaz's actions. After a daring chase-and an encounter with Doza and his daughter, Torra-Kaz eventually ends up back at Yeager's shop, but not before Doza begins to suspect him as the spy.
06
06
"The Children from Tehar"
November 4, 2018
106
Kaz searches for two missing children for a sizeable reward only to discover the First Order is also hunting for them.
07
07
"Signal from Sector Six"
November 11, 2018
107
When out on a routine training exercise, a distress signal sends Kaz and Poe to a damaged ship with strange lifeforms onboard.
08
08
"Synara's Score"
November 18, 2018
108
On a mission to repair a vital platform defense, Kaz befriends the mysterious Synara and comes under attack by pirates.
09
09
"The Platform Classic"
November 25, 2018
109
An upcoming race reunites Yeager with his estranged brother, Marcus, who needs to win to pay off his debt to a criminal organization.
10
10
"Secrets and Holograms"
December 2, 2018
110
When a determined Kaz tries to discover the truth about Captain Doza, he and Torra embark on an adventure where they uncover more about the tower than either bargained for.
11
11
"Station Theta Black"
December 9, 2018
111
When Poe and Kaz find an old First Order mining facility, BB-8 discovers that the facility isn't so abandoned.
12
12
"Bibo"
January 13, 2019
112
Neeku adopts a strange sea creature and gets way more than he bargained for when it brings chaos to the platform.
13
13
"Dangerous Business"
January 20, 2019
114
In exchange for parts, Kaz minds acquisitions for Flix and Orka and comes into conflict with a shady alien customer in league with the First Order.
14
14
"The Doza Dilemma"
January 27, 2019
115
Synara settles into life on the platform, but her pirate compatriots have other plans for her.
15
15
"The First Order Occupation"
February 3, 2019
TBA
Kaz scrambles to help Synara escape the platform as the First Order sends a contingent of stormtroopers to hunt a spy.
16
16
"The New Trooper"
February 10, 2019
117
When Kel and Eila seek out Kaz's help after knocking out a stormtrooper, Kaz dons the trooper's armor to protect the kids and spy on the First Order.
17
17
"The Core Problem"
February 17, 2019
118
Poe and Kaz make an unsettling discovery and must evade the First Order when they are spotted by an enemy probe droid.
18
18
"The Disappeared"
February 24, 2019
119
Kaz and Torra investigate the disappearance of a friend and plan to free them from the First Order.
19
19
"Descent"
March 3, 2019
120
With secrets exposed, Yeager's crew must evade relentless troopers hunting them down and find a way to reach the Resistance.
20
20
"No Escape (Part 1)"
March 10, 2019
121
Kaz, Neeku, Torra devise a plan to free their friends, but it's upended when Kaz bears witness to the full might of the First Order.
21
21
"No Escape (Part 2)"
March 17, 2019
122
With Neeku's help, Kaz comes up with a risky plan to rid the Colossus of the First Order once and for all.
Season Two (2019-2020)
No. in
Series
No. in
Season
Title
Original Airdate
Production
Code
22
01
"Into the Unknown"
October 6, 2019
201
After being launched into space by Kaz and crew, the Colossus encounters engineering problems, which are made worse by a mysterious stowaway.
23
02
"A Quick Salvage Run"
October 13, 2019
202
The Colossus is in dire need of hyperfuel, and Kaz suggests they take it from a downed First Order ship. The salvage mission is compromised when the First Order shows up.
24
03
"Live Fire"
October 20, 2019
203
Kaz officially joins the Aces, as does Yeager—who trains them to become better combat pilots. Meanwhile, Tam learns what it's like to be a First Order pilot.
25
04
"Hunt on Celsor 3"
October 27, 2019
204
The pirates volunteer to find food for the Colossus, but Kaz doesn't trust them; Kaz and Torra go on the hunt, but run into big problems.
26
05
"The Engineer"
November 3, 2019
205
Kaz and Neeku discover Nena, a Nikto engineer in need of assistance, who barely escaped a First Order attack.
27
06
"From Beneath"
November 10, 2019
206
Flix takes Kaz and crew to his homeworld to acquire fuel from his family's refinery, only to discover the family's drilling has awoken something monstrous.
28
07
"The Relic Raiders"
November 17, 2019
207
When Kaz and the team arrive on a mysterious planet to buy supplies, they find the outpost has been abandoned and a secret Sith Temple has been raised.
29
08
"Rendezvous Point"
November 24, 2019
208
Doza attempts to meet a Resistance pilot from his past. Meanwhile, the pilot has been captured by the First Order.
30
09
"The Voxx Vortex 5000"
December 1, 2019
209
With the Colossus running out of money, Hype risks everything by taking the Aces to race at Vranki's Casino, run by Vranki the Hutt.
31
10
"Kaz's Curse"
December 8, 2019
210
Kaz is forced to seek Mika Grey's help when a pirate curses him.
32
11
"Station to Station"
December 15, 2019
211
Kaz and Neeku sneak onto a First Order refueling station in order to take an important piece of tech. Plans go awry when they run into Tam and General Hux.
33
12
"The Missing Agent"
December 22, 2019
212
Kaz, Yeager and Synara trace a distress call to a planet where a Resistance agent has gone missing.
34
13
"Breakout"
December 29, 2019
213
Kaz and Norath try to help their friends while being pursued by a deadly bounty hunter.
35
14
"The Mutiny"
January 5, 2020
215
Kragan buys a secret weapon to capture the Colossus and take over. When Synara discovers this plan, she tries to warn Kaz and crew, but it may be too late.
36
15
"The New World"
January 12, 2020
215
Doza takes the Colossus to a hidden world on the outer rim, only to find it's inhabited by beings who don't like them.
37
16
"No Place Safe"
January 12, 2020
216
Kaz decides to join up with Poe and the Resistance, but things go awry when he discovers the First Order has located the Colossus.
38
17
"Rebuilding the Resistance"
January 19, 2020
217
Resistance recruits need an escort getting off of Dantooine, but, unfortunately, Tam is assigned to destroy the recruits.
39-40
18-19
"The Escape"
January 26, 2020
218/219
Kaz and Yeager attempt to rescue Tam from the First Order while trying to evade capture on a Star Destroyer. Meanwhile, the Colossus is in trouble and faces an impossible choice.