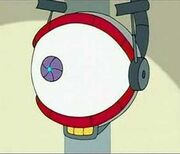 Station is a main character of Lloyd in Space. He is the space station's British-accented computer. He is voiced by Brian George.
Background
Not much is known about Station's past, although it can be assumed he was built and finished at the same time Intrepidville station first opened up thousands of years ago.
Personality
Station is a well-mannered, friendly computer who's duty is to update the stations inhabitants on what is going on and seems to have a mind of his own. He is usually the one who tells Lloyd what to do without being harsh in any way and will often try his best to keep Lloyd out of trouble. Despite his wise persona, he is not above lying about himself over a galactic dating site to get the attention of a girl he cares for deeply. He has an evil backup system that is voiced by John DiMaggio who voices another rude and self-centered robot.
Episode Appearances
Season One
Season Two
Season Three
Season Four
Quotes
"Oh my goodness?"
"Oh Lloyd you slay me."
Gallery
Community content is available under
CC-BY-SA
unless otherwise noted.