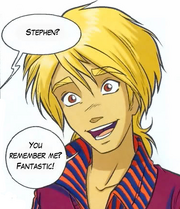 Stephen is Irma's boyfriend, a sweet young blond flowing hair and hazel eyes.
He and Irma have known each other a long time ago (probably at a school trip), and even then Irma had a crush on him, but unfortunately were not seen again. He is member of a secret heroes called U18, a group of young vigilantes living and working in a basement underground Heaterfield who controls the electrical wires, water pipe lines, and city cameras in order to catch criminals andprotect the city.
Story
Stephen appeared in the seventh saga, Arc 7: New Power|New Power, as an old flame of Irma, whom she met and got to know to at asummer camp. Stephen gave Irma a golden ring, but she lost it sometime ago. Irma later had to face an ultimatum; to stay with Stephen and be loved by him or keep her powers over water. Stephen later learn that his girlfriend has magical powers (though not about W.I.T.C.H.) when Irma convincingly turned him into a frog like she did to Andrew Hornby at the fear of losing him, and he has become a close personal confidante of her since.
Gallery