| | |
| --- | --- |
| | Stitch is a featured article, which means that it has been identified as one of the best articles produced by the Disney Wiki community. If you see a way this page can be updated or improved without compromising previous work, please feel free to contribute. |
"Monstrosity? What you see before you is the first of a new species. I call it Experiment 626. He is bulletproof, fireproof, and can think faster than [a] supercomputer. He can see in the dark, and lift objects three thousand times his size. His only instinct... to destroy everything he touches!"
Stitch, also known as Experiment 626, is one of the titular protagonists of the Lilo & Stitch franchise. He is an illegal genetic experiment created by Jumba Jookiba, whose primary function is to destroy everything he touches. He is designed to be abnormally strong, virtually indestructible, super-intelligent, and very mischievous. His one true place is with Lilo and her ʻohana.
Background
Development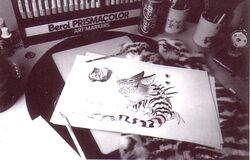 Chris Sanders first created the character of Stitch in 1985 for a planned children's book that never came to be.
Years later in 1997, when production on Mulan was currently wrapping up, he had the opportunity to pitch a film version of his planned story, beginning the development of the film.
In early drafts, Stitch was originally slated to have landed in Kansas, but the setting was changed to Hawaii since the location would provide a greater degree of isolation from large cities, and the islands were among some of Chris Sanders' favorite places. Also, the character himself started as an intergalactic gangster rather than a recently created genetic monster. In these early drafts, his gang (including ex-gang member Jumba) would have been the ones hired by the Galactic Federation to hunt him down.
Personality
"626 was designed to be a monster, but now he has nothing to destroy. You see, I never gave him a greater purpose. What must it be like to have nothing, not even memories to look back on in the middle of the night?"
―Jumba giving an example on the instinct of Stitch
Throughout the course of the entire Lilo & Stitch franchise, Stitch is depicted as a character that is unlikable to many people except Lilo (on rare occasions, even she falls out with him, most notably in Lilo & Stitch 2, where she declares that he is "bad and always will be bad!" after he has an uncontrollable glitch attack) due to his destructive and temperamental behavior. It is interesting to note that people who are averse to Stitch (such as Mertle Edmonds, Gantu, and Dr. Hämsterviel) describe him as "ugly and deformed", while those who do love him (like Lilo, Nani, and Jumba) describe him as "cute and fluffy". This reflects the basic idea behind Stitch (and his cousins) that counters what societal standards are for good physical appearance. Despite having odd features such as extra pairs of arms, misshapen heads, or unusual coloring, Stitch and his kin prove that you don't have to look 'normal' to fit in.
Whether Stitch is displayed in his true alien form; complete with an extra set of arms, antennae, and spines on his back, or in his 'dog' form (the one the audience is accustomed to seeing), sans the aforementioned features, his overall 'cuteness' belies his extremely aggressive and destructive personality. This is especially apparent during and immediately after his escape from the Galactic Federation. He proves to be a complex character as he comes to terms with his own 'good' and 'bad levels' and struggles to find his place in the world. According to his creator Jumba, Stitch is a 'machine' who was made without a greater purpose than to destroy. The fact that he becomes trapped on the island of Kauai, which has no large cities, he has more time to contemplate and reflect on alternative occupations. Although Stitch seeks to destroy because of his innate programming, he has a personality of his own (a fact that only Lilo and Jumba truly understand) and shows that he has the will and ability to make the choice not to follow his original design.
In comparison to his super strength and computer-like intelligence, Stitch is emotionally fragile, behaving almost like a child having a tantrum at times. Lilo relates to this and believes that a couple of main reasons for his naughtiness are because of some past trauma and receiving little to no understanding or sympathy from others. Of course, Stitch eventually becomes much more well-meaning after his betterment, but is frequently unable to control all of his impulses toward anti-social actions. Fortunately for him, Lilo (and later Reuben and Angel) is always there to support him, and he returns her support willingly.
There is a common misconception from viewers that Lilo is dependent on Stitch for protection and support; if anything, it is Stitch who is more dependent on Lilo. Despite her having her own troubles to contend with, Lilo makes every effort to help Stitch in life and, as the story progresses, he becomes more self-conscious and capable of making the right decisions. By the end of the series, Stitch has friends, family, loved ones, and a purpose worth believing in.
Stitch may still become prone to having temper tantrums when things do not go as well as he hopes. He also gets easily angered by inanimate objects, especially the toaster. After it popped toast in his face once, he has since beaten it and juiced it at least twice. Despite these tantrums, Stitch can sometimes display a little common sense and be more mature than Lilo. He occasionally sees when she goes too far in using the other experiments for her own personal gain, examples of which were seen in her schemes involving Sprout, Checkers, Morpholomew, and PJ.
Physical appearance
Designed by his voice actor Chris Sanders, Stitch is a blue alien genetic creation standing around three feet tall. He strongly resembles a koala or a French bulldog and is referred to as both throughout the franchise, especially since humans (with the exception of Lilo, Nani, Cobra, and David) are completely oblivious to the fact he is an alien. He has sharp teeth inside his mouth along with a long pink tongue. A short, stumpy tail cuts out from his rear. He has a limited ability to change his physical appearance, only able to retract his second set of arms, his antennae, and the three spines on his back into his body.
When Stitch was first introduced by Jumba, and during his time as a criminal, he donned a red spacesuit with an upside-down triangle consisting of a red border and yellow center on the chest. Similar patches adorned the elbows of the sleeves and square patches consisting of a dark red border with an orange center showed on each of his legs. He also wore a black belt with a crimson square buckle, and his cuffs, anklets, and collar were also black. The suit survived when he crashed on Earth, but it was torn to pieces when he was run over by a convoy of trucks.
When Stitch was captain of the B.R.B. 9000, he donned a black spacesuit similar to that of Gantu's which consisted of a black shirt with thick red brims on his shoulders. Unlike Gantu's tank shirt, this suit features wrist-length sleeves with red cuffs, along with matching vertical linings on both sides of the shirt and trousers. He also wore a gray belt with a light gray "V" on the front, along with a small gray mark on the upper left chest that resembles a tear drop with a black dot on it. The suit was destroyed during his fight with Leroy.
Powers and abilities
While explaining his creation to the Galactic Council early on in Lilo & Stitch, Dr. Jumba gives the following rundown of Stitch's powers: "He is bulletproof, fireproof, shockproof, and can think faster than [a] supercomputer. He can see in the dark and can move objects 3,000 times his size. His only instinct: to destroy everything he touches!"
Feral mind (temporarily) : In the original Lilo & Stitch movie, Jumba claimed that Stitch's "destructive tendency was taking effect" and that he would be irresistibly drawn to large cities to "back up sewers, reverse street signs, and steal everybody's left shoe."
Superhuman durability/Dense body tissue: Although we rarely see Stitch shot at with a bullet, he does survive the crash of his spaceship without even a scratch, is only briefly stunned by a fall of several thousand feet, and has to be run over by three tractor trailers in succession to be knocked out.
Fireproof skin: He drives a tanker truck of gasoline into a volcano and ends up only a little singed from the resulting explosion.
Bulletproof skin: Rounds fired from plasma guns seem to cause him discomfort, although he can hold the material in his hands long enough to throw the plasma back at his enemies.
Shockproof: He has some resistance to electricity since he was able to take an electrical attack from Sparky, quickly recovering from it. However, he can still feel pain from these types of shocks despite his immunity to it.
Hyper-cognition: Thinking faster than a supercomputer is harder to quantify, but he does escape from captivity fairly ingeniously; builds a model of San Francisco after only glancing at a postcard; grabs a crossword puzzle from the table and finishes it in about seven seconds; builds a bomb out of a plasma bolt, a doll, and a roller skate; creates a "bucking bronco" out of a toaster, vacuum cleaner, and a lamp; reads aloud a description of a local museum's display, showing he is able to understand written language at a remarkable speed; manipulates moral compass by using a human being as a shield in Jumba and Pleakley's presence; and generally picks up quickly on what is happening around him.
Lingual intuition: Stitch can converse fluently in over 20 different languages, but prefers Tantalog (his native language).
Parallel computing: He is an information repository, containing an internal dictionary, thesaurus, encyclopedia, and experiment catalog, and records every moment of his life in a reserved portion of his brain that can theoretically store up to 300 PB.
Instrument player: He is also skilled at playing musical instruments, most notably the ukulele thanks to his quick learning.
Vehicle intuition: Stitch can drive any sort of vehicle from something as simple as a tricycle to complex machinery like intergalactic spaceships.
Superhuman strength: His ability to lift objects 3,000 times his own size and weight is seen several times throughout the franchise, including incidents where he picks up a descending blast door, hits Dr. Jumba with a thrown Volkswagen Beetle (shouting gleefully, "Blue punch buggy! No punch back!"), and stops an 18-wheeled tanker of gasoline dead in its tracks. The reason why Stitch can lift 3,000 times his own weight, even though he has small arms, is because his muscles contain excessively compressed amounts of myofibril within one muscle cell. This muscular arrangement makes Stitch's muscles contract 1,000 times faster than a human's, making him much, much more powerful. The ability is sometimes joked about in the later series; for example, in Stitch! The Movie, when Hämsterviel has Stitch physically restrained for a cloning experiment, Stitch's restraints counter his strength at, as Hämsterviel loudly declares, to "three thousand and one!" times Stitch's weight, though he later admits it was intended as a joke. This was further validated in the Lilo & Stitch: The Series episode "Swirly", when Gantu correctly guessed that Stitch cannot lift even an ounce more than 3,000 times his size when he adds a small ticket to the given load.

Superhuman jump: Stitch's legs are small but, thanks to the muscle advancements mentioned above, are powerful enough to enable him to jump several feet into the air.

Wall crawling: While Stitch's claws are strong, the pads on his hands and feet can secrete a sticky substance, allowing him to scale and adhere to almost any surface, such as buildings and walls. He can also stand on walls and ceilings.
Spherical form: His skeletal system is very flexible, allowing him to put his feet into his mouth and roll like a ball. This allows him to squeeze through tight spaces.
Superhuman speed: Stitch can move and run faster as shown moving past Lilo and Pleakley while carrying Jumba, during a bet made with Lilo to catch Experiments 501 (Yin) and 502 (Yang), and hurrying from Gantu's ship back to the fundraiser while carrying Lilo. His speed is also usually used when he's in his spherical form. When Stitch runs, his speed doesn't automatically increase and can only achieve it by putting effort into his muscles.
Superhuman agility: Stitch has greater agility, dexterity, balance, and body coordination, capable of doing feats far beyond an acrobat, such as leaping far distances, jumping off from wall to wall, swinging from vines, and standing on branches, wires, and narrow platforms. He is also capable of standing and walking on his paws. The reason is Stitch has a very flexible skeletal system that also allows him to squeeze through tight spaces.
Superhuman reflexes: Stitch is able to react and dodge plasma bolts from the plasma guns from Jumba and Gantu. When Jumba tried to shoot him, Stitch caught it in his hands. He is able to catch some tennis balls with his four arms and even threw them back in the pitching machine.
Superhuman stamina: Stitch's advanced musculature produces fewer fatigue toxins, allowing him to exert himself for extended periods of time. Stitch can still fight, run, and even eat without tiring out, even hunting for other experiments he would hunt them for an entire day to when night comes.
Electromagnetic vision: Stitch's eyes can magnify objects and pick up various forms of light, filtering out one or the other if necessary. Using normal vision, his eyes are a glossy, solid black and also magnify his vision.

Night vision: When activated, Stitch's eyes turn green, permitting him to see clearly at night or in dark places.
Infrared vision: When activated, Stitch's eyes turn red, permitting him to locate targets by their body heat. He most notably uses this in "Houdini" to track the titular experiment who can turn things, including himself, invisible.
X-ray vision: When activated, Stitch's eyes turn bright green, permitting him to look through walls and other obstacles.

Audio amplifier: He can act as an audio amplifier, radio, and/or microphone, illustrated when he uses his claw as the needle on a record player and plays music through his mouth like a sound horn.
Enhanced hearing & smell: He has an acute sense of smell and hearing. Concept designs detailing Stitch's anatomy describe the sensory filaments of his nose being so dense and extensive that, if unraveled, could blanket the Earth. While listening for Jumba and Pleakley, who are hiding on a hill outside the dog shelter, he is able to detect Pleakley speaking at a whisper.
Skilled hand-to-hand combat: He is dexterously skilled in hand-to-hand combat, whether using all four arms or just two.
Venomous spines: In anatomy drawings of Stitch from the film's production, his spines are described as being poisonous and connected to venom sacs in his spinal cord.
Shapeshifting: In his alien form, he has three spines on his back, two antennae on his head, and an extra pair of arms. However, he is able to retract all of these features to look more like a dog while on Earth and used this to become Lilo's pet.
Semi-immortality: Stitch cannot age. When Skip flashed ten years ahead, he did not age whatsoever, but, for some reason, Babyfier's powder reversed him into an infant. This could simply mean he stops aging once he is physically mature.
Vacuum adaptation: Along with the rest of his "cousins", Stitch can survive in the vacuum of space.
Power immunity: Stitch has a resistance but not a total immunity to the other experiments powers. Stitch is shown to be immune to some of the experiments' powers, such as Angel's siren song and Checkers' hypnosis, since Stitch is created after them. While Stitch was put to sleep by Drowsy, he was able to wake up on his own without the need to be sprayed with water.
Both of the two East Asian animated spin-offs add additional abilities to Stitch not shown in the original Western continuity.
Battery Storage: The third season of the Stitch! anime shows that he also has a natural battery in his body that can supercharge his powers.
Transformation: In Stitch & Ai, it shows that Stitch has a metamorphosis code in his DNA to assist him in carrying out his primary function. When the metamorphosis programming is activated, he transforms into a gigantic and unstoppable monstrosity with four tentacle-like blasters capable of destroying not just cities, but planets and potentially entire star systems.
Quill Retraction: In "Tell the World", he is also seen sprouting quills around his neck.
Gliding: In "The Phoenix", Stitch sprouts a patagium—a parachute-like membrane found in bats, birds, and other animals that assists in gliding or flight—to glide through the air, mainly for the sake of having some fun while he, Ai, and her cousin Bao head to a shrine that the titular phoenix heads to. (The trio were using a hang glider during their journey, and Stitch deliberately jumps off it so he can glide through the air without hanging on to the glider itself.) Unlike the metamorphosis program, neither the quills nor the patagium have any major factor into the episodes' plots or the metamorphosis program itself.
Weaknesses
Program limits: Stitch's primary weakness lies in his programming.

Water: Stitch's greatest weakness is his inability to float, let alone swim, in water due to his molecular structure being much denser than the average human or animal. This causes him to instantly sink like a stone. Stitch originally had an instinctive aquaphobia (which was even used against him by Spooky), but he was able to overcome it thanks to Lilo's influence.
Glitch (formerly): In Stitch Has a Glitch, it is revealed that Stitch's molecules were not fully charged after his creation. Stitch frequently experiences periodic glitches that have him revert to his original destructive programming; basically, suffering from a seizure disorder and having nightmares of destroying everything and everyone in his path, including Lilo. However, his suffers from these glitches were gone permanently after Lilo's love for him caused him to be fully charged at last.
Memory erase from Crezonyte: It is shown in "Kixx" that if Stitch consumes two different elements which form to create a particular chemical compound called Crezonyte, all of his training skills will be wiped. Eating the rubber of a tennis shoe and palmitoleic acid (found in macadamia nut oil) together will result in this.
Mucus drain: Stitch is 62.7% mucus, which is similar in composition to Snootonium. If this is drained from his body, he will become temporarily exhausted from dehydration (evidenced when Snooty siphoned Stitch's mucus).
Sonic blasts/Sensory overload: Another weakness is the fact that his super-sensitive hearing can lead to temporary deafness when exposed to sonic blasts, such as Yaarp's destructive sound blast.
Strength limit: As stated above, he cannot lift even an ounce past the "3,000 times his weight" limit.
Experiments' powers: While Stitch is immune to Angel and Checkers' powers since he was created after them, there are some experiments whose powers he is vulnerable to, such as Amnesio, Babyfier, Spike, Bugby, Lax, Dupe, Frenchfry, Swapper, Swirly, and Houdini. Stitch can also be put to sleep by Drowsy, but he was able to wake up on his own without the need to be sprayed with water.
Blades/Durability limit: While Stitch can withstand plasma bolts, being beaten, and even the most hazardous environments, it is implied that Stitch isn't resistant to bladed objects. This is shown when Stitch was pierced by a Sample Extractor and able to take out his blood.
Trash ingestion: If Stitch consumes vast amounts of trash, he will become incredibly sick as shown in "Ploot". He first gets sick to his stomach and sneezes, then his fur turns yellow, his tongue becomes orange, and his nose turns red. Another symptom is, with each sneeze, an arm grows from random areas of his body. Stitch's garbage-eating illness was theorized as a rare space disease by Jumba. Stitch was cured when he drank a barrel of orange juice and took medicine from an eyedropper, though it was only for a few seconds. When he sneezed again, he developed yellow stripes and grew legs instead. The only permanent cure is inhaling steam from a vaporizer.
Sauerkraut: According to Lilo, Stitch is apparently allergic to sauerkraut. However, it was never shown what kind of allergic reaction he has to sauerkraut or if he even actually has an allergy to it.
Appearances
As revealed in Lilo & Stitch, Stitch was created by "evil genius" Dr. Jumba Jookiba, who dubbed him "Experiment 626". Both Jumba and 626 were put on trial by the United Galactic Federation following Jumba's arrest on suspicion of illegal genetic experimentation. When the Grand Councilwoman tries asking 626 to show them something inside himself that is good, he says, "Meega, nala kweesta!" (which means "I want to destroy!"), which horrifies everyone.
Jumba is incarcerated and 626 is sentenced by the Grand Councilwoman to banishment on a deserted asteroid. Captain Gantu (who despises him to no end) transports him on his ship, escorted by a fleet of police cruisers. During the trip to, 626 outsmarts the plasma guns which are locked onto his genetic signature and manages to break out of the holding cell. He escapes security into the ventilation system, makes his way to the power grid (disabling the ship's power), and steals a red police cruiser. Despite damage to the cruiser, he activates the hyper-drive and escapes the fleet. The Grand Councilwoman supervises a team which track's 626's location and they project that he will land on Earth. Hoping that his ship will crash in water, stating that his molecular density is too great, the Councilwoman is dismayed to see that 626's final destination is on a string of islands; aka, Hawaii. A decision to gas the planet is rejected by Agent Pleakley, an expert on life on planet Earth. In order to capture 626 discreetly, the Grand Councilwoman instructs Pleakley to accompany Jumba to Earth, the deal being that, if 626 is captured, Jumba will be freed.
A few hours later, after his escape, 626 crash-lands on Earth on the island of Kauai. Almost immediately, he is run over by three plantation trucks and knocked unconscious. When he wakes up, 626 finds himself in a dog kennel without his suit or his plasma cannons. He escapes the kennel, but only briefly; Jumba and Pleakley are already waiting for him outside and fire plasma rounds at him. When Lilo enters the kennel, 626 decides to disguise himself as a dog and uses Lilo as a shield from Jumba and Pleakley. Lilo names 626 'Stitch'. Throughout the course of the day, Stitch continues to evade Jumba and Pleakley while the bounty hunters keep a safe, but noticeable, distance as they are under orders to remain discreet. As Stitch's destructive programming takes effect, he begins to cause trouble for Lilo and her older sister, Nani, who is currently struggling to keep custody of her sister following the deaths of their parents. Stitch's destructive and mischievous behavior causes tension between Lilo and Nani, especially when it causes Nani to lose her job. The only thing that keeps Stitch with them is Lilo's persistence.
Over the course of time, with nothing of substance to destroy, Stitch finds himself questioning his purpose in life, coming to realize he has nothing if he cannot wreak havoc and destroy because he was only created to be a monster. After going through Lilo's collection of books, Stitch discovers the story of The Ugly Duckling and is immediately taken by the tale. When Lilo explains the duckling was sad because he was lost, but became happy again after finding his family and a place to belong, Stitch tries afterward to fit in with Lilo's family. However, his proclivity for mishaps and interference from Jumba and Pleakley turn this into a futile effort. Eventually, and just when he thinks that things might be happening for the best, one final bit of mayhem (thanks to the alien bounty hunters) results in Nani losing custody of Lilo. Heartbroken by his destruction of the family he has learned to care for, and realizing everything is his fault, Stitch runs away into the night, believing she has a better chance at happiness without him and seeking to find a family of his own. He takes the Ugly Duckling book with him.
The following morning, Jumba confronts Stitch and chases him back to the house. Stitch finds Lilo alone, since Nani ran out early to apply for a job. Jumba is less discreet this time, to Pleakley's dismay, and the ensuing battle leads to the house being completely destroyed. Nani comes home in time to see Lilo being taken by the social worker. When Lilo hears that she's to be taken away, she runs away. Stitch finds her shortly afterward, and reveals that he's an alien, but Lilo had enough of the trouble he's caused, so she denies Stitch's apologies and pushes him away. At that moment, Gantu arrives and captures both Stitch and Lilo. Though Stitch escapes, Lilo is taken prisoner aboard Gantu's ship. In order to save her, Stitch allies himself with Nani, Jumba, and Pleakley. He then steals a tanker truck, and an air battle between Gantu's and Jumba's ships ensues until Stitch is able to board Gantu's ship. Gantu attempts to destroy Stitch during the confrontation, and though he nearly succeeds, Stitch gains the upper hand and manages to both save Lilo and destroy Gantu's ship. They then run into David, who gives them a ride back to shore.
Landing just off shore, everyone makes their way to the beach where the Grand Councilwoman is waiting with her ship and entourage. She immediately arrests Stitch who asks permission to bid farewell to Lilo and Nani before he departs. The Grand Councilwoman accepts, surprised by Stitch's sudden gentle and loving nature toward what he calls his family. Though she then admits she cannot change the council's decision to apprehend Stitch, as the council has made the firm decision to do so, and it is outside of her power to overrule such a decision. However, Lilo then reveals her certificate of adoption from the dog shelter, meaning he belongs to her, and taking him away would be illegal. With aliens being all about rules, the Grand Councilwoman happily agrees to allow Stitch to remain on Earth, sentenced to a 'peaceful' exile. She then announces that Lilo's family will be under protection of the United Intergalactic Federation.
During the finale shows that Lilo and Nani's house was rebuilt with the help of Jumba and Pleakley who have remained on Earth. Stitch is shown to have adjusted well to life on Earth, spending most of his days spending time with Lilo, Nani, David, Jumba, and Pleakley, and finally finding his place in the world, as a member of their ʻohana.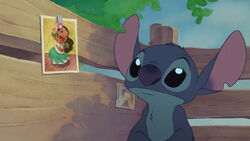 In Lilo & Stitch 2: Stitch Has a Glitch (set shortly after the first movie), Stitch is now living, along with the also-exiled Jumba and Pleakley, in Lilo and Nani's house.
Although still hot-tempered and mischievous, he is reasonably well-behaved, but then begins to malfunction unintentionally. Since his molecules were not fully charged after his creation, Stitch frequently experiences periodic glitches that have him revert to his original destructive programming; basically suffering from a seizure disorder and having nightmares of destroying everything and everyone in his path, including Lilo. Seeing this, Jumba strives to create a proper fusion chamber in which to recharge Stitch.
Stitch wants to prove to Lilo that he can still be good, so he goes around doing good deeds for the citizens of the town to prove himself. When his goodness chart is finished, he goes to show it to Lilo, but she is too busy preparing for the contest. She ignores Stitch and tells him to get lost, deeply hurting him.
Before Lilo goes on to perform her hula dance, Stitch accidentally scratches her face and hurts her, just like in his nightmare. Believing himself to be too dangerous, Stitch attempts to leave Earth for a remote planet while Lilo, Jumba, and the others desperately try to have him return so they can recharge him. When Stitch crash-lands the ship on a mountain, Lilo manages to get him into the fusion chamber, but she pulls the switch too late. As Stitch dies, he says his last words: "Stitch sorry." Jumba says that they're too late and there's nothing Lilo can do. But Stitch seems to be revived with his molecules fully charged by Lilo's love. She tells Stitch that he needed her more than she needed him because he's Lilo's ohana and she'll always love him, in accordance with her belief that love is more powerful than death. With these words, it turns out that Stitch was put into the fusion chamber just in time after all.
At the start of Stitch! The Movie, Stitch is shown having a difficult time connecting with the island locals during a beach party, feeling he doesn't fit in and is too much of an outcast. Though Lilo tries to comfort him, he seeks Jumba in hopes of learning of others like he and the evil scientist. However, Jumba explains that, in the vast universe, he and Stitch are alone and lack, what Lilo calls, "cousins".
Later on, Stitch discovers Jumba's first 625 genetic experiments locked in a crate, in the form of dehydrated pods. In order to rescue a kidnapped Jumba, a trade between Dr. Jacques von Hämsterviel and Jumba for the experiments is organized, but it instead results in the freedom of the experiments and the capture of Lilo and Stitch. Hämsterviel then tries to clone Stitch, but he was rescued by Experiment 221 ("Sparky"). Stitch then rescued Lilo and landed Hämsterviel's spacecraft back in Kaua'i, where the Grand Councilwoman waited to arrest the evil rodent. She then puts Stitch and Lilo in charge of capturing and taming the other illegal genetic experiments scattered on the island.
In Lilo & Stitch: The Series, Stitch and Lilo have to capture Jumba's experiments, turn them from bad to good, and find them each a home before Gantu, 625 and Hämsterviel capture them and use them for evil. Along the way, Stitch meets his match Experiment 627 (who is tougher than him), and he eventually defeats him.
He is also affected by 14 experiment powers: Amnesio wipes out his memory; Babyfier turns him into a baby; Spike makes him goofy; Bugby turns him into an insect; Spooky turns into water and nearly drowns him; Lax makes him lazy; Dupe duplicates him into four, weakening his strength; Frenchfry serves him non-nutritious meals (along with Lilo and Pleakley) and fattens him up into a giant bowling ball; Swapper switches Stitch and Lilo's minds; Yaarp blasts his loud megaphone, deafening Stitch; Snooty sucks out his mucus, putting him out of commission; Swirly hypnotizes him; Drowsy (in the episode "PJ") puts him to sleep; and Houdini makes him invisible. He also meets Experiment 624 (Angel), who is introduced as a love interest for Stitch.
Over the course of the series, he and Lilo have also had adventures with Kim Possible, Jake Long, Penny Proud and the Recess gang.
After Stitch, Lilo, Jumba and Pleakley have successfully captured and redeemed all the remaining experiments (except 625) the Grand Councilwoman offers Stitch the chance to become the new captain of the Galactic Armada and its new flagship, the BRB (Big Red Battleship) 9000. However, that would require Stitch to be separated from Lilo. Not wanting to make Lilo sad, he chooses to return to Kaua'i. However, Lilo tells him he should go. Before he leaves with Jumba and Pleakley, Lilo gives him a necklace with a tiki of the god Ku Tiki to give him strength. She also gives Pleakley an Earth rock and Jumba an Elvis record.
When Gantu breaks Dr. Hämsterviel out of prison in an action of frustration, Stitch is sent on his first mission as captain to capture the evil rodent once more. But when he arrives at Galactic Defense Industries, Stitch faces off against a new experiment – Leroy, who is an enhanced red doppelganger of Stitch. After Leroy is named, Stitch bursts into the lab and starts to fight against Leroy. Stitch fights well and is about to beat Leroy when Pleakley shows up unexpectedly, allowing Leroy to take advantage of Stitch's lapse in concentration and beat him. He is knocked into a capsule and sent with Jumba and Pleakley heading towards a black hole, while Leroy disguises himself as Stitch. After they are sent towards the black hole, Leroy heads off towards Earth to capture all of the other experiments for Hämsterviel. Luckily, Stitch, Jumba, and Pleakley escape from the black hole and arrive on the planet Turo. There, they rescue Lilo, 625 (now known as "Reuben") and Gantu, and then fly Pleakley's car pool van back to Earth to assist the other 624 experiments in the defeat of an army of Leroys. Now, with Leroy defeated, Stitch, Jumba, and Pleakley return to Earth with Lilo, realizing that family is more important than spaceships, laboratories, and prestige.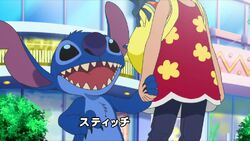 In this anime spin-off, which starts years after Leroy & Stitch, Stitch is being chased in a spaceship by authorities and Jumba before he crash-lands on Earth on Izayoi Island, off the coast of Okinawa. Soon joined by Jumba and Pleakley, they make a new life with a young girl named Yuna, and Stitch seeks the mythical powers of the Spiritual Stone, a sacred island object that can grant any wish, which is, in Stitch's case, wanting power. But the powerful wish only works by doing and getting 43 good deeds and Stitch now faces the return of Hämsterviel and a once-again disgraced Captain Gantu along with various experiment threats, all while juggling, getting, and losing (due to his own mischief) good deeds. After spending time with Yuna, Stitch finally gave up his vow to be the most powerful of the universe to stay with her.
Lilo originally never appeared or was mentioned in the anime, but many would still question her absence. In the English dub, it completely changed the story by implying that Stitch ran away out of jealousy of Lilo having a boyfriend, as mentioned by Jumba, "Just because little girl, has new boyfriend now and is all washed up by 626 is no reason to act bad," which leaves us to believe that this takes place years after the events of Leroy & Stitch. Despite this, when Yuna once confronted Stitch, telling him that his previous family forgot about him. Offended, Stitch quickly states, "Lilo didn't forget!" which implies that he still deeply cares about her, and is certain that Lilo still feels the same way about him. It wasn't until Episode 23 of sequel series Stitch! ~Zutto Saiko no Tomodachi~ that Lilo makes her appearance for the first time.
She, now fully grown, visits Okinawa New Town with her daughter (whom Stitch thought was Lilo in the beginning). Both friends reunite, and we learn that there was never any boyfriend. Lilo had gone to college, and they planned to meet by the beach when she returned, but when that day came, Nani was in labor and caused Lilo to be a little late. Stitch, for unknown reasons, was never aware of Nani's condition (although the English dub states that Stitch had been away on a mission), and since Lilo didn't arrive at the time they planned, he thought Lilo had forgotten about him. He leaves his tiki necklace on the beach before flying away in his ship, and by the time Lilo arrives he had already left, and cries when she find his necklace. In the end, before Lilo and her daughter could board the plane, Stitch arrives in time to see her again. They both have a happy reunion, she hugs him, promises to visit him again, and asks Stitch to take good care of his new family. She gives Stitch his tiki necklace back before leaving.
This Chinese spin-off series is set chronologically after the events of Leroy & Stitch but before the events of the anime, although it was produced without any consideration towards the latter. In this series, it is revealed that Stitch has additional programming which causes him to under go a metamorphosis when activated. This transforms him into a large monster capable of destroying not only cities, but star systems as well. The information about Stitch's programming is hacked and spreads throughout the galaxy. This causes Stitch to be kidnapped by the Jaboodies, who had failed in their own attempts at re-creating Jumba's Experiment 626 research and wish to use Stitch to end their space war against the Woolagongs. When their ship is raided by the Woolagongs, Stitch uses the confusion to escape and falls back to Earth. After surviving re-entry, he ends up landing in the Huangshan Mountains in China and befriends a young girl named Wang Ai Ling. In order to help contain Stitch and stop the Jaboodies and Woolagongs, the Galactic Federation sends Jumba and Pleakley to monitor Stitch in China.
Other appearances
In Treasure Planet, Stitch made a brief cameo as a stuffed toy on a shelf in Jim Hawkins' bedroom when he was a child.
Stitch appears in the Virtual Magic Carpet Ride game included on Disc 2 of the 2004 Aladdin Platinum Edition DVD, riding in his spaceship while passing by Aladdin and Carpet briefly three times.
In The Lion King 1½, a silhouette of Stitch is seen at the end of the film crawling on the wall inside the dark theater. He bounces off Goofy, Rabbit, Mad Hatter, and Donald as he makes his way to his seat. Donald is heard quacking angrily as Stitch laughs at him.
In Brother Bear, Stitch makes a surprise cameo in the outtakes.
In Big Hero 6, Stitch is referenced twice: the first as a costume worn by Mochi in a painting, and the second as one of the pillows on Fred's bed.
Stitch, alongside Angel and Scrump, appear in the fourth UniBEARsity story OhanaBEARsity. In it, Stitch reads the UniBEARsity storybook and comes up with the idea of making their own teddy bears. His teddy bear, named Blue, is based on his likeness.
Stitch appears as one of the residents of Oh My Disney in Ralph Breaks the Internet.
Printed material
Stitch appears in the third and fifth book in the saga. In Kingdom Keepers III: Disney in Shadow, he is an Overtaker and along with some of the pirates from Pirates of the Caribbean, pursues Finn and Maybeck through Tom Sawyer Island. In Kingdom Keepers V: Shell Game, he seems to have freed of the Overtakers, for he saves Finn from the rescue dummies at Typhoon Lagoon. This makes Finn get to the conclusion that Stitch was under a spell from the Evil Queen.
In this manga, Stitch escapes the United Galactic Federation in a stolen police cruiser spaceship by using its hyperdrive to make a blind jump that ends up on Earth. However, instead of traveling through just space, he also travels through time; he crash-lands in Japan during the Sengoku period, in which he meets battle-weary samurai warlord Meison Yamato. After a brief struggle, Yamato is not only impressed by Stitch's strength, but the sight of the little blue "tanuki" causes him to have a thought that he has never had before: "cute". Thus, the warlord takes in the alien, not only making Stitch part of his army, but also developing an unlikely bond.
Video games
Stitch is a minor and later major character in the Kingdom Hearts series. He first appears in Kingdom Hearts II, and is one of two summons during the game that makes a difference to the storyline (besides Genie). His first appearance was when he was seen crawling above Sora, Donald, and Goofy without their notice while the trio were in the corridors to Ansem's study. Later, he was noticed by Goofy and dropped down onto the keyboard of Ansem's computer in front of the surprised trio. A furious Donald jumps onto the keyboard to grab him, but Stitch jumps and bounces off of him, and laughs with a taunt. As Donald turned around, he mashes the keys, causing the Master Control Program to be alerted. Later, Stitch helps fight in the Battle of the 1000 Heartless in the Great Maw using his blasters.
The prequel game, Kingdom Hearts: Birth by Sleep, details the history of Stitch 10 years prior to events of the first game. Stitch appears in his true form and is known as Experiment 626, and his story had occurred in his homeworld Deep Space, which mirrors his escape from the Galactic Federation in his film. At first appearing in custody, he is released by Terra and Dr. Jumba, where he briefly steals the Keyblade wielder's Wayfinder. Curious about the item's emotional value to Terra, 626 returns it to Terra and scurries off. By the time Aqua arrives, 626 constructs his own Wayfinder. Aqua goes to apprehend him, only to meet opposition from Gantu, who proceeds to destroy them. The two defeat the captain, and afterward, Aqua asks the Grand Councilwoman for Experiment 626's sentence to be reconsidered due to 626's display of sentience through his charm. However, when an Unversed attacks the ship, 626 escapes and follows Ventus. Unfortunately, while waiting for him, 626's charm is destroyed by Gantu, who still considers 626 a monster. Angered, the alien nearly attacks Ventus, but then helps him when Gantu arrives and tries to arrest them. 626 escapes with Ventus on a police cruiser and Keyblade ride, respectively, but activates the cruiser's hyperdrive in order to escape his pursuers, and leaves Ventus by accident. Afterward, it is seen that Stitch had managed to fix his charm and puts it on the steering wheel as he flies his ship towards a blue star.
In Kingdom Hearts χ/Kingdom Hearts Union χ, Stitch serves as inspiration for an unlockable costume for the game's avatars and as combat medals.
Stitch returns in Kingdom Hearts III as a Link to aid Sora in battle. He uses his blasters to create electric fields, which can destroy enemies as they get close.
Stitch appears as a meet-and-greet character in front of Red Rockett's Pizza Port in Tomorrowland. He gives several tasks to the player, including fetching some burgers for him to eat, cheering him up by donning a hula costume and dancing with him while wearing it, finding him some flower leis and taking a few photos throughout the park so that he can show them to Jumba.
In the first game, Stitch only appears as part of a surfboard gadget and laser Power Disc. During a poll posted by Disney after the first game was released, Stitch became the most requested character for the sequel.
In Disney Infinity: 2.0, Stitch takes part as a playable character; however, he can only be played in the Toy Box.
Stitch appears in the game as one of the fallen heroes introduced to the game. He is unlockable with eighty tokens and his attack skills are the same as in the franchise. His victory pose is his signature dance. His mission friends are Maui, the Mad Hatter, Hector Barbossa, Angel, Jumba Jookiba, Timon & Pumbaa.
Other games
Stitch serves as the protagonist of Stitch Jam, where he travels through various locations on a mission to rescue Angel from Hämsterviel and Gantu.
While Stitch himself does not appear in Disney Universe, a costume of him (in his "pet form") does.
Stitch makes an appearance in Just Dance: Disney Party, where he is seen dancing the hula with Lilo during "Hawaiian Roller Coaster Ride".
Stitch quickly became a staple character in the Disney theme parks due to his popularity. He is usually seen with Lilo or by himself. In the Disney Parks franchises, he sometimes accompanies Mickey, Minnie, Donald, Goofy, and Pluto, replacing Daisy at times.
Stitch is also a meetable character at PCH Grill located in Paradise Pier Hotel. He only appears during the Mickey and Friends character breakfast with Lilo and lots of other characters.
He is always seen in Tomorrowland at Walt Disney World's Magic Kingdom, Tokyo Disneyland, Shanghai Disneyland, Arabian Coast at Tokyo DisneySea, and sometimes seen at Disneyland, Disney's California Adventure, Disney's Hollywood Studios, Disneyland Paris, and Walt Disney Studios Park for meet-and-greet sessions.
In Mickey and the Magical Map, Stitch can be seen towards the end, when Mickey chases the ink spot into the Hawaiian painting. Stitch is seen on the screen, before ducking down and coming onstage from the side of the screen. He dances with a group of cast members to the song of "Hawaiian Roller Coaster Ride".
In World of Color at Disney California Adventure, Stitch can be seen during the "Transformation" sequence at the end of the show. In World of Color: Season of Light, Stitch and his family are featured celebrating the holidays in their own segment.
In It's a Small World, Stitch can be seen with Lilo on a surfboard in the Hawaiian area.
Stitch was the main character of Stitch's Great Escape!, where he had a chance to interact with the live audience. This attraction later became a meet-and-greet area where guests can have photos with him until the signage was dropped. It is currently unknown where he will meet in Tomorrowland.
He also appeared during 'Ohana breakfast times with Lilo, Mickey, and Pluto in Disney's Polynesian Village Resort until 2020 when it was closed to be Moana-themed for the summer of 2021. So it is unknown if he will return for character dining appearances.
Stitch is the star of Stitch's Supersonic Celebration, initially on a video screen and then in costumed form. The Stitch character on the video screen could interact with guests, using the same technology as in Turtle Talk with Crush.
Stitch is one of the characters that appears on the riverboat in the finale of the WDW version of Fantasmic! beginning in mid-2002. He used to be in the Disneyland version but was since omitted.
In Star Tours: The Adventures Continue, Stitch also made a cameo inside a piece of luggage in the baggage check section of the ride, Star Tours: The Adventures Continue. G2-9T, when noticing Stitch inside, removed the luggage and quarantined it, due to animals not being allowed on the flights. He was eventually replaced with Figment.
In A Totally Tomorrowland Christmas, Stitch is one of the special "guest characters" alongside Buzz Lightyear and Mike Wazowski. Unlike the others (until towards the end), Stitch does not appear onstage. He broadcasts himself from a television screen. The host checks back in with him between musical numbers, given the important job of tracking down Santa to make sure he comes for the big finale. As Stitch learns more about Santa from the guests, Stitch mistakes Santa for a "spying snitch who breaks into house" and almost uses his ship's lasers to shoot down Santa and his sleigh. Luckily, he's stopped in time and he now learns the real meaning of Christmas. However, Stitch loses track of Santa afterwards and decides to appear onstage dressed as Santa for the big finale.
In March 2016, he and the Genie are replaced by Judy Hopps and Nick Wilde from Zootopia in the Magic Kingdom parade, Move It! Shake It! Dance and Play It! Street Party. He also appeared in Town Square near the flagpole replacing Marie for more meet-and-greet sessions, but was moved back to Tomorrowland when Stitch's Great Escape was not in use. There, he currently meets on the Tomorrowland stage along with Buzz.
In Stitch Presents Aloha e Komo Mai!, an animatronic Stitch was added in the attraction since 2008. Throughout the show, the Birds of Paradise discover a writing believed to be done by "Big Kahuna" who is thought to be a tiki god and anyone who angers him would put the Tiki Room in trouble. During the musical number "Hawaiian War Chant", Stitch disrupts the song by popping out of the flowerbeds where the orchids are singing (though his full body is not physically seen until the end of the show). During the Showgirl Birds' act, the Birds of Paradise discover the Showgirl Birds wearing Stitch ears in which they explain that a strange creature (referring to Stitch) put blue ears on them as they plan on not finishing the song until Stitch is gone. Waha Nui, one of the Birds of Paradise, gets upset to tell the prankster ruining the show to show up, but Stitch gets insulted when he hears Waha Nui calling him a prankster. When Stitch rises from the fountain, the Birds of Paradise think he is Big Kahuna, but Stitch himself declares he is not. The Birds of Paradise then scold Stitch for disrupting the show in which Stitch explains that he wants to perform in the Tiki Room.
The Birds of Paradise let Stitch perform in the show, on the condition that he not interfere with the show anymore. Stitch agrees, asking the Birds of Paradise and the audience if they want to join his ohana. Stitch and the Birds of Paradise then close the show with a reprise of "Aloha, E Komo Mai". Stitch declares, "Everyone...ʻohana!" and the show ends with him spitting out of the fountain.
In the defunct Tokyo DisneySea version of Fantasmic!, Stitch starred in his own segment, conducting the water and lights to an instrumental rock version of "Hawaiian Roller Coaster Ride" while Angel drives around in a speedboat with a plasma pistol.
In the Polynesian Terrace Restaurant, Lilo's Luau & Fun ran from 2005 to 2020. In it, Lilo & Stitch, as well as Mickey, Minnie, Chip & Dale came on stage and danced with some hula dancers and a ukulele player to the music from Lilo & Stitch.
He also appeared in the now-defunct attraction Mickey Mouse Revue in 2007 during the Bibbidi-Bobbidi-Boo segment where he was holding a can with yellow paint and a paint brush and he was with Cinderella, then when the Fairy Godmother used her magic for Cinderella's dress, he disappeared and his remaining was the can with yellow paint.
At Hong Kong Disneyland, Stitch used to show up for meet-and-greet sessions in Tomorrowland and Fantasy Gardens, and sometimes appears in Disney's Hollywood Hotel. He also appears in It's a Small World with Lilo and the Flights of Fantasy Parade and appeared in the defunct version of The Golden Mickeys.
Recently, he greets guests most often (especially alongside Lilo) in the Karibuni Marketplace in Adventureland.
Stitch met in Tomorrowland and appeared in the caboose in Mickey's Storybook Express until 2020. He also appears in the second segment of Summer Blast in front of Enchanted Storybook Castle.
Stitch also greets guests on the Disney Cruise Line ships. On board the Disney Fantasy, Stitch interacts with guests boarding the ship in CGI through a screen much like his attraction Stitch Live! (or Stitch Encounter).
He is also present on the Disney Fantasy cruise ship with Lilo in the show Disney's Wishes.
Found in Walt Disney Studios Park (known as Stitch Live!), and Tomorrowland at Tokyo Disneyland and Shanghai Disneyland, guests are seated in a room that is something like a theater, and Stitch interacts with the audience. Guests would also need to help Stitch get to his space cruiser before Captain Gantu captures him.
It ran at Hong Kong Disneyland from July 2006 to May 2, 2016.
Stitch also appeared in Stitch's Hawaiian Paradise Party in Disneyland Paris on June 9, 2011 and Merry Stitchmas in 2017.
Relationships
Gallery
Trivia
On June 26, 2015, the United States Supreme Court ruled in Obergefell v. Hodges that it is unconstitutional for any of the states in America to ban gay marriage, as all U.S. citizens have the fundamental right to marry as stated by the Fourteenth Amendment to the United States Constitution. Because of the month and day this ruling was made (6/26), many fans began associating with Stitch to the date of the decision, making him its unofficial mascot.

In response to this, Dean DeBlois, a former Disney story supervisor at Walt Disney Feature Animation and co-director/co-writer of Lilo & Stitch who is gay himself, drew an image of Stitch and Scrump celebrating the court's decision. The sketch showed Stitch holding a rainbow flag, which represents gay pride, and Scrump holding a blue flag with a yellow equality sign, representing the logo of the Human Rights Campaign.[1]

According to Chris Sanders' initial designs, Stitch was originally going to have green fur and smaller eyes. His ears flared at their bases instead of close to their tips, and his nose was below the eye line instead of above. He also had white or silver claws instead of dark blue claws, and wore a yellow-orange spacesuit with burnt orange pants instead of the more uniform red-orange spacesuit that he wears in the original film's first act.
Despite not appearing in the show itself (as the show ran for about one year before the movie came out), Stitch was featured with Lilo in some online games for the television series House of Mouse.
In a deleted scene of the original film, Stitch was responsible for the death of Pudge the fish. This incident made him learn about the consequences of his evil actions and gain a better understanding of mortality. It was cut out because Disney figured that it would be too morbid for a protagonist to kill someone and would also set a bad example for children. Moreover, Stitch is more interested in vandalism than violence.

Also, the original version of the scene where Jumba attacks Stitch which results in the Pelekai residence accidentally being burned down was actually going to be much more violent, with scenes such as Stitch using a chainsaw to attack Jumba, as well as setting the house on fire by biting apart a gas pipe and tricking Jumba into shooting it with his blaster. The final version of the same scene has all of the violence removed and in favor of more slapstick (Jumba knocking the ceiling down with dishes instead of laser blasts, Jumba's "shuriken" being made of hairbrushes and a tube of toothpaste instead of knives and a pizza cutter, the entire chainsaw scene shortened), having more comedic scenes added in (exploding Scrump, Stitch catching Jumba's laser, Stitch yelling, "Blue Punch Buggy! No punch back!" when hitting Jumba with Nani's VW, the Elvis Presley song "Hound Dog" playing in the background), and the house being destroyed by having Stitch stop up Jumba's blaster with a carrot and then having them both play "hot potato" with it until the blaster overloads and explodes.
A similar treatment was done to the climax, where Jumba, Pleakley, Stitch, and Nani fly through the mountains to pursue Gantu after he accidentally captures Lilo following the terrorist attacks of September 11, 2001.

Stitch is considered to be one of the first successful prototypes for Jumba's "ultimate monster" experiment, though he is technically a failure because he wanted to belong and find a family. Other notable attempts for this prototype are 000, 262, 600, and 625, and each failed for its own reason: 000 is uncontrollable, 262 is good, 600 is clumsy, and 625 is lazy. 627 and Leroy are additional attempts Jumba made after Stitch, but both of them also failed: 627 is weak to laughter while Leroy is weak to a song. However, Leroy can also be considered a success, since Jumba deliberately programmed the weakness into him.
Stitch appears, along with several other Lilo & Stitch characters, in a parody of the Disney Channel Original Movie High School Musical, which was broadcast as part of the High School Musical: Around the World one-year anniversary special.

In said parody, when Stitch and the other experiments are looking up at the ceiling, Stitch is colored red and 627 is colored blue due to a coloring error.

The Stitch! anime gives Stitch more dialogue than in any other work in the franchise, making him more talkative compared to his Western and Chinese portrayals. Additionally, his English improves, he talks in more complete sentences, and he develops a considerable wit.

This may actually imply that his command of Japanese is better than his English; since he is on an island prefecture of Japan, it is reasonable that he is speaking the local language, and thus the American-dubbed version is actually a case of "audience filter". On the other hand, since the anime takes place years after Leroy & Stitch, Stitch may have spent enough time on Hawaii before leaving to actually get a decent grasp on English. It should also be noted that English is heavily taught as a second language in Japan.

Stitch & Ai reverts Stitch's speech back to his broken, childish English, and he mainly speaks his native language, Tantalog, again. Interestingly, despite having the same English voice actor as his anime counterpart (Ben Diskin), he speaks with a lower-pitched and somewhat less energetic voice than that used in the anime.
Stitch has a tendency to refer to himself in the third person. He developed this habit probably because of his broken English or he had gotten it from Jumba, who also refers to himself in the third person.

In Lilo & Stitch, the only two times he did this was after he was apprehended by the Grand Councilwoman, asking her if he has to go into her ship, and if he can say goodbye to Lilo and Nani.
In Stitch Has a Glitch, he is shown to do this less often.
In the English dub of the Stitch! anime, he does it even less often than before, but over the course of the series, he seems to have grown out of this habit: he talks in complete sentences, his English has improved, and he has more dialogue.

Stitch's weak grasp of English throughout the franchise (especially in the original 2002–2006 continuity) does not make logical sense, considering his hypercognition, the fact that he shows no apparent signs of struggling in understanding English, the fact that the aliens in the franchise can speak fluent English (including his own creator more or less), and the fact that he spends most of his time with Lilo, who has a very complex vocabulary (especially for someone her age). The indirect explanation that he does not have "advanced language programming" like his predecessor Reuben also does not make sense considering the above, and in fact leaves a plot hole as to why Stitch doesn't have such an ability when his predecessor, who is said to have every power and ability that Stitch has, does.
While Stitch and the other experiments are technically siblings, sharing the same creator, "cousins" is a Hawaiian term, like "ʻohana", for extended family and close friends, although Stitch only uses it in regard to the experiments.

However, in Stitch & Ai, when he reunites with Jumba and Pleakley, he tells Ai that they're "cousins", despite never having called either them "cousins" before.

Stitch loves reading his favorite storybook, The Ugly Duckling by Hans Christian Andersen, which he obtained from Lilo at some point.

The plot revolving around the book mirrors Stitch questioning his purpose, as it revolves around his loneliness and desire to find a family, to which he did in the end.
Stitch also developed a fondness for ducks as he showed some ducklings the storybook, as seen in the credits of Lilo & Stitch.

Stitch apparently has a fondness for frogs as seen in Lilo & Stitch, where Stitch saves one from being blasted by a plasma gun of Gantu's ship.
He is also very fond of sea turtles and even sleeps with a stuffed one, as seen in Stitch Has a Glitch.

In the end credits of Lilo & Stitch, Stitch is also seen covering a turtle and its baby with a leaf.

Stitch likes to dress up as Elvis Presley and is very skilled at playing the ukulele.
His favorite foods are coconut cake and coffee, which are the very first Earth-based food and drink he ever ate, as seen in the original film and also mentioned in Stitch! The Movie. However, whenever he drinks coffee, he gains a massive amount of uncontrollable energy. Ironically, in "Slugger", he drank a large bowl of cappuccino, along with Lilo's cappuccino, but didn't go crazy at all.

Stitch also enjoys soda, as he steals a can from the Pelekais' fridge in the original film, angrily drinks the rest of the soda from a pitcher at Macki Macaw's when Pleakley doesn't pour him some after Lilo had Stitch wait for his turn in "Phantasmo, and enjoys a can after stuffing Mr. Stenchy into the Pelekais' pantry in "Mr. Stenchy" before being interrupted by Gantu.
He has also been shown to eat anything inedible and very rarely doesn't like to eat something. An exception was in "Spooky", when he spit out a lemon, saying, "Ew, organic!", implying he might not like lemons.

However, in "Shortstuff", Stitch, as a giant, drank some lemonade from the cart he accidentally smashed without expressing any disgust, and in "Swapper", he drank a whole bowl of lemonade (albeit modified by Jumba to cause those who drink it to temporarily change colors), again without expressing any disgust, which would contradict this supposed dislike of lemons. It could be that either Stitch doesn't like organically-grown foods (as his heightened senses might have the unintended side effect of him tasting even the tiniest amounts of manure residue), he doesn't like the taste of unsweetened lemons or lemon juice, or him spitting out the organic lemon was nothing more than a simple joke.

In the Stitch! anime, he also loves Yuna's blue crab sushi.

Due to a continuity error, Stitch's ear notches have a tendency to disappear or change position in some works or merchandise.
Following after Stitch! The Movie, Stitch's toes have changed from dark blue to black.

Additionally, following after Stitch Has a Glitch, Stitch's fur color has changed from dark blue to light blue.

Stitch's blood is revealed to be pink when a sample was taken out of his body.
When Stitch has a glitch, his eyes glow green.

In the original film, Stitch's eyes were a piercing green as shown after he crashed landed on Earth. In Stitch Has a Glitch, the animation was reused in the beginning.

Usually when Stitch rolls into a ball, he puts his feet into his mouth and covers his face with his butt. In "Dupe" and "Snafu", his ball form resembles Cannonball's ball form in Leroy & Stitch.
Since Lilo's adoption of Stitch was a legal process under State of Hawaii law (complete with legal documentation), it can be said that his legal name is indeed "Stitch" and not "Experiment 626". Disney Infinity seems to reinforce this by describing him as "Dr. Jumba's former Experiment 626" on the description for Stitch in the games' Hall of Heroes.

This may also provide additional context when he interrupts the Grand Councilwoman to clarify his name in the denouement of Lilo & Stitch, as he may also imply that it would no longer be considered proper to refer to him as "Experiment 626" in any further formal or legal matters. Since he is referred to as "Captain Stitch" when he joins the Galactic Armada in Leroy & Stitch, it could also be that the United Galactic Federation does formally acknowledge "Stitch" as his proper legal name; if they didn't, then he would have been "Captain 626" instead.

In the prequel comics and The Origin of Stitch, it is revealed that Stitch's genes contain those of some of the most powerful creatures in the galaxy, as well as some of Jumba's for "brains and good looks". One of the genes was a puppy, explaining Stitch's resemblance to a dog (though Jumba did not know how it got in there).
In each of the franchise's three TV series, Stitch grows into a giant at least once per show via some method.

In the Lilo & Stitch: The Series episode "Shortstuff", Stitch uses Jumba's Protoplasmic Growth Ray to make himself bigger, but he is considerably clumsier in this larger size since he was not designed to be large. The episode's titular experiment also becomes bigger and defeats the enlarged Stitch at the carnival. Stitch would later be returned to his normal size in order to fight back and win.
In the Stitch! anime episode "Experiment-a-palooza", Shrink zaps Stitch with an energy ray after the latter falls into a swimming pool, causing him to grow into a giant. Due to Retro reverting Stitch to his original destructive programming, Stitch goes on a rampage in this giant form until Yuna reaches out to him and reminds him of his promise. Shrink would be used again to revert Stitch to his original size.
Stitch & Ai has the aforementioned metamorphosis program, which transforms him into a gigantic monster armed with four tentacle-like blasters. Notably, unlike with Lilo & Stitch: The Series, Stitch does not become clumsier as a giant in this series, which had some of the same crew members as the Western series.

However, a deleted version of the opening of the original film contradicts this. In this opening, the Galactic Council shows video footage of Experiment 626—in his familiar small size—causing chaos and destruction in an alien city, including tipping over a skyscraper by lifting it from its base. The existence of this scene strongly suggests that Chris Sanders, Stitch's creator and original voice actor, never intended or at least considered giving Stitch this metamorphosis ability, thus likely making the monstrous "destruction form" in Stitch & Ai a retcon or a "revision" of the character. (Sanders did not work on either Stitch & Ai or the Stitch! anime series in any capacity; he was only credited in those shows for creating the characters who originated in Lilo & Stitch, including Stitch.)

Stitch appeared on more covers for issues of Disney Adventures than any other character, appearing on the cover of twelve issues.
Toothless, a Night Fury from DreamWorks Animation's How to Train Your Dragon franchise, bears a strong resemblance to Stitch. Even their facial expressions are similar, especially those showing excitement, wariness, and anger. However, their personalities are somewhat different, as Stitch is far more mischievous than Toothless. This is not a coincidence; Chris Sanders was the designer for both characters and co-directed both films with Dean DeBlois. It is also possible that Toothless was inspired by him.

Chris Sanders left Disney to join DreamWorks (Disney's rival animation company) in 2007 due to creative differences over Disney rejecting his original Bolt script and designs. Despite his departure, though, Sanders still continues to voice Stitch in video games like Kingdom Hearts II, Birth by Sleep, Disney Infinity 2.0, and in any other appearances of Stitch.
References
See also
External Links
v - e - d
Characters
Main Characters: Sora • Riku • Kairi • King Mickey • Donald Duck • Goofy • Roxas • Axel/Lea • Naminé • Xion • Aqua • Terra • Ventus


Villains: Xehanort • Ansem • Xemnas • Maleficent • Pete • Vanitas • Xigbar/Braig • Xaldin • Vexen • Lexaeus • Zexion • Saïx/Isa • Demyx • Luxord • Marluxia • Larxene • Terra-Xehanort • Young Xehanort • Xehanort's Guardian
Other Characters: Jiminy Cricket • Ansem the Wise/DiZ • Yen Sid • Master Eraqus • Dilan • Even • Aeleus • Ienzo • Lingering Will • Hayner • Pence • Olette • Kairi's Grandma • Riku Replica • Jiminy's Journal • Foretellers • Master of Masters • Luxu • Ephemer • Skuld • Chirithy • Lauriam • Elrena
Original Monsters: Heartless • Nobodies • Unversed • Dream Eater
Disney Characters introduced in Kingdom Hearts: Queen Minnie • Daisy Duck • Pluto • Chip and Dale • Huey, Dewey, and Louie • Magic Brooms • Alice • White Rabbit • Doorknob • Cheshire Cat • Queen of Hearts • Card Soldiers • Tarzan • Jane Porter • Clayton • Terk • Kerchak • Kala • Sabor • Hercules • Philoctetes • Hades • Cerberus • Rock Titan • Ice Titan • Aladdin • Abu • Jasmine • Genie • Carpet • Jafar • Iago • Peddler • Cave of Wonders • Pinocchio • Geppetto • Monstro • Cleo • Ariel • Flounder • Sebastian • Ursula • King Triton• Flotsam and Jetsam • Glut • Jack Skellington • Zero • Sally • Oogie Boogie • Lock, Shock, and Barrel • Dr. Finkelstein • Mayor of Halloween Town • Peter Pan • Tinker Bell • Captain Hook • Mr. Smee • Wendy • Crocodile • Merlin • Winnie the Pooh • Tigger • Piglet • Eeyore • Rabbit • Owl • Roo • Bees • Beast • Belle • Snow White • Cinderella • Fairy Godmother • Aurora • Pongo • Perdita • Dalmatian Puppies • Simba • Mushu • Dumbo • Bambi • Chernabog
Disney Characters introduced in Kingdom Hearts II: Flora, Fauna, and Merryweather • Maleficent's Raven • Scrooge McDuck • Mulan • Li Shang • Shan Yu • Hayabusa • Yao, Ling, and Chien Po • The Emperor • Lumiere • Cogsworth • Mrs Potts • Chip • Wardrobe • Pegasus • Megara • Pain and Panic • Hydra • Horace Horsecollar • Clarabelle Cow • Clara Cluck • Jack Sparrow • Elizabeth Swann • Will Turner • Captain Barbossa • Bo'sun • Jacoby • Twigg • Cursed Crew • Prince Eric • Attina • Andrina • Santa Claus • Skeletal Reindeer • Timon • Pumbaa • Nala • Rafiki • Scar • Shenzi, Banzai, and Ed • Mufasa • Kiara • Pridelanders • Hyenas • Tron • Master Control Program • Commander Sark • Kanga • Gopher • Stitch • Chicken Little
Disney Characters introduced in Birth by Sleep: Prince Phillip • Maleficent's Goons • Doc • Grumpy • Happy • Sleepy • Bashful • Sneezy • Dopey • The Prince • Evil Queen • Magic Mirror • Prince Charming • Jaq • Lady Tremaine • Anastasia • Drizella • Lucifer • Grand Duke • Grand Councilwoman • Captain Gantu • Jumba • Experiment 221 • Lost Boys
Disney Characters introduced in Dream Drop Distance: Quasimodo • Esmeralda • Phoebus • Judge Claude Frollo • Victor, Hugo, and Laverne • Kevin Flynn • Sam Flynn • Quorra • CLU • Rinzler • Black Guards • Blue Fairy • Beagle Boys • Chernabog's Minions • Julius
Disney Characters introduced in Kingdom Hearts χ: Mad Hatter • March Hare • Razoul • Royal Guards • Maurice • Gaston
Disney Characters introduced in Kingdom Hearts Union χ: Sultan • Samson • Vanellope von Schweetz • Fix-It Felix Jr. • Sergeant Calhoun • King Candy • Sour Bill • Cy-Bugs • Hero's Duty Troops
Disney Characters introduced in Kingdom Hearts III: Zeus • Apollo • Athena • Hermes • Lava Titan • Tornado Titan • Little Chef • Woody • Buzz Lightyear • Rex • Hamm • Sarge • Green Army Men • Little Green Men • Rapunzel • Flynn Rider • Pascal • Maximus • Mother Gothel • Sulley • Mike Wazowski • Boo • Randall Boggs • Child Detection Agency • Trailer Son and Mom • Elsa • Anna • Kristoff • Olaf • Sven • Marshmallow • Hans • Mr. Gibbs • Tia Dalma • Davy Jones • Kraken • Cutler Beckett • Baymax • Hiro Hamada • Go Go Tomago • Honey Lemon • Fred • Wasabi • Lumpy • Wreck-It Ralph
Disney Characters introduced in Kingdom Hearts Dark Road: Tweedledee and Tweedledum
Disney Characters introduced in the manga: Caterpillar • Chi-Fu
Square Enix Characters: Leon • Cloud • Moogle • Others
v - e - d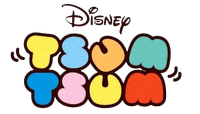 Disney
Mickey & Friends:

Mickey • Minnie • Donald • Daisy • Goofy • Pluto • Chip and Dale • Oswald • Ortensia • Duffy • ShellieMay • Gelatoni • StellaLou • CookieAnn • 'Olu Mel • Huey, Dewey, and Louie • José Carioca • Panchito Pistoles • Clarabelle Cow • Horace Horsecollar • Max Goof • Clarice • Pete • Scrooge McDuck • Ludwig Von Drake • Dr. Frankenollie • Julius

Pooh and Pals: Pooh • Tigger • Piglet • Eeyore • Rabbit • Owl • Roo • Kanga • Gopher • Christopher Robin • Lumpy
Lilo & Stitch: Stitch • Lilo • Scrump • Pleakley • Jumba • Angel • Leroy • Dr. Hämsterviel • Ugly Duckling • Sparky • 627 • Gigi • Babyfier • Yang • Slushy • Shortstuff • 625 • Amnesio • Dupe • Sample • Clip • Tank • Yin • Hunkahunka • Plasmoid
Silly Symphonies: Donald Duck • Big Bad Wolf • Practical Pig • Fiddler Pig • Fifer Pig • Ugly Duckling
Snow White and the Seven Dwarfs: Snow White • Evil Queen • Doc • Grumpy • Happy • Bashful • Sneezy • Sleepy • Dopey
Pinocchio: Pinocchio • Jiminy Cricket • Figaro • Cleo • Geppetto • Blue Fairy • Honest John and Gideon • Lampwick • Monstro
Fantasia: Mickey • Yen Sid • Chernabog • Hyacinth Hippo • Ben Ali Gator
Dumbo: Dumbo
Bambi: Bambi • Thumper • Miss Bunny • Friend Owl • The Great Prince of the Forest
The Three Caballeros: Gauchito • Burrito
The Adventures of Ichabod and Mr. Toad: Mr. Toad
Cinderella: Cinderella • Jaq and Gus • Prince Charming • Fairy Godmother • Lady Tremaine • Lucifer • Suzy • Perla • Bruno
Alice in Wonderland: Alice • Mad Hatter • March Hare • Dormouse • White Rabbit • Cheshire Cat • Tweedle Dum and Tweedle Dee • Queen of Hearts • King of Hearts • Caterpillar • Dinah • Oysters
Peter Pan: Peter Pan • Tinker Bell • Wendy Darling • John Darling • Michael Darling • Captain Hook • Mr Smee • Nana • Tick Tock • Tiger Lily
Lady and the Tramp: Lady • Tramp • Si and Am • Jock • Trusty • Peg
Sleeping Beauty: Aurora • Phillip • Maleficent • Flora • Fauna • Merryweather • Diablo • Samson • King Stefan • Goon • Owl • Rabbit
Mary Poppins: Mary Poppins • Bert • Penguin Waiter • Carousel Horse
One Hundred and One Dalmatians: Cruella De Vil • Lucky • Patch • Rolly
The Jungle Book: Mowgli • Baloo • Bagheera • Shere Khan • Kaa • King Louie • Hathi, Jr. • Raksha
Pete's Dragon: Elliott
The Fox and the Hound: Tod • Copper
The Aristocats: Marie • Berlioz • Toulouse • Duchess • Thomas O'Malley
The Rescuers: Bernard • Bianca
Oliver & Company: Oliver • Dodger • Tito • Rita • Francis • Einstein
The Little Mermaid: Ariel • Flounder • Sebastian • Eric • Ursula • Triton • Max • Scuttle
Beauty and the Beast: Belle • Beast • Lumiere • Cogsworth • Mrs. Potts • Chip • Maurice • Philippe • Gaston • LeFou
Aladdin: Aladdin • Abu • Genie • Jasmine • Jafar • Sultan • Iago • Rajah
The Nightmare Before Christmas: Jack Skellington • Sally • Zero • Lock, Shock, and Barrel • Oogie Boogie • Dr. Finkelstein • Mayor of Halloween Town • Santa Claus
The Lion King: Simba • Nala • Timon • Pumbaa • Zazu • Rafiki • Scar • Ed
Pocahontas: Pocahontas • John Smith • Meeko • Flit • Percy
Hercules: Hercules • Megara • Hades
Mulan: Mulan • Li Shang • Mushu • Fa Zhou • Khan
The Emperor's New Groove: Kuzco • Yzma • Kronk
Mickey, Donald, Goofy: The Three Musketeers: Mickey Mouse • Minnie Mouse • Donald Duck • Goofy
Chicken Little: Chicken Little
The Princess and the Frog: Tiana • Dr. Facilier
Tangled: Rapunzel • Flynn Rider • Pascal • Maximus • Mother Gothel • Queen Arianna • King Frederic • Cassandra • Fidella • Pub Thug
Wreck-It Ralph: Wreck-It Ralph • Fix-It Felix Jr.
Frozen: Anna • Elsa • Olaf • Kristoff • Sven • Hans • Snowgies • Bruni
Big Hero 6: Hiro • Baymax • Fred • Wasabi • Honey Lemon • Go Go Tomago • Tadashi Hamada • Yokai • Mochi
Zootopia: Judy Hopps • Nick Wilde • Mayor Lionheart • Flash • Yax • Gazelle • Chief Bogo • Clawhauser • Finnick • Mr. Big • Bellwether • Jerry Jumbeaux Jr.
Moana: Moana • Maui • Pua • Heihei • Tamatoa • Kakamora
Chip 'n Dale Rescue Rangers: Chip • Dale • Gadget • Monterey Jack
Phineas and Ferb: Perry
The Lion Guard: Kion • Ono • Bunga • Beshte • Fuli
DuckTales (2017): Scrooge McDuck • Huey, Dewey, and Louie • Webby Vanderquack
Kingdom Hearts: Sora • Riku • Kairi • Aqua • Xemnas • Ansem, Seeker of Darkness • Ventus • Terra • Chirithy • Lea • Young Xehanort
UniBEARsity: Mocha • Pudding • Whip • Puffy • Mont • Blanc • Souffle • Blue Rose • Charmant • Portiron • Rogue Rose • Fauve • Lucien • Horloge • La Mer • Ma Puce
Sofia the First: Sofia • Minimus • Skye
Elena of Avalor: Elena
Enchanted: Giselle
Disney Fairies: Periwinkle • Rosetta • Silvermist
The Sword in the Stone: Wart • Merlin
Oliver & Company: Oliver
Raya and the Last Dragon: Raya • Sisu
Twisted Wonderland: Grim • Riddle Rosehearts • Azul Ashengrotto • Leona Kingscholar • Kalim Al-Asim • Vil Schoenheit • Idia Shroud • Malleus Draconia • Dire Crowley • Mirror of Darkness
v - e -

d

Disney
Mickey Mouse & Friends:

Mickey • Minnie • Donald • Daisy • Goofy • Pluto • Fifi • Pete • Clarabelle Cow • Horace Horsecollar • Willie the Giant • Chip and Dale • Mortimer Mouse • Chief O'Hara • Detective Casey • Butch the Bulldog • Golden Harp • Father Time • Peter Pig


The Lion King: Simba • Nala • Shenzi, Banzai, and Ed • Ostrich • Gazelle • Rhino • Hippo • Zebra • Blue Beetle • Grub • Zazu • Rafiki • Timon • Pumbaa • Mufasa • Scar
Tangled: Rapunzel • Flynn Rider • Stabbington Brothers • Pub Thugs • Attila • Vlad • Big Nose • Hook Hand • Ulf • Shorty • Pascal • Maximus • Mother Gothel • The King • The Queen • Captain of the Guards • Warthog • The Lantern
Wreck-It Ralph: Ralph • Vanellope • Felix • Sgt. Calhoun • King Candy • Taffyta Muttonfudge • Candlehead • Surge Protector • Gene • Nicelanders • Rancis Fluggerbutter • Other Sugar Rush Racers • Sour Bill • Blue Racer • General Hologram
Big Hero 6: Hiro Hamada • Baymax • Robert Callaghan • Go Go Tomago • Honey Lemon • Wasabi • Fred • Fred's Dad • Tadashi Hamada • Cass • Yama • Alistair Krei • Heathcliff • Abbigail Callaghan • Attila • Sergeant Gerson • Cass
Zootopia: Judy Hopps • Nick Wilde • Flash • Clawhauser • Gazelle • Yax • Bogo • Mayor Lionheart • Bellwether • Doug • Finnick • Mr. Big • Mr. Otterton • Manchas • Gideon • Jerry Jumbeaux Jr. • Nanga • Priscilla • Mr. Hopps • Mrs. Hopps • Business Lemming • Duke Weaselton • Fru Fru • Kozlov • Officer McHorn • Wrangled • Wreck-It Rhino • Pig Hero 6
The Jungle Book: Mowgli • Kaa • Baloo • Akela • Raksha • Gray • Shere Khan • Colonel Hathi • King Louie • Bandar-Log Monkey • Flying Squirrel • Crocodile • Peacock • Vulture • Elephant • Bee Hive
Alice Through the Looking Glass: Alice Kingsleigh • Dormouse • Tweedledee and Tweedledum • Cheshire Cat • Bandersnatch • Bayard • White Queen • March Hare • White Rabbit • Mad Hatter • Absolem • Time • Wilkins • Humpty Dumpty • Red Queen • Borogrove • Frog Delivery Man • Gentleman Fish • Vegetable Soldier • Vegetable Servant • Vegetable Executioner • Armored Chess Piece
Pirates of the Caribbean: Jack Sparrow • Will Turner • Elizabeth Swann • Joshamee Gibbs • Tia Dalma • James Norrington • Marty • Cotton • Bootstrap Bill Turner • Pintel • Ragetti • Angelica • Blackbeard • Prison Dog • Maccus • Davy Jones • Helmsman • Philip Swift • Syrena • Captain Salazar • Ghost Lesaro • Shansa • Henry Turner • Carina Smyth • The Redhead • Murtogg • Mullroy • Treasure Chest • Stray Cat • Tiny • Pirate With Pigs • Ghost Shark • Ghost Seagull • Auctioneer
Aladdin: Aladdin • Jasmine • The Sultan • Prince Achmed • Gazeem • Razoul • Rajah • Iago • Abu • Genie • Jafar • Magic Carpet • Pink Flamingo • Beggar Jafar • Golden Scarab Beetle • Magic Lamp • Snake Charmer • Golden Camel
The Nightmare Before Christmas: Jack Skellington • Sally • Lock, Shock, and Barrel • Oogie Boogie • Easter Bunny • Santa Claus • Behemoth • Wolfman • Corpse Family • Mummy Boy • Mayor of Halloween Town • Dr. Finkelstein • Jewel • Zero
Mulan: Mulan • Yao, Ling, and Chien Po • Fa Li • Fa Zhou • Hayabusa • Khan • Cri-Kee • Little Brother • Mushu • Shan Yu • Captain Li Shang • The Emperor of China • The Matchmaker • General Li • Grandmother Fa • First Ancestor Fa • Chi-Fu • Great Stone Dragon
Moana: Moana • Sina • Frigatebird • Chief Tui • Gramma Tala • Pua • Frigatebird • Kakamora Chief • Maui • HeiHei • Ghost Matai • Eel • Tamatoa • Frog Monster • Sloth Monster • Eight Eyed Bat • Chicken Feed • Maui's Hook • The Ocean
Beauty and the Beast: Belle • Maurice • Chip Potts • Mrs. Potts • Gaston • LeFou • FrouFrou • Chapeau • Plumette • Beast • Cogsworth • Lumiere • The Enchantress
Lilo & Stitch: Lilo Pelekai • Nani Pelekai • David Kawena • Mrs. Hasagawa • Mertle Edmonds • Stitch
DuckTales: Scrooge McDuck • Donald Duck (Classic) • Huey, Dewey, and Louie • Webbigail Vanderquack • Mrs. Beakley • Beagle Boys (Big Time, Burger, and Bouncer) • Gyro • Darkwing Duck • Falcon Graves • Pixiu Chinese Dragon • Peghook's Ghost • Launchpad McQuack • Hack and Slash Smashnikov • Gizmoduck • Shadow Magica • Ma Beagle • Flintheart Glomgold • Pharaoh Toth-Ra • Headless Man-Horse