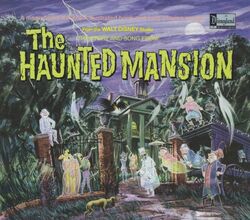 The Story and Song from the Haunted Mansion
is a Disneyland Records album that was released in
1969
to coincide with the opening of
Disneyland's
Haunted Mansion
attraction.
It featured the story of two teenagers, Mike (voiced by Ron Howard) and Karen (voiced by Robie Lester), who get trapped inside the Mansion, with Thurl Ravenscroft as the Narrator, Pete Renaday as the Ghost Host, and Eleanor Audley as Madame Leota.
The record also included a storybook depicting various scenes from the attraction illustrated by Collin Campbell.
Some effects and ideas that were planned but never permanently made it into the attraction are mentioned here: the Raven speaks in the Stretching Room and the Hatbox Ghost is mentioned during the Attic scene.
The album was reissued in 1998 as a cassette tape titled A Spooky Night in Disney's Haunted Mansion.
A second reissue was released on CD in 2009 for the Halloween season. It used the original title of The Story And Song From The Haunted Mansion and used the original cover artwork. Along with the story from the record, the CD also contained the song Grim Grinning Ghosts in its entirety as a separate track. The CD was also enhanced with high resolution reproductions of the artwork drawn by Collin Campbell. Like the original record, the CD's case doubled as a storybook depicting various scenes from the attraction with illustrations by Campbell.
Community content is available under
CC-BY-SA
unless otherwise noted.