Strike is a counter-terrorism and black ops S.H.I.E.L.D. team whose members were actually undercover HYDRA operatives working under Alexander Pierce.
Captain America: The Winter Soldier
The Strike team led by Captain America were assigned to recover the Lemurian Star which had been captured by a group of mercenaries. The mission was successful as they recovered the Star and mercenary leader Georges Batroc was captured in Algiers a day later.
After the meeting between Pierce and the Captain, Pierce ordered them capture Rogers for not collaborating with him. Once in the elevator, Rogers seemed to be captured by Strike but Rogers incapacitates them all and escapes.
Then Strike locate Rogers and Romanoff in a mall but they escape. Later, they attempted again to find Rogers and Romanoff, this time at the ruins of Camp Leigh, but the fugitives escape. Strike member Rumlow orders them to "call in the asset" (i.e. the Winter Soldier). Following a fight between Rogers, Romanoff, Sam Wilson and the Winter Soldier, Rumlow's team again captures Rogers, and is forced to refrain from killing him when Rumlow discovers a news helicopter watching. Instead, they attempt to take the group to a HYDRA compound to execute them, but an undercover Maria Hill helps them escape.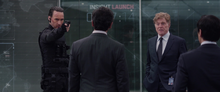 When Rogers exposes Pierce as the new leader of HYDRA, and the Strike and Project Insight teams as loyalists, members of Strike entered the room where the World Security Council met, Councilman Singh orders Jack Rollins to arrest Pierce but Rollins shows his true allegiance when he points Singh with a gun. Councilwoman Hawley kills the agents present, revealing herself to be Romanoff in disguise. Rumlow, attempting to reach the Council, is ambushed by Sam Wilson. Despite outmatching him, Rumlow is severely injured when Rogers sabotages the Insight Helicarriers, sending them crashing into the Triskellion. The Strike team is seemingly disbanded along with S.H.I.E.L.D. as a whole.
Trivia
In the comics, S.T.R.I.K.E. was a counter terrorism organization and the British equivalent to S.H.I.E.L.D..