Strike is a counter-terrorism and black ops S.H.I.E.L.D. team whose members were actually undercover HYDRA operatives working under Alexander Pierce.
Captain America: The Winter Soldier
The Strike team led by Captain America were assigned to recover the Lemurian Star who had been captured by a group of mercenaries. The mission was successful as they recovered the Lemurian and captured Batroc.
After the meeting between Pierce and the Captain, Pierce ordered them capture Rogers for not collaborating with him. Once in the elevator, Rogers seemed to be capture by Strike but showing its ability to fight Rogers escapes.
Then Strike locate Rogers and Romanoff in a mall but they escape thanks to Romanoff. Later, they re-located to Captain and Black Widow this time at Camp Lehigh but the fugitives escape after the explosion of Camp Lehigh.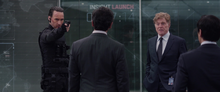 When Rogers exposed to Pierce as the new leader of HYDRA, members of Strike entered the room where the World Security Council met, the Councilor Singh orders Jack Rollins to arrest Pierce but Rollins shows his true allegiance when he points Singh with a gun. During the final battle several members of Strike are killed or arrested for treason.
Trivia
In the comics, S.T.R.I.K.E. was a counter terrorism organization and the British equivalent to S.H.I.E.L.D..
Community content is available under
CC-BY-SA
unless otherwise noted.