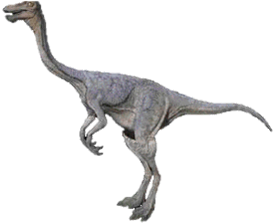 Struthiomimus was a species of dinosaur that existed during the Cretaceous Period. It looked like an ostrich, hence, that is how it got its name, which means "Ostrich Mimic". Several Struthiomimus appeared in Disney's 2000 film, Dinosaur.
Role in Dinosaur
Like the other dinosaurs, the Struthiomimus in the herd were trying to get to the Nesting Grounds for safety and survival. Not all of them survived; at least one perished from thirst and starvation and was eaten by Velociraptors, its carcass picked clean to the bones. At the end of the movie, the surviving Struthiomimus make it to the Nesting Grounds and live in peace and harmony. None of the Struthiomimus speak in this movie.
Gallery
Information
Community content is available under
CC-BY-SA
unless otherwise noted.