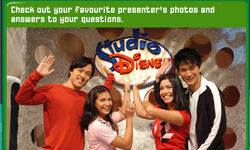 Studio Disney (originally Studio D) was a show that aired on Disney Channel Asia and Disney Channel Australia. It aired in Asia (As Disney Buzz) from 1999 until the 25th of September 2005, and in Australia from Monday October 4, 1999 until 2006. The program had 4 different show blocks, in which various Disney Channel shows were aired.
The Asian version aired on Weekends and has a total of 230 episodes, and was aired in its studio in Singapore. The hosts also did tours throughout Singapore, Philippines, Korea, and Malaysia in 2004.
Hosts
The hosts for the Asian version were Michael Lee, Nikki Muller (Season 1 and part of Season 2), Azura Zainal, Miru (Season 1)- puppeteered & Voiced by Brian Zimmerman, William (Succeeded Miru's place Season 2). After Miru left, Michael, Nikki, and Azura were the only hosts until William came on. Later on Nikki left. The Asian version of Studio D was filmed at Ascent Media in Singapore (Season 1) and then moved to Media Corp Studios in Singapore where it was renamed to Studio Disney and had a new set for season 2.
The hosts for the Indian version were Shiv Pandit, Zain Khan, Devika, Payal (hosted the show-within-the-show Celebrity interviews which became very popular with the Bollywood celebrities as they were allowed to let their hair down; The hosts played pranks on the celebrities, and barraged them with embarrassing questions) and Sagar. The Indian version of Studio Disney was filmed in Mumbai, India.
The original Australian hosts of the program were Dan Mills and Emily Perry. After a year Emily left and Amber Virtue came on board.
They hosted the show for another few year then both decided to leave the show at the same time and were replaced by Scott Cain and Asha Kuerten and changed name from Studio D to Studio Disney during this transition. For unknown reasons Scott left (wasn't on air for a few months and Cartoon Dave and a few others filled in) some months in then Nathaniel Buzolic (Nat) took over his role and stayed for the remainder of the series. The Australian hosts were also involved in various 'shorties', in which they would have to undertake particular tasks. These included Dare Dan (where Dan would be dared to do something by viewers) and Piper Micoy (in which Amber tried out various occupations, such as jobs at Disneyland and an observatory). These were aired between shows, not usually within Studio D. The block later with AMTV was removed due to Nickelodeons 'sarvo' popularity.
Shows
The original programming was The Lion King's Timon & Pumbaa at 5pm with a break at 5.15pm for viewer letters and other little things and The Famous Jett Jackson at 5.30pm with no break and the rest followed
Two of a Kind
The Zack Files
Black Hole High
Sabrina's Secret Life
Totally Spies
Jessie.com (short extra)
External links
| | |
| --- | --- |
| | This page uses content from the English Wikipedia. The article or pieces of the original article was at Studio Disney. The list of authors can be seen in the page history. As with Disney Wiki, the text of Wikipedia is available under the GNU Free Documentation License. |
Community content is available under
CC-BY-SA
unless otherwise noted.