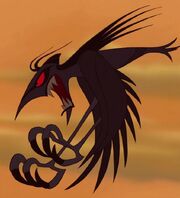 The Symphalian Birds were giant birds with a diet of human flesh sent by Hades to kill Hercules.
Appearances
One of the birds is briefly seen, during the "Zero to Hero" montage, charging the Hercules and Pegasus duo from the upper sky, and is captured soon (possibly) after in a large cage.
In the animated series, another pair of Stymphalian Birds are used by Pain and Panic to cause Hercules to lose control of Apollo's Sun-pulling cart. These birds can breathe fire fierce enough to cut the divine chains of Apollo's cart.
Trivia
In Once Upon a Time, the Stymphalian Birds do not appear. However, one of Hercules' twelve medals represent the monsters.
In the original myth, destroying the Stymphalian Birds was Hercules' sixth labor.
Community content is available under
CC-BY-SA
unless otherwise noted.