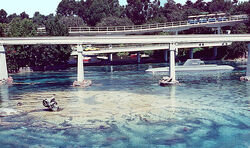 The Submarine Lagoon is the name given to the place where Disneyland's Submarine Voyage once ran. At the back of the lagoon near the Autopia track, there is what was the main show building for the Submarine Voyage. Unlike its Walt Disney World sister lagoon, this one was not removed. Partially the reason is the show building's exterior roof holds up a great deal of Autopia, some of the dormant PeopleMover/Rocket Rods track, and some Disneyland Monorail System support beams. The second reason is the lagoon is having the subs returned with a Finding Nemo overlay.
There was once a submarine lagoon in Walt Disney World that housed the 20,000 Leagues Under the Sea: Submarine Voyage ride, but for space reasons was subsequently filled up for a playground called Pooh's Playful Spot.
Community content is available under
CC-BY-SA
unless otherwise noted.