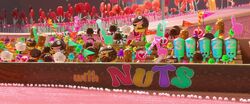 The Sugar Rush Citizens are little candy people who live in the game Sugar Rush. They are made of many different kinds of candy. Each type of candy is shown cheering for a specific racer.
Civilians
The racers are the main citizens of Sugar Rush and are all based on humans. Every night after the arcade is closed, they compete in the Random Roster Race to see the 9 racers that are racing the next day on the player board.
The grand stands are giant candy boxes with a specific candy in them cheering for the racers. Here is the list:
Royal staff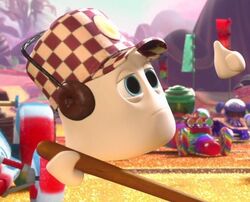 The Marshmallows are the workers and cameramen who clean the starting line, helping the racers prepare and record each racer from a back view. The marshmallows appear to be parodies of Lakitus from the
Super Mario
series games, which are turtle-like enemies that wear goggles and ride in smiling clouds where they attack Mario/Luigi by dropping down Spinies, enemies resembling small turtles with spikes on their shells that could hurt Mario/Luigi if they try to jump on them; in the
Mario Kart
series games, Lakitus act as cameramen and racing referees holding the starting light and checkered flags, also in
Mario Kart 7
a red-shelled Lakitu (as opposed to a green shell) appears as an unlockable playable character.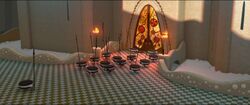 These are Oreo cookies who guard and work exclusively within the proximity of Sugar Rush Castle. They are a parody of the Winkies from The Wizard of Oz as they sing "March of the Oreos", a parody of the Winkie guards' chant.


Aside from
Wynnchel and Duncan
the doughnut cops, other law enforcers in
Sugar Rush
include the CLAW officers (a parody of SWAT), which are all anthropomorphic bearclaw pastries.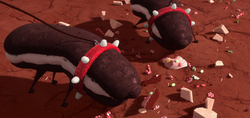 The Devil Dogs are small cookie sandwiches that act as guard dogs, and work as minions for Wynnchel and Duncan.
They resemble hot dogs, but with devil's food cakes instead of buns and a white creamy filling instead of a sausage. The dogs also have a white creamy filling as spikes on their collars.
King Candy
 and his henchmen Wynnchel and Duncan set the dogs out to search for
Ralph
when he escapes from his castle. They seem to be eager to please Wynnchel and Duncan, running after Ralph at full speed after making his escape.
Gallery
Trivia
The cat animal crackers shown during the scene where King Candy gives out free candy are the only citizens animated on the inside of their crackers (using traditional hand-drawn animation) rather than the outside.