"Super Goop" is an episode of the live-action Disney Junior show Imagination Movers. It aired on September 11, 2008.
Synopsis
Smitty and Dave find themselves stuck together with Super Goop, a super sticky substance. The Movers must work together to free their friends so they can play their instruments.
Songs
Shakeable You
What's in the Fridge?
v - e - d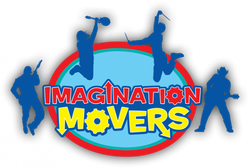 Songs
Imagination Movers Theme • Brainstorming • Mover Music • I Heard That • Nina's Song • Toothache • Where is Warehouse Mouse? • Lost • Bad Hair • Take a Picture • Playing Catch • Puppy Dog • Junk • Get Up • What's in the Fridge? • Good Ideas • Rollin' • Gust of Wind • Give Me Your Hand • Clean My Room • Springtime • Try Again • Birthday • Have Some Fun Today • Sunblock • Recipe (Stir it Up) • Ah-Choo • Do it By Myself • Pop • Idea Box • Where'd You Go • Shakeable You • Boing Cluck Cluck • The Boom Boom Song • Fix it Up • We Can Work Together • Grow the Pumpkin • Now We're Cooking • Kick It • Please and Thank You • Paint the Day Away • Give a Gift • Gotcha • It's Christmas • Farm • March Like a Mover • Today's Parade • My Favorite • Mother in You • I Want My Mommy • My Favorite Snack • Jungle Room • Sleeping Bag • One More Book • Last Song • Bounce • Up! Up! Up! • I'd Eat it Anyway • Here We Go • The Wah-Wah Song • Slippin and-a Slidin' • My Friends and Me • Everybody's Game • Riding My Bike • Knocking at Your Door • Friendly Guy • When You Grow Up • Tag! • Let the Sun Shine In • Snackin' ABC's • Sunrise/Sunset • Seven Days a Week • Can You Do It? • Luck of the Irish • I Am Energy • Easy Come, Easy Go • Butterfly • Going to Have a Party • Riding the Waves • On My Way Home (Hawaiian Lullaby) • Get Serious • Going to the Movies • It's a Holiday • There Once Was a Knight • Caribbean Rhapsody • Sensible Life of a Pirate • Breakfast Time • Magic • Patience • Robot Chase Song • Be Yourself • Wanna Be a Frog • Calling All Movers • Dad Says • Take a Look at This Place • Reindeer Party • On Your Marks • The Cheese Song • But I've Never Seen a Unicorn • A Friend to Me • Spaceman • The Greatest Dance • Good Guys • Moving On