The Executor-class Star Dreadnaught (commonly known as a Super Star Destroyer) were large command ships that appeared in the Star Wars franchise. The first of three Super-Class Star Destroyers in service before the Battle of Hoth, the Executor was Darth Vader's flagship while he hunted down the main Rebel Alliance base. At 8000 meters long, it was the largest traditional starship constructed by the Imperial Navy.
Description
Super Star Destroyers were Imperial Navy command ships and were assigned only to the most important and prestigious missions. Being assigned to these vessels were regarded by Navy officers as a the fast track to promotions
In a military sense, the Super Star Destroyer was somewhat impractical, since a small ship could fulfill its mission duties. Rather, the Super Star Destroyer represented the Emperor's unlimited power and resources. The Imperial Star Destroyer frightened worlds into submission; the Super Star Destroyer terrorized them beyond the capability for resistance. At over five times the length of a standard Star Destroyer, it could conquer without firing a shot, and so win the battle before engaging the enemy.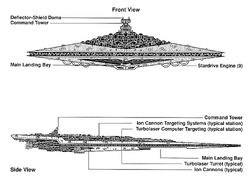 Bristling with over a thousand weapons, including turbolasers, concussion-missile tubes, tractor-beam projectors and ion cannons, the Super Star Destroyers wielded awesome firepower. They held two full wings of TIE Fighters, for a hundred and forty four ships, as well as two hundred other combat and support ships. For ground assaults, Super Star Destroyers maintained a full corps of Stormtroopers, 38,000 ground troopers, three prefabricated Imperial garrison bases, and enough walkers to decimate any Rebel base.
The Executor was built at the starship yards of Fondor after being designed by Lira Wessex, designer of the Imperial Star Destroyer. Upon its completion, the ship was presented to Lord Vader as a headquarters ship for his quest to find the Rebel Alliance's command base. It was originally commanded by Admiral Ozzel, but after his unfortunate death at Vader's hands, Admiral Piett was given command of the vessel by Lord Vader.
The Executor was destroyed at the Battle of Endor. After its shield generators were destroyed, Rebel fighter pilot Arvel Crynyd smashed his A-Wing fighter into the Executor's bridge. With the ship crippled and damage-control crews unable to seize command using the auxiliary control centers, the Death Star's gravity pulled the Executor into the immense battle station. The Executor exploded on impact with the Death Star, also causing significant damage to the incomplete battle station. Many of the Empire's best young officers were killed in that incident, making the New Republic's eventual victory over the Empire far easier.
Only three Super Star Destroyers were built and put into service by the Battle of Hoth, and of the three, only the Ravager survived after the Battle of Endor. When the Ravager was destroyed at the Battle of Jakku, Super Star Destroyers were no more.
Gallery
See Also
External Links