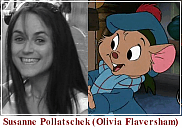 Susanne Pollatschek (born February 7, 1977) is a Scottish-born actress, who voiced Olivia Flaversham in the 1986 Disney animated film, The Great Mouse Detective.
Very little is known of the voice of Olivia Flaversham, since it is the only acting credit she has done to date. It was stated in a film press kit that Susanne won the role due to her sincerity and naturalism in her vocal performance. At just eight years of age, Susanne recorded her lines in London, while her other co-stars were in Burbank, California.
External Links
Community content is available under
CC-BY-SA
unless otherwise noted.