The Swamp Folk are a group of animals, led by Ellie Mae and her husband Luke, and supporting characters in Disney's 1977 animated feature film, The Rescuers.
Members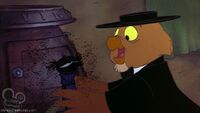 Deacon Owl is the Deacon Owl of the Swamp Folk. He is an Owl who wears classic deacon's clothing. He was voiced by
John Fiedler
, who voiced
Piglet
for thirty-seven years.
Deadeye is the fisherman rabbit of the Swamp Folk. He is a rabbit who fishes. He was voiced by George Linsdey, who also voiced
Lafayette
in
The Aristocats
and
Trigger
in
Robin Hood
.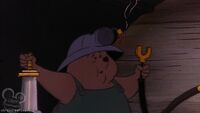 Digger is the digging mole of the Swamp Folk. He is a mole who digs. He was voiced by Dub Taylor, who voiced Fire Tender in
Walt Disney's Wonderful World of Color
.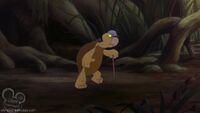 Gramps is an old turtle of the Swamp Folk. He is a turtle with a cane. He was voiced by
Larry Clemmons
, who wrote the
1967
film,
The Jungle Book
.
Appearances
The Swamp to first appear are Ellie Mae and Luke as due to Madame Medusa that Orville and Bernard and Miss Bianca fall from the sky, they greet them and they speak about Penny, with Luke stating that the Swamp Folk despise Madame Medusa.
They are then seen at Ellie Mae's home, alongside Deacon Owl, Deadeye, Gramps and Digger, all waiting for Evinrude (who was sent to give them a message) with Gramps getting quite cross. After Evinrude arrives they CHARGE! going to Madame Medusa's Boat-home, with Deacon Owl and Deadeye lighting fireworks, with Ellie Mae, Digger and Gramps alongside Luke at the Swamp-Mobile. They are then all seen escaping with Penny, Bernard and Bianca away from Medusa, succeeding.
Trivia
Gallery
Community content is available under
CC-BY-SA
unless otherwise noted.