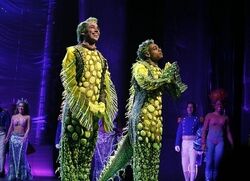 "Sweet Child" is a song from The Little Mermaid Broadway show. It is performed by Flotsam and Jetsam right before Ariel's meeting with Ursula. The name is derived from Flotsam and Jetsam's first speaking line "Poor child, poor sweet child".
Lyrics
(SPOKEN)
FLOTSAM:
Poor child
JETSAM:
Poor, sweet child.
FLOTSAM:
She has a very serious problem, hasn't she?
JETSAM:
Hmm, if only
FLOTSAM:
there were something
JETSAM:
we could do.
ARIEL(always spoken):
Who are you two?
(SUNG)
FLOTSAM:
Sweet child
JETSAM:
Poor child.
FLOTSAM:
So tragic
JETSAM:
so misunderstood.
FLOTSAM:
Dear child
JETSAM:
sad child.
FLOTSAM:
Life's looking
JETSAM:
shall we say
FLOTSAM:
not good.
JETSAM:
No.
FLOTSAM:
Who will ease her woe's and worries?
JETSAM:
Who will help get her man?
BOTH:
Sweet child. Perhaps the Sea Witch can!
ARIEL:
You can't possibly mean... Aunt Ursula?
FLOTSAM:
She knows your dreams
ARIEL:
Father says her magic is evil
JETSAM:
She'll grant your prayer
ARIEL:
Please, I have to go!
FLOTSAM:
She'll cast a charm
JETSAM:
A tiny spell.
FLOTSAM:
Why the alarm?
JETSAM:
No one will tell
FLOTSAM:
No one will care.
JETSAM:
It's your affair.
BOTH:
Sweet child
FLOTSAM:
Dear child
JETSAM:
Poor child.
FLOTSAM:
Sad child.
BOTH:
We'll bring you to her lair right now.
Bet in half a sec,
your prince and you are reconciled.
FLOTSAM:
Together
JETSAM:
Forever
ARIEL:
Take me to her.
BOTH:
Sweet child.
Reprise
FLOTSAM
(spoken) She may have legs, but her love affair doesn't!
JESTAM
(spoken) I didn't feel any sparks, did you?
FLOTSAM
(spoken) [laughs] No electricity whatsoever!
JESTSAM
(spoken) What's the poor sweet child to do?
FLOTSAM
It's such a shame
JETSAM
It's such a crime
FLOTSAM
To be so close
JETSAM
and yet so far
FLOTSAM
So overdue
JETSAM
yet under-par
FLOTSAM
So out of time
JETSAM
It's too sublime
BOTH
Sweet Child!
JETSAM
Poor child
FLOTSAM
And now her second sun has set!
JETSAM
Dear child!
FLOTSAM
Lost child!
JETSAM
There's still some hope-
FLOTSAM
Ya wanna bet?
JETSAM
No.
FLOTSAM
One more day to get her lovepeck
JETSAM
One more day to snag her man
BOTH
And then the squid will hit the fan
FLOTSAM
(spoken) She'll be disgraced
JETSAM
(spoken)Ugh Debased
FLOTSAM
Reviled
BOTH
Poor child...!