Warden Swinton is a minor character in the 2016 Disney animated feature film, Zootopia.
Background
Development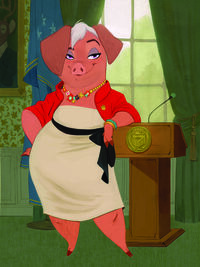 In earlier drafts of the movie, Swinton was the mayor of Zootopia and the film's main antagonist. She led the conspiracy involving predators mysteriously disappearing, as she harbored a secret hatred towards that portion of Zootopia's population. She was portrayed as a calculated and highly intelligent leader, while animatics also imply her to be fairly vain.
Having a pig serve as the film's villain was partially inspired by the filmmakers' research; they discovered that pigs are amongst the most intelligent animals, which would make sense for a character leading a villainous operation while simultaneously fooling their people. The mayor was initially conceived as a pig not just to fit her intelligence, but also so that her appearance (a pink and soft animal) could be easily juxtaposed with her murderous, cold-blooded nature.[1]
Eventually, Swinton's role as Zootopia's mayor was scrapped in favor of the generally well-intentioned Mayor Lionheart. The switch from Swinton to Lionheart was based on the common conception that lions are "king of the jungle", making it seem logical to cast a lion as the leader of an all-animal city. Bellwether, meanwhile, was given Swinton's role as the main antagonist whose plans stemmed from a hatred of carnivores. Lionheart also became Bellwether's primary target.
Role in the film
According to directors Byron Howard and Rich Moore, Swinton remained in the final version of the movie, but was reworked to appear in a cameo role as a police warden watching over the arrested Bellwether during the Gazelle concert end credits.
Gallery
References