"The universe wants to break free, so it manifests chaos. Like me being born the Goddess of Mischief. And as soon as that created a big enough detour from the Sacred Timeline, the TVA showed up, erased my reality and took me prisoner. I was just a child. I escaped. [...] Everywhere and everywhen I went, caused a nexus event, sent up a smoke flare. Because I'm not supposed to exist."
―Sylvie to Loki

Sylvie, born Loki Laufeydottir and also known as The Variant, is a character from the Marvel Cinematic Universe and the deuteragonist of the Disney+ series Loki.
She is the Goddess of Mischief, a Variant of Loki who has been hunted by the Time Variance Authority most of her life and plots to destroy the organization. The TVA recruits another Loki Variant to help them capture her, however, the two of them become reluctant allies instead. As they help each other to survive and face imminent death on Lamentis, they unexpectedly fall in love, creating a branched timeline and forming a bond that could potentially destroy the current known reality.
At the same time, Sylvie and Loki help to uncover the truth behind the TVA. Eventually, she has her revenge by murdering He Who Remains, the one behind the TVA, which frees the Sacred Timeline but also unleashes his Variants in the Multiverse, risking the start of another Multiversal War.
Background
Sylvie is the Goddess of Mischief, a Loki from an alternate reality. She was born as the daughter of Laufey, but was adopted into the Asgardian Royal Family, becoming a princess of Asgard. She was aware that she was adopted because her family told her early on. However, when she was still a child, she inadvertently created a nexus event which caused the Sacred Timeline to branch, so she was captured by the Time Variance Authority and her reality was destroyed. But before she was judged for her crimes against the Sacred Timeline, she managed to steal the TemPad of the Hunter A-23, Ravonna Renslayer, and escape through a Time Door.
Since then, she has been running from the TVA and hiding within several apocalypse events to avoid creating branched timelines which would be detected by the TVA. Living in these apocalypses, Sylvie was able to grow up, while she also plotted ways to take down the TVA, seeking revenge against the organization for abducting her and destroying her reality. At some point in her life, she crafted a new identity for herself, changing her hair color and abandoning the name "Loki", calling herself "Sylvie" instead.[4]
Personality
"She's sarcastic. She's sort of cutting to Loki.[...] [Her life] was taken away from her. It really explains why Sylvie's so bitter and jealous of Loki and his charmed life, when she's been on the run from the TVA for as long as she can remember. She's this wild cat who's just on a survival mission."
―Sophia Di Martino

Sylvie is an extremely intelligent, clever, confident and strong-willed woman. Despite being a Loki Variant, she is not motivated by the desire for power. Instead, she is driven by her rage and need for revenge against the TVA, the organization that abducted her from her home and destroyed her reality. At some point, she changed her hair color from dark brown to blond and renamed herself "Sylvie", while trying to find a new version of herself that serves her better than the one that came before. She is very protective over this new identity, because it is an achievement and something she came up with herself,[4] which is why she does not accept being called "Loki" and/or "Variant".
Living as a fugitive, she has been carefully planning how to destroy the TVA and anyone who is behind it most of her life. Sylvie also believes that Variants like herself are result of the universe manifesting chaos as an attempt to break free from the tyrannical actions of the TVA. So, by completing her mission, Sylvie thinks she will not only have her vengeance but also give the individuals of the multiverse the free will. Having her old life taken from her also turned Sylvie into a bitter and sarcastic person, which is seen as she often undermines Loki's arguments during their discussions. Because she spent most of her life as a fugitive, she feels jealous of Loki's luxurious life as a prince.[5]
Sylvie is at her core a survivor. Her intelligence allowed her to learn magic enchantments by herself and to figure out how to hide within the apocalypse events, managing to spend many years without being found by the TVA. She is also a fighter and enjoys the adrenaline of a physical confrontation. She does not hesitate to join a fight because she knows that she will either win or at least survive.[5] In this aspect, she is more violent in conflicts than Loki, who usually prefers to use scheming and deceiving tactics against others and only joins a physical confrontation as his last resort. Also different from Loki, Sylvie is irritable and sometimes impatient, which prompts her even more to readily resort to aggression.
Sylvie is mischievous and claims to be hedonistic, even more than Loki. However, she makes it clear that she would never do anything at the expense of her mission. Destroying the TVA is for a long time, the only and most important goal in her life. This also causes her to be a solitary individual, as she spent her entire life with one singular focus and without anyone by her side, not even having a clear memory of her old home and family. Because of this, she has difficulty in trusting others. She rejects Loki's alliance offer and refuses to receive his help, only accepting to cooperate with him when she is forced to do so to escape from the apocalypse of Lamentis.
On Lamentis, as she faces imminent death, Sylvie shows her insecurities, thinking that for being a Loki she is destined to lose anyway. She is able to reassure herself thanks to Loki who is beside her and recognizes her efforts and achievements as a survivor. Loki's care and understanding cause her to fall in love with him. However, because she is not used to have anyone in her life and never had romantic feelings for anybody, Sylvie is extremely uncomfortable showing vulnerability and admitting that she loves Loki. Because of this, she just feels awkward as they talk about the cause of their nexus event on Lamentis and doesn't know how to behave around him.[5][6] Despite this, it is implied that she remembers fondly about her moment with him on Lamentis, even considering it to be the one good memory in her life, prompting her to prune herself to find him in the Void.
Similar to Loki's vision of her, Sylvie sees herself in him, but also recognizes him as a different individual. When she has to make a choice between listen to him and complete her mission by killing the creator and ruler of the TVA, He Who Remains, conflict happens because the one she has grown to love is now stopping her from accomplishing the goal she has been fighting for most of her life.[7][6] Her distrustful side is also shown because she does not even consider that He Who Remains might be telling the truth, thinking that it is all just a manipulation. She also starts to question if everything she and Loki had gone through together was genuine from his part, just because of his attempt to stop her to reflect about the consequences of making a wrong choice.
Sylvie is also realistic and will choose the more real option over the nicest one. For her, killing the creator of the TVA is the only way to proceed. This is why when Miss Minutes offers to put her and Loki together on the timeline, she believes it would not be real, only a fabrication. She refuses the deal, choosing to continue her mission over being with Loki.[4] Later, she does this same choice again, killing He Who Remains instead of listening to Loki. Her being realistic and her strong desire for revenge ultimately make her continuously choose the mission despite of her genuine feelings for Loki.[7][6] So, although meeting Sylvie helps Loki to change and become a better person, Sylvie does not change during their journey and has her same old goal when they meet He Who Remains in the Citadel at the End of Time.[4]
However, despite choosing to complete her mission, Sylvie cannot bring herself to hurt Loki, especially after hearing his words of genuine care for her at that moment. So, she makes sure to get Loki out her way without causing him any harm, which she does to complete her mission, but also to keep him safe.[4] Ultimately, accomplishing her goal by killing the ruler of the TVA, who is the one responsible for her misery, does not really bring Sylvie any satisfaction or relief, instead it leaves her feeling empty and starting to question everything.[8][7][4]
Powers and abilities
Powers
Frost Giant Physiology: As a Frost Giant, Sylvie has several superhuman abilities.

Superhuman Strength: Sylvie possesses superhuman strength that is substantially superior to that of an average Asgardian female or male.
Superhuman Durability: The tissues of Sylvie's Frost Giant body are superhumanly durable.
Superhuman Stamina: Sylvie's Frost Giant metabolism grants her superhuman levels of physical stamina in practically all activities.
Superhuman Speed: Sylvie can move faster than average humans.
Superhuman Agility: Sylvie possesses superhuman agility, with superhuman reflexes.
Superhuman Longevity: Like all Frost Giants and Asgardians, Sylvie ages at a far slower rate than humans and can live for thousands of years.
Cold Immunity: Like all Frost Giants, Sylvie is immune to lower temperatures.

Magic: Sylvie has the ability to generate and control magical abilities, especially enchantments, all of which she learned by herself. Her powers are projected in the form of green energy.

Enchantments: Sylvie can perform magic enchantments by making physical contact and then taking control of the individual's mind.

Mind Control: Using enchantments, Sylvie can completely take control of others' minds after touching them, grabbing hold of the weaker minds instantly. Using this ability, she can control the actions of others and even possess their bodies to communicate through her victims. She is also able to make the victims under her control to transfer her influence to someone else just by having them touch another individual.
Illusions: Using her magic, Sylvie can create powerful illusions in order to control individuals who possess stronger minds with her enchantments. These illusions are created from the individuals' own memories. Sylvie is also able to insert herself into these illusions as she did to interrogate Hunter C-20.

Telekinesis: Sylvie can magically manipulate the movement of objects using her mind, generating huge force.
Energy Blast: Sylvie can use her magic to generate greenish energy from her hands and release it on specific targets.
Abilities
Intelligence: Sylvie has a genius level intellect and is also extremely cunning and skilled strategist.
Expert Hand-To-Hand Combatant: Being on the run for some many years made Sylvie a very skilled fighter and an expert in close quarters combat in order to survive.
Master Swordswoman: Sylvie is an expert dueling using a long blade, normally wielding a machete as her weapon of choice in combats.
Appearances
Season One
In the first episode, Mobius, an agent of the Time Variance Authority, visits a cathedral in Aix-En-Provence in France, 1549, where Sylvie had ambushed and stabbed a group of Minutemen, killing them before stealing their reset charge. Inside the church, Mobius also finds a bystander, a boy that Sylvie had given a blue candy named "Kablooie blooberrie" and who calls her the devil after witnessing what she did. Later, the Loki Variant who escaped from the Avengers after the Battle of New York, caused the Sacred Timeline to branch as result of what they call a nexus event, so he agrees to work with Mobius to capture the rogue Variant that has been killing the Minutemen. Mobius reveals to him that the rogue Variant is also a Loki. The episode ends with Sylvie's first physical appearance, in a scene that shows her as a hooded figure attacking a group Minutemen from the TVA and stealing their reset charges.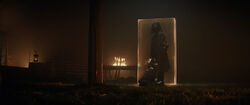 In the second episode, Sylvie continues to attack the Minutemen. She ambushes a unit at the a Renaissance Faire in 1985, puting their commander, a woman named Hunter C-20, under an enchantment. While she comes out from the shadows of the dimly lit tent to attack them, she simultaneously controls C-20 and makes her beat her own Minutemen unit. When all of them are defeated, she uses her TemPad to open a Time Door and takes an unconscious C-20 with her as she leaves. At the TVA, Loki eventually discovers that the Variant is hiding in apocalypse events, because if everything in a location is destined to be destroyed during an apocalypse, the Variant could do anything without creating a branch on the timeline, thus it would not be detected by the TVA. This leads him to figure out that the Variant is probably hiding at the apocalypse of Alabama, 2050, at a Roxxcart superstore. The TVA is sent to the location and Sylvie becomes aware of their arrival when she sees them through surveillance cameras. She is prepared to confront them and to set in motion her plan to take down the organization.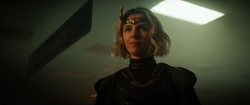 There, Sylvie meets Loki while he is searching the store accompanied by Hunter B-15. She uses her magic to enchant a man in the store, and when B-15 suspects and approaches him, Sylvie makes the man grab her arm which transfers the enchantment to the Hunter. Loki talks to her while Sylvie transfers her enchantment to others present in the store to face him. Meanwhile, she goes around setting up all the reset charges that she collected from the TVA all over Roxxcart, connecting them to her TemPad. Loki states that he intents to take control of the TVA and invites Sylvie to join him, but she shows no interest in his plans. Sylvie rejects being called "Loki" when he does so, and fights him inside the store, not wanting him in her way. Then, she finally appears in person to face Loki, revealing to be a female version of him. She executes her own plan by sending all the reset charges through Time Doors to several points on the Sacred Timeline, creating several branches. She then picks up her TemPad and waves him goodbye as she leaves through a Time Door, being followed by Loki.
In the third episode, a flashback shows Sylvie controlling Hunter C-20's mind while she was still at the Roxxcart superstore. Sylvie creates a fantasy in which they are both at a bar drinking margaritas and she pretends to be her best friend. She challenges C-20 to answer her questions under brain freeze and starts to interrogate the soldier about the Time Keepers. C-20 recognizes the place in the fantasy but then realizes that she doesn't really know her. Sylvie claims that C-20 is confused for being too tired, which convinces the Hunter. While enchanting C-20, she sees Loki and TVA arriving at the store through surveillance cameras. In the present, Sylvie arrives at the TVA through the Time Door and immediately realizes that she can't use her magic inside the facility after failing to enchant a Minuteman. Even without her magic, she attacks the Minutemen that crosses her way, pruning some of them with their own Time Sticks. Leaving a trail of defeated Minutemen behind, she then sees that she was followed by Loki who offers an alliance again, but she refuses. She fights him until Ravonna Renslayer appears, making Loki use the TemPad that Sylvie is carrying to transport them elsewhere.
Sylvie and Loki then fight for the possession of the TemPad. She notices that it needs to be recharged, just before Loki takes it from her hands and hides it with magic. Suddenly, a metor falls between then and a horrified Sylvie realizes that they were transported to the apocalypse of Lamentis-1. She explains to Loki that it is the worst apocalypse saved on her TemPad, in which the moon will crash into the planet, killing everyone in it. They run from the meteors, Sylvie refuses to let Loki help her was he tries to do so. Sylvie then attempts to make Loki return the TemPad using her enchantments on him, but it doesn't work. Loki tells her that his mind is too strong to be under enchantments. Frustrated, she reveals that he ruined her plans against the TVA, which had been years in the making. In order to survive the apocalypse, Sylvie is forced to work with Loki, so they decide that they need to find a power source able to recharge the TemPad. When Loki addresses her as "Variant", she tells him she does not want to be called as such. As Loki says that he prefers not to call her "Loki", she replies that it is okay because she wants to be called "Sylvie".
The pair walks and arrive at an abandoned town. There, they meet an old woman who tells that the people of Lamentis are going to evacuate the moon inside an Ark, and decide to use the power source of the vessel to recharge the TemPad. Then, thanks to Loki using his magic to disguise himself as a guard and Sylvie using her magic to enchant one of the guards, they manage to board a train that is going to the Ark. In the train, they spend their time talking about their lives. Loki tells Sylvie about his mother, Frigga, who taught him how to use magic and shows some of it for her, casting fireworks from his hand. He tells her that Frigga always believed in him and when Sylvie questions if she was really his mother, he replies that he was adopted. With this, Sylvie surprises Loki by telling him that she always knew that she was adopted, although she can barely remember her mother. She also tells him that she taught herself how to do enchantments, but when she offers to show him how she does them, Loki refuses because he knows she will try to enchant him to get the TemPad. When they talk about their love life, Loki tells her that he had relationships with men and women as he suspects that Sylvie had also been with both, however, they agree that none of their past relationships felt real. She states that love must be a mischief then, which Loki disagrees, but he claims that he would need to drink more to think about the meaning of love.
Sylvie warns that they should rest to be prepared to steal the power source of the Ark. She then wakes up from a nap, because of the sound of a drunken Loki singing and dancing along with other passengers. She sees that he is not wearing his disguise and tries to warn him, but Loki is too drunk to care and only keeps singing for her. Sylvie tells him that people are looking at him weirdly and they might be suspicious, but Loki drank too much to be worried about it. He states that he finally figured out the meaning of love and tells her a clumsy metaphor, comparing it to a dagger. Sylvie claims that his metaphor is terrible, as some guards appear and demand Loki to show his tickets. They are forced to fight the guards, and one of them throws Loki off the train. Remembering that Loki is still carrying the TemPad, Sylvie jumps after him and requests him to return it to her immediately, but they realize that the TemPad was destroyed when Loki fall from the train. Sylvie becomes infuriated since the TemPad was their way to escape the apocalypse and states that they are both going to die just because Loki got drunk and ruined their plan. As she throws a fit and shows to be very upset, Loki tries to comfort her. When Sylvie reveals to him that the Ark will never take off because it is destroyed in the apocalypse, Loki tells her that they could simply hijack the vessel and make it leave the moon safely. This appeases Sylvie's fury as she agrees with the new plan, and they then walk to the location where the Ark will take off.
Along the way, Loki convinces her to tell him how her enchantments work. Sylvie explains that she in order to take control over someone's mind, she has to make physical contact and that for stronger minds she also has to create a fantasy from the person's memories to maintain the control. She tells him that the mind of Hunter C-20 was clouded, so she had to pull an old memory from before the soldier joined the TVA to fabricate a fantasy and keep the control of her mind. With this, Sylvie accidentally revealed to Loki that C-20 and all the TVA workers had past lives on the Sacred Timeline, which surprises Loki. He explains that he was told at the TVA that the members of the organization were created by the Time Keepers. Sylvie tells him that this claim is absurd as C-20 was a human on Earth and all the TVA workers are Variants, and Loki says that the members of the TVA don't know the truth of their past. Hearing that the Ark is about to leave, they arrive at the location and rush to it. They help each other as there is a crowd of people at the place, meteors that start to fall from the sky and also guards that fight them when they approach the Ark. Unfortunately, as they get close to the Ark, they see a giant meteor destroying it, losing their last hope to escape the apocalypse.
Sylvie: "Do you think that what makes a Loki a Loki is the fact that we're destined to lose?"
Loki: "No. We may lose. Sometimes painfully. But we don't die. We survive. You did. You were just a child when the TVA took you, but you nearly took down the organization that claims to govern the order of time. You did it own your own. You ran rings around them. You're amazing!"
―Sylvie and Loki
In the fourth episode, a flashback shows Sylvie as a child playing with her toys at Asgard's palace at the day she was captured by a Minutemen unit led by Ravonna Renslayer, who was still a Hunter at that point. During the trial at the TVA, Sylvie manages to steal Ravonna's TemPad and then escape through a Time Door. In the present, with no option to leave Lamentis-1, Sylvie and Loki sit together watching the moon being destroyed as they both accept that they are going to die. Loki apologizes to her, and she tells him about her past. Sylvie explains that that the TVA captured her when she was still a child and, since then, she has been running from them. She states that eventually she learned to hide in the apocalypses, where she was able to grew up, but now she would die in one. She asks him if what makes someone a Loki is the fact that they are destined to lose. He replies that they will always survive even if they lose and that her story proves this. Loki shows admiration for her, because she survived so many years on the run since she was a child and almost managed to take down the organization that claims to govern the order of time by herself, and tells her that she is amazing. Sylvie becomes emotional hearing this, so she affectionately touches his arm. In return, as the destruction comes closer to them, Loki holds her hand. They then tenderly gaze and smile at each other, preparing to die, but something more happens between them.
When they about to be killed by the destruction, two Time Doors appear in front of them and the TVA captures them both. The TVA had detected a nexus event causing an abnormal straight-up branch, which was created at the moment Sylvie touched Loki because the two Variants of the same being were falling in love, a peculiar and improbable event as neither of them are not even supposed to exist on the timeline. This allowed the organization to locate the pair on Lamentis even in the middle of the apocalypse. At the TVA, Sylvie and Loki are separated. She is imprisoned inside a Time Theater with Minutemen guarding the entrance and Ravonna restricts others to acess her. Ravonna even refuses to let Mobius, who has been working with Loki and is responsible for him since he was recruited, to interrogate Sylvie, claiming that the Variant is too dangerous and nobody should speak with her.
Later, Hunter B-15, who had previously been under Sylvie's enchantment and is now guarding the Time Theather she is imprisoned in, decides to confront Sylvie. B-15 takes Sylvie back to the Roxxcart store during the apocalypse of Alabama 2050. Sylvie thinks that the soldier intents to fight her, but B-15 tells her about the memories she saw when she was enchanted and asks what Sylvie did to her. Sylvie states that what she saw was her life before the TVA, but B-15 initially accuses her of lying because she believes that herself and all the TVA workers were created by the Time Keepers. Sylvie explains that she can't create memories and that all the members of the TVA are actually Variants that were kidnapped from their timelines by the Time Keepers. B-15 then asks Sylvie to show her memories and realizes that Sylvie is telling the truth. B-15 sees that she had a happy life before joining the TVA, becomes distressed and cries. Afterwards, Sylvie is visited by Ravonna, who notices that someone had talked to her when she sees that Sylvie is wet, because of the storm at the Roxxcart store. When a Minuteman says that it was B-15, Ravonna quickly figures out that B-15 now knows the truth about the TVA from Sylvie and warns the Minutemen to stay alert. Sylvie smiles at Ravonna, knowing that the TVA is crumbling with the truth being uncovered.
Sylvie is then taken by Ravonna and the Minutemen to face the Time Keepers. Along the way, she meets Loki, who is also being dragged by the Minutemen and is heartbroken as he just saw his friend Mobius being pruned. She notices something is wrong and asks him if he is okay, and he assures her that he is. Sylvie asks Ravonna what was the nexus event that caused her to be captured as a child and have her timeline destroyed, but Ravonna claims not to remember. Loki and Sylvie meet the Time Keepers and attempt to confront them. They are sentenced to be pruned, but B-15 appears and frees them, allowing them both to fight. Ravonna confronts Sylvie, promising not to fail to eliminate her this time, but Sylvie manages to defeat her. When all the enemies are beaten, Sylvie beheads one of the Time Keepers and they discover that they are just mindless androids, which puts in question who is really behind the TVA. Sylvie becomes visibly frustrated that after everything they found no answers and Loki tries to comfort her. While Loki is distracted, attempting to confess his love for her, they are both surprised with him being pruned by Ravonna. Infuriated, Sylvie disarms Ravonna of her Time Stick. Ravonna tells her to end it by pruning her, but Sylvie refuses and demands answers.
In the fifth episode, Sylvie takes Ravonna to the Time Court of the TVA. She gets Ravonna's TemPad and pressures her to reveal who is behind the TVA, but Ravonna claims not to know. As they are in the same place Ravonna brought her as a child, Sylvie asks how it feels now that she is the one who is the captive and threats to kill her, but Ravonna then reveals that Loki is not actually dead. Ravonna explains that it is impossible to destroy all the matter of a branched reality, so everything and everyone that is pruned is not "reset", but actually transported somewhere else, to a void at the end of time, from where nothing ever returns. Ravonna claims that she was lied to and is also interested in discovering who created the TVA, offering an alliance. Wanting to find Loki and the creator of the TVA, Sylvie reluctantly accepts it, returning the TemPad to Ravonna.
While Ravonna tries to recover files regarding the founding of the organization from their archives, Sylvie realizes that the person that they are looking for is probably hiding beyond the Void at the end of time, as it would be impossible to create a nexus event there since the timeline is still not written, thus anyone at this location would be undetected by the TVA. As Ravonna says that there is no way to go to beyond the Void using a TemPad or arriving there by going through the Void, Sylvie states that there is no use for Ravonna anymore and intents to kill her again, but Miss Minutes then lies, claiming that there is a Void Spacecraft that could take them safely to the end of time, and Ravonna explains more about this supposed spacecraft. Sylvie quickly realizes that they are actually just stalling for time until the group of Minutemen dispatched by Miss Minutes arrives. As Sylvie sees herself surrounded, she manages to grab Ravonna's TemPad again and runs to hide behind the judge's dais. Sylvie then questions out loud for the Minutemen to hear, if Ravonna was really telling the truth about feeling betrayed by the TVA. Ravonna offers to imprison her in a Time Cell reliving a good memory if she surrenders without resistance. But Sylvie states that she has only one good memory, just before using the Time Stick she took from Ravonna to prune herself with the intent to find Loki in the Void.
In the Void, Sylvie wakes up inside an old school bus and sees a cloud-like entity that approaches the vehicle to engulf it. She is forced to run away from Alioth, a living tempest that consumes the matter and energy transported to the Void. As she is running, she briefly manages to link with the creature and sees a glimpse of something beyond the Void, also realizing that Alioth can be enchanted. She is rescued by Mobius who appears driving a pizza truck. Mobius shows remorse, telling her that he thought the TVA were the good guys and he had good intentions while doing his job, but Sylvie doubts he would believe that destroying entire realities and orphaning little girls are heroic traits. Mobius explains that he once thought their ends justified their means and recalls that she also committed atrocities. Sylvie replies she did what she needed to do in order to survive. Mobius says he was also trying to survive and apologizes to Sylvie for helping to hunt her while he was working for the TVA.
In a moment of vulnerability, Sylvie tells him that she expected to find Loki when she pruned herself, but now is distressed thinking that Alioth might have already devoured him. Because of this, she tells him that she changed her focus to figuring out a way to escape the Void and discover who is behind the TVA. She asks Mobius to turn the car towards Alioth again, and he becomes surprised that she wants to go back to face the "angry cloud" they've just escaped from. Sylvie tells him that the answer to find the ruler of the TVA might be in Alioth. Along the way, Sylvie and Mobius reunite with Loki and other Variants of Loki, as they were also on their way to face Alioth. Loki is surprised to see both of them again. Upon seeing Sylvie, he becomes concerned and asks her how she got to the Void, but she says that she came to help him. Loki tells her that he is planning to kill Alioth, but Sylvie thinks that it is absurd to try to stab a giant cloud to death. Sylvie informs Loki that she thinks that the person behind the TVA is beyond the Void and is using Alioth as a guard dog protecting the only entrance, so she plans to enchant it.
Sylvie: "How do I know that, in the final moments, you won't betray me?"
Loki: "Listen, Sylvie, I... I betrayed everyone who ever loved me. I betrayed my father, my brother... my home. I know what I did. And I know why I did it. And that's not who I am anymore. Okay? I won't let you down."
―Sylvie and Loki
Sometime later, Loki and Sylvie sit together and discuss about what happened and what they will do after the TVA is taken down. Sylvie talks about Mobius, commenting that he is not so bad. Loki tells her that he is not so good either which is why they get along. Sylvie continues by saying that Mobius really seems to care about him, and then mentions what Mobius told her about the cause of their nexus event on Lamentis. Sylvie claims to believe that "Mobius' theory" about Loki and her falling in love having created the nexus event sounds like another TVA lie, however, they now sit awkward around each other because of it. Sylvie then explains that she not used to having friends or any relationships with anyone as she was alone and the most important thing to her was to bring down the TVA. As they talk, Loki conjures a blanket claiming to be feeling cold and then enlargers it so he can share it with her, and Sylvie snuggles close to him. She tells him that she is scared that he will eventually betray her, but Loki reassures her that even if he had betrayed everyone that ever loved him, he is now a changed person and won't do the same thing to her. Sylvie jokingly points out that if they win, there might be a timeline for him to rule, but Loki only smiles about it and asks her what she is going to do when it is all over. Sylvie replies that she does not know and Loki states that he doesn't either. He then tells her that they could figure out together.
When Sylvie prepares to face Alioth, she gives Ravonna's TemPad to Loki for him to return to the TVA along with Mobius. However, Loki refuses to leave Sylvie and states that he will stay with her. Mobius says goodbye to both of them, and playfully tells Sylvie that she is his favorite Loki. Sylvie tells Loki that she plans to wait for a branched timeline appear in the Void, so that Alioth will focus on it, and she will be able to enchant the creature while it is distracted. However, Loki realizes that they won't have time to wait for a branch. He puts a hand on her shoulder, signaling that he will attempt to create a distraction himself. Sylvie shakes her head telling him not to do it, but Loki runs and tries to use his magic to call for Alioth. It doesn't work and Loki realizes in horror that the creature is going after Sylvie while she is still struggling to enchant it. Sylvie is saved by Classic Loki, an elder Loki Variant that returns to help them and creates a perfect illusion of Asgard, making Sylvie question how he is even casting such illusion. Loki tells her that they are stronger than they imagine. While Alioth is distracted, Sylvie takes Loki's hand and tells him that they are going to enchant it together. Loki remembers her that he doesn't know how to do enchantments, but Sylvie states that he does because they are the same. Asgard's illusion is convincing enough to distract Alioth for a while, but Classic Loki ends up sacrificing himself as he becomes tired, which causes his illusion to disappear, resulting in him being devoured by the creature in the process. Alioth then moves towards the pair, but Loki and Sylvie manage to enchant it in time, causing the living storm to dissipate and a castle appears in the distance. Holding hands, they walk towards it together.
In the final episode of the season, Sylvie becomes anxious when she and Loki arrive at the castle. She tells him that she waited her entire life for this moment, and he gives her time before they enter. In the castle, Miss Minutes appears and welcomes them to the Citadel at the End of Time. She tells the pair that He Who Remains, who is the creator and ruler of the TVA, is really impressed that they got so far and is now making an offer. Miss Minutes explains that if Sylvie and Loki agree not to interfere in the TVA's work anymore, He Who Remains will not only reinsert them on the Sacred Timeline but also grant the duo anything they want. She tells Loki that he would be able to win the Battle of New York, kill Thanos, have the Infinity Gauntlet and the throne of Asgard, at the same time that Sylvie would finally have a normal life without being on the run. She also explains that Sylvie and Loki could be together on the Sacred Timeline if they agree, and have everything together. This last part makes them pause, questioning if this would really be possible. The pair becomes tempted by the offer, but they still refuse it. Sylvie replies that this would be as living in a fiction, not in reality, and Loki tells Miss Minutes that, from now on, they will decide their own destiny for themselves.
Searching in the castle, Sylvie and Loki finally encounter He Who Remains. He invites the pair to talk in his office and they enter an elevator. Inside, He Who Remains questions Sylvie and Loki if they are disappointed because he isn't what they expected. Loki is indeed surprised upon realizing that he is just a man, but Sylvie says that this just makes him easier to kill. She attempts to hit him with her machate several times, but He Who Remains is in possession of a modified TemPad which has a Time Twister function, so he uses it to escape from all her attacks. Inside his office, He Who Remains reveals that he had his TemPad loaded with everything he needs to avoid being murdered by the duo, because he knows what is going to happen in the future. To prove this, he gets some scripts which contain the description of events from past and future, and shows them the one which has their conversation from the last few minutes. He Who Remains explains that he knows and has seen everything, even things that the TVA doesn't know. He claims to know all they did during their journey on Lamentis and in the Void: the talks, scheming, and even their intimate moments as their shared sentimental look by the lake on Lamentis. He also reveals that he was expecting Sylvie and Loki to arrive and was the one who facilitated the way for them to get to the Citadel. Because he claims to have planned this meeting and to know about the future, Loki questions if everything so far was just part of a manipulation. Upon hearing this, He Who Remains turns to Sylvie and provokes them both by asking Sylvie if Loki is really trustworthy, implying that he is the real manipulator. Loki tells Sylvie to ignore this accusation, but He Who Remains continues by asking Sylvie if she is really able to trust anyone at all.
He Who Remains tells them that the TVA was created to stop his own Variants from destroying the Multiverse. The He Who Remains Variants were too ambitious and fought each other to conquer the new timelines discovered, causing the Multiversal War which almost destroyed all realities. The war ended thanks to He Who Remains pruning the timelines and weaponizing Alioth to eliminate his own Variants, bringing peace to the Multiverse. He Who Remains explains that Sylvie and Loki have two options to decide how they will proceed: they can either kill him, which will free the timeline and allow his innumerous Variants to start another Multiversal War, or they can take over his position, becoming the new rulers of the TVA. When questioned by Loki why he would let them rule the TVA in his place, He Who Remains reveals that he is actually too old and tired to continue his job and has been searching for a successor. He says that he finally found the right person to take his position, and that the person came to him in two. He Who Remains adds that if they agree to become his successors, they can lead the TVA in any way they want, including as benevolent rulers. While Loki is convinced by He Who Remains' story, Sylvie is not.
Not willing to forgive him for the erasure of her reality, Sylvie tells the He Who Remains that he is a horrible individual for treating people's lives like a game. He Who Remains replies that Sylvie is a hypocrite as she is herself a murderer and that all three of them are villains who committed terrible crimes, but by ruling the TVA they could do terrible things for a good cause. While this discussion is happening, the Sacred Timeline, which can be seen outside the windows of the office, starts branching off, making He Who Remains realize that they crossed the threshold in time. He tells Sylvie and Loki that he lied when he said he knew everything that was going to happen, in reality he only knew until a certain point and this point just passed. As He Who Remains no longer can predict how the next events will occur, he becomes excited with the unknown and tells the pair that it is up to them to decide his fate. He Who Remains explains that he doesn't see a really bad result for him, regardless of their decision; if Sylvie and Loki take over, his life's work will continue; if they kill him, his Variants will start a Multiversal War which will end with him as the ruler of the TVA again. To prove his honesty, He Who Remains removes the TemPad from his wrist and puts it on the table before Sylvie and Loki. Determined to complete her mission, upon He Who Remains him unprotected without his device, Sylvie wastes no time and tries to attack him, but she is surprised when Loki holds her arm to stop her.
Loki believes He Who Remains is telling the truth, but Sylvie states that the whole story is a lie. Loki says that being a liar himself recognizes that He Who Remains probably not lying and that they should think about the consequences before trying to kill him. Loki attempts to explain that if they eliminate He Who Remains, his position will be available for his Variants, which are probably worse than him, but Sylvie then says that Loki actually wants to replace He Who Remains to gain a throne. She feels betrayed and wonders if everything that happened between them until this point was just a long con. Sylvie's accusation visibly hurts Loki, as he realizes that she might never have trusted him despite of all the time they had together. Loki states that he has no intention of having a throne and that the real issue they should be thinking about involves the balance of the universe, but Sylvie asks him why they are not seeing things the same way. Loki replies that it is because Sylvie cannot trust others at the same time that he cannot be trusted. The duo starts to fight inside the office, as Loki tries to prevent Sylvie from killing He Who Remains and she tries to get Loki out of her way. Sylvie refuses to stop even with Loki begging her to think about the consequences of making the wrong choice. In her anger, she even dares Loki to kill her if he is so determined to have a throne, but Loki just becomes distressed and refuses to hurt her.
During the duel, Sylvie eventually seems to have found a chance to kill her target after hitting Loki with a magical energy blast. She immediately jumps to kill the He Who Remains wielding her machete, however, she actually had hit one of Loki's illusions, so the real Loki suddenly appears in front of her. Loki blocks her blade with his own body and drops his own, before reaching out to hold her upper arms. Still with her machete pressed against him, he starts to cry and says that he knows exactly what Sylvie is feeling now because he once was in her place and felt the same. Loki tells her that he does not wish neither to harm her nor have a throne, and the only thing he truly wants is for her to be okay. Sylvie is emotionally affected by Loki's words of genuine care for her. She drops her machete and then passionately kisses him. However, even so, Sylvie still hasn't given up on her intention to complete her mission. Because of this, when the couple breaks apart from their kiss, Sylvie looks at Loki and says that they are not the same, and then pushes him through a Time Door that she opened with the TemPad that was on He Who Remains' table.
Alone with He Who Remains, Sylvie has finally the chance to kill the one who created the organization that destroyed her life. She asks him if he won't beg for his own life, but He Who Remains is still amused after watching all the events that happened inside his office and is not worried about his own death. When Sylvie plunges her sword into his chest, he just smiles and then winks at her, saying that he will see her soon. Sylvie then contemplates what she did, realizing that killing He Who Remains did not bring the fulfillment she was looking for. Not having any satisfaction or relief from her kill, she falls to the ground beside his dead body, while the Sacred Timeline seen outside his office is shown to be splitting into innumerous branches.
Gallery
Trivia
References
↑ 1.0 1.1 "Sylvie Laufeydottir Overview". Marvel.com.
↑ "The Variant TVA File". Imgur (June 18, 2021).
↑ 4.0 4.1 4.2 4.3 4.4 4.5 "'Loki' Star Sophia Di Martino on Sylvie's Multiversal Consequences & Season 2 Hopes". TV Insider (July 19, 2021).
↑ 5.0 5.1 5.2 "'Loki': Sophia Di Martino on Fighting and Falling in Love". Marvel.com (July 7, 2021).
↑ 6.0 6.1 6.2 "Loki Director Kate Herron Breaks Down That MCU Miracle of a Finale". Esquire (July 16, 2021).
↑ 7.0 7.1 7.2 "'Loki': Sophia Di Martino on Completing Sylvie's Mission". Marvel.com (July 13, 2021).
↑ "Loki: Episode 6 Event Report". Marvel.com (July 14, 2021).
↑ 11.0 11.1 "Sylvie Actor Responds To Lady Loki & Enchantress Theories". ScreenRant (September 9, 2021).
↑ "Loki Director Addresses Whether Sylvie Is an Enchantress-Lady Loki Hybrid". The Direct (June 26, 2021).
↑ "'Loki' Breakout Sophia Di Martino on Loki's Coming Out and Tom Hiddleston's Famous Lecture". Variety (June 25, 2021).
↑ "Tom Hiddleston Teases Loki's Quest For Sylvie In Season 2". The Direct (August 5, 2021).
See also
External links