Wiki Targeted (Entertainment)
Play Sound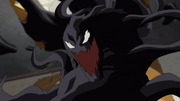 The Klyntar (better known as the Symbiotes) are a race of symbiotic alien beings featured in Marvel Comics. Among their appearances, the symbiotes are depicted as fluid-like organisms that attach themselves to hosts and create a fused organism for mutualistic coexistence. However, the race also has a tendency for evil, which stems from symbiotes that become corrupted and parasitic, creating extremely hostile individuals, including Venom and Carnage.
They have appeared in Ultimate Spider-Man, Guardians of the Galaxy, and Spider-Man.
Appearances
The show's incarnation of the Symbiote was created from Peter Parker's DNA. After it attaches to Harry Osborn, the villain Venom was created and sought to bind with Peter, but fails. It eventually found a suitable host in Flash Thompson (creating the hero Agent Venom).
Doctor Octopus later genetically modifies the Symbiote, creating a different symbiote known as Carnage. A shard of this symbiote splits off and attaches to Mary Jane Watson, creating the heroine Spider-Woman.
The alien forms of symbiotes first appear as both the Klyntar and their corrupted counterparts. When the Guardians of the Galaxy encounter corrupted symbiotes, they bind to some of the members before the Guardians were able to remove their presence. The team later finds a planet with the Klyntar fending off the corrupted symbiotes after getting caught in their turf war. Once the Klyntar explain their benevolent intentions, the Guardians agree to be their hosts, creating "Venomized" versions of Star-Lord, Gamora, Drax the Destroyer, Rocket Raccoon, and Groot. Later, a Carnage-like symbiote created by Thanos arrives on Earth and to free and attach itself to him, creating a "Carnage-ized" Thanos.
In Spider-Man, a Symbiote attaches to Eddie Brock, creating Venom.
Trivia