The TIE Fighter (also known as the TIE/LN Starfighter) are a series of Imperial combat fighters that appear in the Star Wars universe.
Used by the Galactic Empire, and later by the First Order, TIE fighters served as the Imperial Navy's primary attack forces and space patrol. Small and quick they can easily take out a single fighter or overpower a small vessel. However, since Imperial TIE fighters lack shielding and life support systems, they can become easy vulnerable targets against the enemy.
Description
Sienor Fleet Systems' TIE Fighter was the clearest symbol of the Imperial Navy's control of space. TIE Fighters were present aboard even the smallest Imperial cruisers and were stationed at starports and garrison bases across the galaxy, an ever-present reminder of the Empire's might.
TIE Fighters were short range ships whose most distinguishing feature is the pair of dominate solar array wings mounted on either side of a small, spherical command pod. The TIE Fighter presented a small target from the front and back, and its incredible maneuverability made it difficult to hit in combat.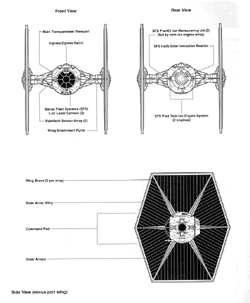 One TIE Fighter may be vulnerable to attack and may be easily destroyed, but for every TIE that is defeated, thousands more would rise up. In battle, an Imperial cruiser could arrive near an enemy ship and launch all its TIEs before Rebel gunners have a chance to respond. TIE Fighters were used for planetary and cruiser defense as well as in assaults against Rebels, pirate, and alien vessels. A secondary TIE mission profile involved escorting heavily armed TIE Bombers used in attacking planetary installations.
TIE Fighters had only sublight drives. This saved weight and increased speed and maneuverability, but it made TIEs dependent on a home base, such as a nearby planet or an Imperial Cruiser.
The TIEs maneuverability and speed came at great practical cost to the pilot inside. Imperial TIE Fighters had no shields, no secondary weapon or drive systems, minuscule fuel supplies and no on board life support system: pilots had to wear fully sealed flight suits with self-contained atmosphere converters. By eliminating all these systems, the TIE saved mass and made room for large generators, engines and weapons inside the compact hull.
The pilot is strapped into a simple high-gee shock couch and is protected by crash webbing and a repulsorlight anti-gravity field. The pilot's feet slip into control yokes: pressing or pulling on the yokes controls speed and maneuvering. The hand-control yoke affects precise maneuvering, targeting, navigation, and fire control. Auxiliary speed and maneuver controls were also located in the hand-controlled yoke, but attempting both flight and fire control through the hand-control unit is difficult.
The TIE had a pair of forward-mounted, fire-linked laser cannons. The laser generators were located in the undercarriage of the main pod and fed off the power generators and batteries.
Gallery
Trivia
The roaring engine sound for TIE Fighters was created by combining an elephant's scream with the noise of a car driving on a wet road.
The word TIE stands for Twin Ion Engine.
According to Dave Filoni, The design of the TIE Fighter for Star Wars Rebels was influenced by the original concept art made by Ralph McQuarrie as well possibly based on the original Kenner Toys that were in stores during the early 1980s. For instance the wing proportion is shorter and the command pod is larger comparing to the Fighter seen in the original trilogy.
In the Star Wars Rebels "The Call", modified TIE Fighters are also used by the Mining Guild to protect their refineries.
See Also
External Links