I was thinking for a scene in "The Jungle Book 2", Mowgli was being chased by five Striped Hyenas, they got him cornered and ready to attack him. As one of the hyenas lunged at him, coming to Mowgli's rescue was a Combai named "Kutta". He stood in front of Mowgli and managed to fight the Striped Hyenas off before Baloo and Bagheera arrived. He became their new friend, I've read that "Kutta" means "dog" in Hindi.
A Combai is a breed of dog that originate from India. https://en.wikipedia.org/wiki/Combai
https://www.google.com/search?q=Kombai+Dog&site=imghp&source=lnms&sa=X&ved=0ahUKEwjyhJau3YLeAhUQm1kKHUA3DJgQ_AUICSgA&biw=1280&bih=849&dpr=1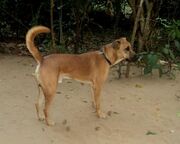 Community content is available under
CC-BY-SA
unless otherwise noted.