"Tarzan and the Leopard Men Rebellion" is the sixteenth episode of The Legend of Tarzan. It originally aired on UPN on September 20, 2001.
Synopsis
It all starts when Professor Porter was performing magic tricks. His next trick was to slice something in half and put it back together. Terk chooses Tantor but he was too scared and he goes out. He hears noises and warns everyone, except nobody believes him. Jane takes a look out there, stating she doesn't see anything. But the Leopard Men of Opar pop out and kidnap Jane Porter. 
Tarzan tries to save Jane but fails. Everyone faints, and the Leopard Men runs off with Jane.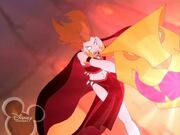 They are going on a trip to Opar, and on the way Queen La runs away from a leopard chasing her. Tarzan sees this and he attacks the leopard. Tarzan asks her the location of Jane, but Queen La replies saying she doesn't know. Then Tarzan told Queen La what happened and Queen La starts acting innocent. 
Then, back in Opar, a leopard dressed like a pharoah gives Jane Queen La's staff. The leopard men bows down and Jane transforms to a queen that looks somewhat like Queen La, aside from the hair and face. Her eyes started glowing.
Back in the forest, Queen La says she'll "help" Tarzan rescue Jane.
Queen La and Tarzan sneaks in the castle. Tarzan sees Jane and Queen La states she'll grab her staff while he stops the leopard men. La regains her staff and stops the leopard men.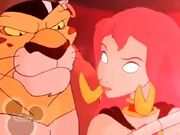 Tarzan leaves with an unconscious Jane, expressing his gratitude for Queen La for help save Jane. 
Queen La gets angry at her leopard men and destroys two of them. She then plans to punish the leopard man that dresses like a pharoah whom she addressed as Kaj. 
Tarzan brings Jane to the grass, and Jane wakes up after she fainted when she got pushed by La. Jane wonders where she is and Tarzan explained the rescuing. Jane plans to go back when her father stops her. Then Jane explains why the leopard men gave her the staff. La made the leopard men into what they are and they just want to go back to being normal people. Only the queen of Opar can free them so they kidnapped Jane to make her their queen. 
They send Tantor to distract La while they sneak up on her, but it failed.
Then Jane and Tarzan attack Queen La, and Tarzan takes La's staff. Tarzan tosses it to Jane and Jane becomes the queen temporarily and returns the leopard men to their original selves. La turns to dust and the castle collapse, but luckily Tarzan, Tantor, Jane, the Professor, and Terk escaped. 
Even La's staff broke but fixed its first half at the end.
Cast
Trivia
Jane's facial expression looked evil when her outfit changed. 
Jane's lips changed from red to purple during her Queen transformation. 
Queen La seemed to be scared of the leopard, but not scared of the Leopard Men.