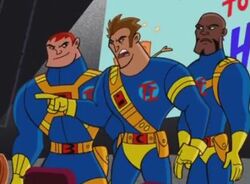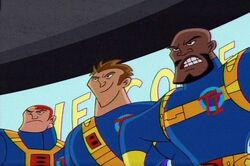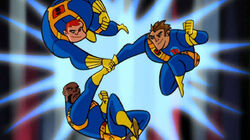 "Kim Possible, you think you're all that, but they are!"
―Dr. Drakken, after being caught by Team Impossible
Team Impossible is a team featured on Kim Possible. Team Impossible are: Dash DaMont, Crash Cranston, and Burn Berman.
History
They were the world's premier team of high-danger operatives, regularly being hired to carry out dangerous missions for a fee, until a request for their aid was accidentally sent to Kim Possible's newly-established web site as a result of a typo. As a result, Kim began her own heroic career, attracting more attention and interest from the public as she never actually charged for her services. The three, Burn Berman, Crash Cranston, and Dash DaMont were content for a while to let her have some fun, presumably expecting her to either burn out or be critically wounded at some point. However, it eventually went on for too long and cut their profits to nearly nothing, prompting Team Impossible to finally confront her and Ron about it and take matters into their own hands.
Having failed to convince Kim and Ron to "retire", Team Impossible instead chose a more indirect method of rendering Kim ineffective. Tracking down every member of the 'favor network' Kim used to travel the world, people she had saved in the past who subsequently gave her lifts to her next missions. Team Impossible relocated every person willing to give Kim a ride to their headquarters, giving them all an indefinite 'vacation' until Kim was finally forced to quit, even going to the effort of sending a virus to crash Wade's computer system when he tried to track them.
Fortunately, Kim and Ron were able to track them down by sending a fake request for their assistance to Team Impossible's web site, allowing them to travel directly to the base, followed by Wade who left his room for the first time since Kim and Ron had known him. Wade traps the men in a laser security grid just like during Kim and Ron's first mission, and Team Impossible had no clue what to do, as they felt it was "impossible," even for them. Kim, on the other, did know what to do and, just like her and Ron's first mission, she used her cheerleading skills to get her and all the guys out of it. After Kim saved them all, Team Impossible realized two things:
1.) "It was actually possible that Team Impossible could've been fried."
2.) The idea of a high school cheerleader (and her team) saving the world didn't seem so silly to them now.
Later, while at Bueno Nacho, Team Possible convinces Team Impossible to go "nonprofit" by joining Global Justice. Though Team Impossible were hesitant to take the offer, a subtle threat from Wade gets them to quickly consent—which Burn informs his teammates has some tax benefits. Subsequently, Kim enlists Burn's help in helping her father with his taxes. They have not been reported in activity since then.
Prior to their appearance in the show, they were mentioned in the "Past" segment of Kim Possible: A Sitch in Time. Mr. McHenry suggests using Team Impossible to help them turn off the lasers since this is what they trained for. He then went to access their website; however as he was forced to use his toe, Mr. McHenry mistyped when he did this, typing in Kim's website rather than Team Impossible's.
Community content is available under
CC-BY-SA
unless otherwise noted.