"We go where no humans have gone before."
―Loretta Callisto after discovering Tempestoro
Tempestoro is a planet that appears in the Disney Junior animated series, Miles from Tomorrowland. It is an snowy planet, inhabited by an advance humanoid race known as the Ariellians. Tempestoro was once uncharted and unknown, due to being hidden by a cloaking shield, until Loretta Callisto discovered it.
Background
The entire surface of Thempestoro is known to be cold and snowy. The Ariellian inhabitants are highly advance and love computers, but at the time distrusted outsiders. A long time ago, the Ariellians welcomed their first visitors, who attacked them for unknown reasons. They got rid of them and to make sure it would never happen again, the Ariellians designed a cloaking shield that would keep their world hidden from view.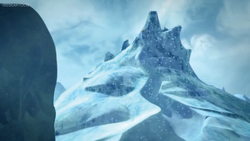 In that time, Tempestoro was uncharted and unknown to the universe until Loretta Callisto detected it using a computer program she designed. A program that could search for intelligent life in outer space by detecting computer code. Due to Tempestoro's cloaking shield, the T.T.A. was unable to detect a planet in the region where Loretta discovered it. However, that did not stop the Callistos from checking it out. Their investigation paid off when they penetrated Tempestoro's cloaking shield and entered the planet's atmosphere. The first Ariellian to meet the Callistos was Mirandos, who took part in an attack to scare the family away. But when she got stuck in the snow and was helped by Miles and Loretta, the Ariellian's view on outsiders changed. Mirandos' father, Prosperos, willingly brought their planet out of hiding and welcomed the Callistos to explore.
Trivia