Spider-Man: No Way Home Trailer Dropped - The Loop
Play Sound
      ''What wouldst thou know, my Queen?''




The following article you are about to observe contains spoilers that have yet to be seen worldwide. If you choose to continue, the secrets you will learn cannot be forgotten.
The Ten Rings are a terrorist group formerly led by Xu Wenwu and currently led by Xialing.
Appearances
Iron Man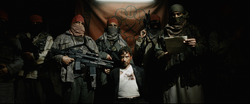 Tony Stark travels to Afghanistan to present his Jericho missile to the Armed Forces of the USA, after presenting the convoy carrying him was attacked by a mysterious group, known as The Ten Rings. The group captured Stark and made a video for Obadiah Stane informing that he should pay more to see Stark dead.
Meanwhile, the terrorists force Tony and Ho Yinsen to create missiles, but these while working on another project that would liberate. One of the terrorists suspected their plans and sends his underlings to see that they are doing the captives, then the escaping begins, to gain time Yinsen grab a gun and chases his captors, the armor is energized and Tony escapes but his friend did not.
Days after his escape, Tony learns that the Ten Rings operating in the village of his deceased friend, then go to Gulmira and confronts, being victorious. Before returnig home, Tony destroys all weapons property of Stark Industries.
Days later, the group found the remains of the first armor Tony, Raza reported this to Stane. Stane comes to camp and see the armor, Raza says he will free the armor but should provide him with an army of Iron Men, Stane refused and paralyzed the terrorist. Stane takes the armor and before leaving his men kill all the terrorists.
Iron Man 2
One year later, a Ten Rings Agent gave Ivan Vanko an ID and travel documents so that the Russian could travel to Monaco and take revenge on Tony.
Years later, after Aldrich Killian passed his experiments as terrorist attacks made by the Ten Rings, Slattery was arrested for impersonating the Mandarin. Thus, the Ten Rings in this movie are not the real Ten Rings, but impostors stealing the Ten Rings' name.
A furious Mandarin sends one of his agents to capture Slattery and thus recover his name. Slattery said that the terrorist organization is not real but Norriss said that it is real and it will take someone who wants to meet him in person.
It's shown that Hank Pym fought the Ten Rings back when he was active as Ant-Man. In addition, one of the people interested in Pym Particles is a member of the Ten Rings. Later, he goes along with a member of HYDRA to buy the Yellow Jacket suit from Darren Cross, but at the Pym Technologies facility he is confronted by Hank Pym, Hope van Dyne and Scott Lang. This member of the Ten Rings eventually dies when the building is destroyed.
The Ten Rings appear in this movie.
Members
Xu Wenwu (Former Leader)
Xialing (Current Leader)
Jackson Norriss
Raza
Abu Bakar
Ahmed
Omar
Gallery