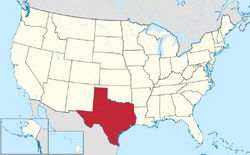 Texas is the second most populous and the second most extensive of the 50 states in the United States of America, and the most extensive state of the 48 contiguous United States. The name, based on the Caddo word tejas (meaning "friends" or "allies"), was applied by the Spanish to the Caddo themselves and to the region of their settlement in Eastern Texas. Located in the South Central United States, Texas shares an international border with the Mexican states of Chihuahua, Coahuila, Nuevo León, and Tamaulipas to the south, and borders the US states of New Mexico to the west, Oklahoma to the north, Arkansas to the northeast, and Louisiana to the east. Texas has an area of 268,820 square miles (696,200 square kilometers), and a growing population of 25.7 million residents
Houston is the largest city in Texas and the fourth-largest in the United States, while San Antonio is the second largest in the state and seventh largest in the United States. Dallas–Fort Worth and Greater Houston are the fourth and fifth largest United States metropolitan areas, respectively. Other major cities include El Paso and Austin — the state capital. Texas is nicknamed the Lone Star State to signify Texas as a former independent republic and as a reminder of the state's struggle for independence from Mexico. The "Lone Star" can be found on the Texas state flag and on the Texas state seal.
Films and shows set in Texas
Cities and Locations
Austin
San Antonio
Fort Worth
Waco
Galveston
Corpus Cristi
Actors/Actresses and Crew born in Texas
Gallery
Community content is available under
CC-BY-SA
unless otherwise noted.