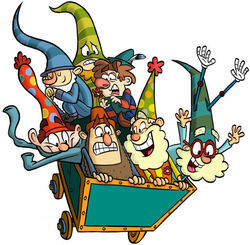 Template:Infobox televisionThe 7D is an upcoming Disney series centering around The Seven Dwarfs from Snow White and the Seven Dwarfs. The series is set to premiere on July 7, 2014 on Disney XD.
Development
Accessing a classic fairytale and finding new ways to bring it to audiences, Disney Television Animation has begun production on the new animated series "The 7D," a comedic take on the world of Seven Dwarfs, this time in a contemporary storybook world designed for viewers age 2-7 and their families. The series was previously slated to debut in 2014 on Disney Junior channels and programming blocks around the world. The series was redesigned for all ages set to appear on all three Disney channels but has yet to receive a new future release date. The announcement was made June 2012 by Nancy Kanter, Senior Vice President, Original Programming and General Manager, Disney Junior Worldwide.
The executive producer is Emmy Award-winning Tom Ruegger ("Animaniacs"). Alfred Gimeno ("Tiny Toon Adventures") is the director and Sherri Stoner ("Pinky and the Brain") is the story editor. The characters are designed by Noah Z. Jones ("Fish Hooks").
Synopsis
The series takes place in the whimsical world of Jollywood, where Queen Delightful relies on the 7D – Happy, Bashful, Sleepy, Sneezy, Dopey, Grumpy and Doc – to keep the kingdom in order. Standing in their way are two laughably evil villains, Grim and Hildy Gloom, who plot to take over the kingdom by stealing the magical jewels in the 7D's mine. With seven very distinct personalities, the 7D always manage to save the day and send Grim and Hildy running back to their evil lair to try another day.
Voice Cast
Dwarves
Allies
Villains
Gallery
Community content is available under
CC-BY-SA
unless otherwise noted.