"The Amulet and the Anthem" is the seventeenth episode of the Disney Junior animated series, Sofia the First. It premiered on September 13, 2013.
Plot
Sofia is chosen to be the Enchancian Anthem Singer at the annual Harvest Festival. Before she knows it, she gets interviewed, her portrait painted, and showered with gifts. She soon ends up letting all this paparazzi go to her head to the point where she gloats about it to Ruby and Jade in a way that hurts their feelings and makes them storm off in a huff. Afterwards, Sofia's amulet glows in a dark and ominous way. Suddenly, during rehearsal, Sofia starts croaking like a frog. Clover is convinced that Sofia has been cursed, so she decides to go and see Cedric about it. However, she bumps into Baileywick in a way that leads to him and Amber almost finding out but Clover intervienes with a bullfrog that scares them away.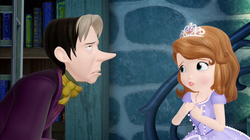 Cedric jumps for joy when Sofia tells him she's cursed. When he explains that her amulet is the cause, Sofia at first is surprised because she thought the amulet just gives her magical powers until Cedric reminds her about the Amulet's rule and explains it's full meaning: When the current bearer of the Amulet of Avalor does a very good deed, it will bless it's bearer with a magical power but if the current bearer does a very bad deed, the amulet will place a curse on the bearer as punishment. Sofia can't recall doing something bad but she knows Cedric is telling the truth because it's the only explanation for why she's cursed. Cedric couldn't care less for what she did and he attempts to persuade her into giving him her amulet so he can take a look at it but Sofia declines due to the promise she made to her father and hopes Cedric has a spell in one of his books. As expected, he tells her he doesn't and makes another request but again Sofia declines. Cedric decides to leave it at that. However it doesn't bother him because he plans to use Sofia's desperation to his advantage. Leaving her with her misery, she'll become desperate enough to give him the amulet.
After getting a good night's sleep, Clover proposes that he and Sofia go over what she did in hopes of figuring out why she was suddenly cursed. Sofia goes over everything but is unable to figure out what she did wrong. Just then they overhear Amber boasting to her friends about the time she sang the anthem, which makes Sofia finally realize the reason she's cursed. She remembers gloating about being chosen to sing at the anthem which hurt Jade and Ruby's feelings because at the time they were already feeling bad about not getting chosen to be the singers, which must be the reason the amulet placed a curse on her.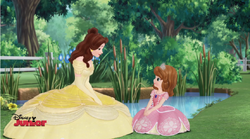 Before the festival, Sofia apologizes to Ruby and Jade for her bragging and the three make up. Sofia rushes off for the stage only to run into Cedric who makes another play for the Amulet. Sofia happily tells him that she figured out what happened and broke the curse only to find out she is still croaking which pleases Cedric. Seeing as the festival is going to start soon he agrees to lift the curse if she hands over the amulet. Sofia turns him down once more. Cedric backs off and says he'll wait by the stage but also warns her to hurry as time is running out for her. Sofia is in trouble now, especially since it's almost time for her to sing.
Before Sofia knows it, her amulet summons Belle, who tells Sofia that the reason she is still cursed despite her apology is because she still hasn't made things right. She then tells her about the Beast and explains what she has to do in order to break the curse: Since the amulet cursed her for saying things that made her friends feel worse about not being chosen to be the singer, she must do something that will make them feel better. So Sofia offers to let her friends sing the anthem which breaks the curse. Jade and Ruby invite Sofia to sing with them, which she declines, yet Jade and Ruby insist and drag their friend on stage and the trio sing together.
Cast
Songs
Home Video Release
Trivia
This is the first episode where Sofia wears a dress of a different color. This dress has the same pattern and design as her original lilac dress.
This is the first episode Cedric displays his true evil side rather than his bumbling silliness; unfortunately Sofia didn't notice because she was too busy trying to break the curse.
This is the second episode to feature two songs, the first episode was "Just One of the Princes".
It is revealed in this episode that when the current bearer of the Amulet of Avalor does a bad deed that's something really bad, it punishes the bad deed by putting a curse on it's bearer.
This is the first episode where Sofia's magical amulet unleashes a curse.
Belle is the third Disney Princess that assists Sofia.
This is the first episode where Ruby and Jade sing (aside from their rap in "The Big Sleepover").
The Enchancia Anthem bears a similarity to "America the Beautiful", "Amhrán na bhFiann/The Soldiers' Song", "Wilhelmus van Nassouwe" and "Hail to Bermuda".
This is the first episode where Sofia is shown being vain (which is very unlike her), the result being the croaking curse.
This is the first episode to show a clip from a Disney film.
The appearance of the Beast marks the first and only appearance of a Disney Prince on the show.
This is the third episode where Jade and Ruby are curtsying. The first two were "The Big Sleepover," and "Baileywick's Day Off."
Clover mentions The Princess and the Frog and The Swan Princess (originally called Swan Lake.)
This the first episode where Amber and the other princesses who attend Royal Prep enter the Enchancian village.
The vision that Belle shows in the water is a scene from the song Human Again, which was originally a deleted song but restored for the 2002 Special Edition of Beauty and the Beast.
This is the fourth time Sofia visits the Village of Dunwiddie.
Jade and Ruby almost discover Sofia's secret when they hear her croaking like a frog because of the curse the Amulet of Avalor put on her, but as usual Sofia's quick thinking gets it shrugged off as nothing.
Cedric shows that while he knows that Sofia's amulet is enchanted, there are things he doesn't know about it, like its ability to summon Princesses.
Sofia is the first to be cursed by the Amulet of Avalor's magic. This is also the first time she's been cursed.
Moral: Actions speak louder than words do especially when it comes to setting things right.
Lutiano made references to newspapers during Sofia's interviews:

The Enchancia Times (The Times)
The Dunwiddie Post (The Huffington Post)
Enchancia Today (USA Today)
Gallery
See Also
v - e - d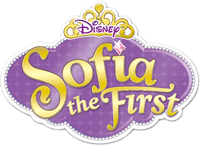 Characters
Princess Sofia • Queen Miranda • King Roland II • Prince James • Princess Amber • Princess Hildegard • Cedric the Sorcerer • Wormwood • Baileywick • Robin • Mia • Clover • Whatnaught • Goodwyn the Great • Winifred the Wise • Jade • Ruby Hanshaw • Princess Clio • Prince Zandar • Princess Jun • Prince Hugo • Minimus • Princess Vivian • Crackle • King Marcus and Queen Cecily • Trolls• Lucinda • Prince Jin • Magic Carpet • Jasper • Prince Khalid • Meg and Peg • Madam Ubetcha • Prince Desmond • Miss Nettle • Sir Gillium • Professor Popov • Helen Hanshaw • Oona • Queen Emmaline • Cora • Plank • Aunt Tilly • Wilbur the Wombeast • Sven • Emperor Quon • Empress Lin-Lin • Rex • Prince Axel • King Garrick • Electra • Vaughan and Vance • Marla • Sir Bartleby • Sir Maxwell • Sir Finnegan • Gwen • Chef Andre • Sofia the Worst • Lady Joy • Lord Gilbert • Wu-Chang • Jade Jaguar • Sir Dax • Boo • Princess Lani • Mamanu • Kamea and Halia • Praline • Freedo • Princess Zooey • Princess Astrid • Slickwell • Greylock the Grand • Princess Ivy • Dragons of Enchancia • Winter • Whiskers • Glacia the Ice Witch • Elliot, Amy, and Kurt • Tizzy • Master Erwin • Bryce Twigley • Button, Benngee, and Brody • Mossy • Carol of the Arrow • Jane • Princess Kari • Miss Elodie • Fluke • Slim • Shelly • Flip • Mantacorn • Onyx and Opal • Wendell Fidget • Mrs. Fidget • Saffron • Muck, Gunk, and Grime • Spruce • Ballerina • Mazzimo • Prince Roderick • Gavin • Kazeem • Sergeant Fizz • King Habib and Queen Farnaz • Chief Gnuckles • Flinch • Grotta • Elfonso • Elfred • Milo the Snake • Prince Derek • Sir Henley • King Henrik • Cordelia the Conjuror • Calista • Morgana • Crispy • Barley • Sassofras • Professor Zacharias Fleeber • Grand Mum • Gemina and Argus • Count Barnstorm • Raja Vijay • Sir Oliver • Sir Jaxon • Willawing • Kai • Princess Charlotte • Morris • Zinessa • King Philip and Queen Everly • Lily • Indigo • Marty and Maple • Mandy • Grimtrix • Wriggley, Pumpkin, and Chester • Skye • Piccolo • Baron Von Rocha • Professor Pecullian • Sea Monsters • Malachite and Fig • Omar • Prisma • Azurine • Orion • Vega • Chrysta • Sizzle • Cinder • Singe • Mare of the Mist • King Roland I • Ms. Candoo • Roma • Giggling Goblin • Captain Quivers • Twitch • Vor • Princess Cassandra • Sphinx • Nerissa


Elena of Avalor: Princess Elena • Princess Isabel • Francisco • Luisa • Shuriki • Alacazar • Zuzo • Mateo • Migs, Luna, and Skylar • Rafa • Chancellor Esteban • Armando • King Raul and Queen Lucia • Naomi Turner
Guest Characters: Flora, Fauna, and Merryweather • Cinderella • Jasmine • Magic Carpet • Belle • Ariel • Aurora • Snow White • Mulan • Rapunzel • Tiana • Merida • Olaf • Merlin • Archimedes