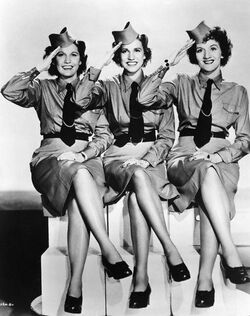 The Andrews Sisters were a highly successful close harmony singing group of the swing and boogie-woogie eras. The group consisted of three sisters: contralto LaVerne Sophia Andrews (July 6, 1911 - May 8, 1967), soprano Maxene Angelyn Andrews (January 3, 1916 - October 21, 1995), and mezzo-soprano Patricia Marie "Patty" Andrews (February 16, 1918 - January 30, 2013).
The sisters have sold an estimated 80 million records. Their 1941 hit "Boogie Woogie Bugle Boy" can be considered an early example of jump blues. Other songs closely associated with them are, "Bei Mir Bist Du Schön (Means That You're Grand)", "Beer Barrel Polka (Roll Out the Barrel)", "Beat Me Daddy, Eight to the Bar", "Don't Sit Under the Apple Tree (With Anyone Else but Me)", "Rum and Coca Cola", "Ferryboat Serenade", "I Can Dream, Can't I", and "I Wanna Be Loved". The Andrews Sisters' harmonies and songs are still influential today, and have been copied and recorded by entertainers such as Patti Page, Bette Midler, Christina Aguilera, and Pentatonix. The girls were also inductees to the Vocal Group Hall of Fame and the Minnesota Rock/Country Hall of Fame.
Their only work for Disney was the narrators singing in the "Johnny Fedora and Alice Blue Bonnet" segment of Make Mine Music and the "Little Toot" segment of Melody Time. Their rendition of "Oh Johnny Oh, Johnny Oh!" was heard in The Chronicles of Narnia: The Lion, the Witch and the Wardrobe, and "Straighten Up and Fly Right", "Hold Tight (Want Some Seafood, Mama)" and "Winter Wonderland" was featured as DTV music videos on The Disney Channel. Their song "Pistol Packin' Mama" was used in the Agent Carter episode, The Atomic Job.
LaVerne was a namesake for a gargoyle in The Hunchback of Notre Dame.
Gallery