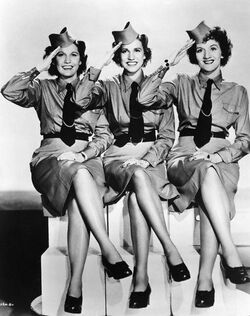 The Andrews Sisters were a highly successful close harmony singing group of the swing and boogie-woogie eras. The group consisted of three sisters: contralto LaVerne Sophia Andrews (July 6, 1911 - May 8, 1967), soprano Maxene Angelyn Andrews (January 3, 1916 - October 21, 1995), and mezzo-soprano Patricia Marie "Patty" Andrews (February 16, 1918 - January 30, 2013).
Their only work for Disney was the narrators singing in the "Johnny Fedora and Alice Blue Bonnet" segment of Make Mine Music and the "Little Toot" segment of Melody Time. Their rendition of "Oh Johnny Oh, Johnny Oh!" was heard in The Chronicles of Narnia: The Lion, the Witch and the Wardrobe, and "Straighten Up and Fly Right", "Hold Tight (Want Some Seafood, Mama)" and "Winter Wonderland" was featured as DTV music videos on The Disney Channel. Their song "Pistol Packin' Mama" was used in the Agent Carter episode, The Atomic Job.
LaVerne was a namesake for a gargoyle in The Hunchback of Notre Dame.
Gallery
Community content is available under
CC-BY-SA
unless otherwise noted.