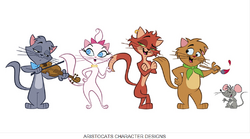 The Aristocats: The Animated Series was a spin-off of The Aristocats. The show was originally created in 2000 but took a break in 2001 but restarted in 2003 and production was cancelled in 2006 thanks to Pixar's intervention since it was being purchased by Disney. The show was created to reinvent the characters Marie, Toulouse, and Berlioz, and turn them into teenagers. Other characters created to expand the cast were Delancey, who would have been a main character as well, and "The Street Cats." The show was cancelled. It was originally supposed going to have a release in 2002 but was soon rescheduled to have a late 2006 or 2007 release and was supposed to be rated TV-Y.
Gallery
This gallery contains some of the sketches that were designed by Glen Hanson, the creator of Monster High.
Community content is available under
CC-BY-SA
unless otherwise noted.