The Art and Making of Artemis Fowl is a guidebook for the Artemis Fowl film release. It was written by Brian Sibley, with a forward by the film's director, Kenneth Branagh, and an introduction by Artemis Fowl series author Eoin Colfer. It was released on April 14, 2020 by Disney Editions.
Summary
Dive into the magical world originally created by Eoin Colfer in the beloved book series. From page to screen, travel behind the scenes to discover the myriad layers of movie-making. Casting, set design and construction, costuming, hair and makeup design, and high-tech gadgetry are all explored as the filmmakers bring Fowl Manor and Haven City to life.
Author description
Brian Sibley is the author of more than a hundred hours of radio drama and has written and presented hundreds of radio documentaries, features, and weekly programs. He is widely known as the author of many movie making of books, including those for the Harry Potter series and The Lord of the Rings and The Hobbit trilogies; The Disney Studio Story and Snow White and the Seven Dwarfs: The Making of the Movie Classic (with Richard Holliss); and Mary Poppins: Anything Can Happen if You Let It (with Michael Lassell).
v - e - d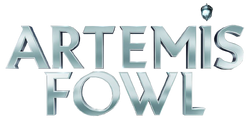 Media
Films:
Artemis Fowl
Music: Artemis Fowl (soundtrack)
Books: Artemis Fowl • Artemis Fowl: The Arctic Incident • Artemis Fowl: The Eternity Code • Artemis Fowl: The Opal Deception • Artemis Fowl: The Lost Colony • Artemis Fowl: The Time Paradox • Artemis Fowl: The Atlantis Complex • Artemis Fowl: The Last Guardian • The Art and Making of Artemis Fowl
Community content is available under
CC-BY-SA
unless otherwise noted.