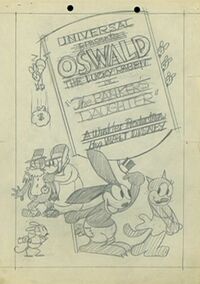 The Banker's Daughter is an
Oswald the Lucky Rabbit
short released on November 28, 1927. This is also the debut of
Ortensia
, known at this point as "Sadie". In fact, she's the titular character! Unfortunately, this is one of several Oswald shorts that are "lost," meaning this cartoon is missing and/or likely destroyed. The poster to the right is the only proof in the world that this short even existed
Plot
Oswald works for a rich banker as his limosine driver. Unfortunately, he gets fired for flirting with his daghter, Sadie.
However, soon afterwards, the banker's bank is robbed by Pete. Oswald eventually stops him and presumably gets his job back.
External link
The Banker's Daughter on The Encyclopedia of Disney Animated Shorts.