"The Battle of Meridian Plains" is the twenty-third episode of W.I.T.C.H. It first aired July 25, 2005.
Summary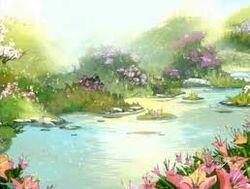 Lord Cedric blocks the village's water source, in the hopes that thirsty Meridianites will break down and reveal the location of the rebels' secret hideout. There's fresh water in a nearby lake but it's inhabited by an elusive creature called the Kaithim, which the Guardians have to battle.
Cedric discovers the entrance to the Infinite City, just before Vathek is able to seal his comrades inside. Aldarn, separated from Caleb and with limited food before the City is inevitably overtaken, makes a tactical decision to charge the Castle.
Caleb and the Guardians join the premature attack but the uprising fails as Elyon Brown uses her intense power. Many rebels, including Aldarn and Caleb's father, are thrown in Phobos's dungeons.
In the B-story, Hay Lin is having a nightmare about being Elyon and trapped in a throne.
Trivia
During the battle with the Kaithim,

Will

is briefly visible in one shot even though she wasn't supposed to be present as she was at the Castle at the time.