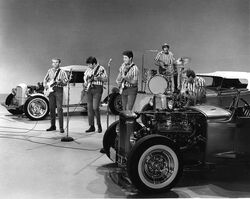 The Beach Boys are an American rock band, formed in Hawthorne, California in 1961. The group's original lineup consisted of brothers Brian, Dennis, and Carl Wilson, their cousin Mike Love, and friend Al Jardine.
They appeared in The Monkey's Uncle (1965), in which they perform "The Monkey's Uncle" with Annette Funicello. They also authored a song called "Disney Girls (1957)" which included references to the parks. In addition, many of their songs were made into music videos on DTV, which was shown on The Disney Channel.
Founding member Brian Wilson released two albums on Walt Disney Records: Brian Wilson Reimagines Gershwin in 2010 and In the Key of Disney in 2011, before returning to Capitol Records.
Appearances in Disney productions
Film
Television
In the 1980s, several of the Beach Boys' songs have been made into music videos, set to footage of classic Disney animation, on DTV, which ran on The Disney Channel for many years. They include: "Be True To Your School", "California Girls", "Catch a Wave", "Dance, Dance, Dance", "Good Vibrations", "I Get Around", "The Man With All the Toys", "Papa Oom Mow Mow", and "When I Grow Up (To Be a Man)". Several of the aforementioned videos have also been included in later DTV compilation videos, including "Pop & Rock" ("Dance, Dance, Dance"), "Golden Oldies" ("When I Grow Up (To Be a Man)"), and "Groovin' For a '60s Afternoon" ("Catch a Wave", "I Get Around", "Be True To Your School", and "California Girls").

Two other songs, "Fun, Fun, Fun" and "Little Deuce Coupe", have been released as videos in a follow-up series, DTV². One more song, "Surfin' Safari", has been made into a video on yet another series, Re-Micks.

Then-Beach Boys members Al Jardine, Matt Jardine, Bruce Johnston, Mike Love, and Carl Wilson appeared in the season 6 episode of Home Improvement, "The Karate Kid Returns". In reference to Beach Boys Brian, Carl, and Dennis Wilson, the band is referred to in-universe as next-door neighbor Wilson's cousins.
Theme parks
Trivia
Gallery
Community content is available under
CC-BY-SA
unless otherwise noted.