"The Big Job" is an episode of Wander Over Yonder.
Plot
Wander and Sylvia join the Insurgent Generals, a rebel team set out to stop Lord Hater's latest scheme. While Sylvia's job is fighting, Wander's is to guard the door so no one enters. This is proven hard though, when he ends up leaving it open for others to come in.
End Credits
Lord Hater does a dance and then gets in his tub, but he gets stuck as it's basically ice now, during the logo, he screams "NOOOOO!"
Background Information
Commander Peepers does not appear in this episode.
The original storyboard and production arts depict Wander with his own profile description like the others, but that does not appear in the episode itself, possibly to save time.
However, Craig McCracken posted the profile descriptions early on his Tumblr a few days before this episode aired, and Wander's was included, with the same description, "Not really on the team". The profile has a promotional image of Wander in it, and was likely put there to make Wander fit in with the rest of the characters.
Trivia
Continuity
None
Errors
In the first part of the episode, the front door to the building opens without the need of a key, while later on a key is needed to open it.
When Sylvia beats up the German Watchdog Scientist and says "Smash and Sass.", Wander's last finger is missing.
The Watchdog Janitor and the German Watchdog Scientist don't know who Wander is, though they should since Watchdogs are loyal to Lord Hater.
When Wander first tries to get the Scientist out of the building, his pupils are different sizes.
The bomb is activated before the egg hits it.
Allusions
The team's name, the Insurgent Generals is a pun on the term "Surgeon General".
The A-Team - General Outrage says, "I have great enjoyment when a plan works out accordingly", in reference to Hannibal's line "I love it when a plan comes together." The whole team itself is actually also a pun on the A-Team.
The German Watchdog Scientist may be an allusion to another Disney character named Ludwig Von Drake.
Production Information
This episode was confirmed on Craig McCracken's Twitter account.[1]
This episode was made available to verified Watch Disney XD app users and Disney XD On Demand Users starting November 12, 2014.
Eddie Trigueros posted the entire storyboard for the episode on November 27th, 2014. The credits animatic was originally supposed to happen right at the end of the episode, and Wander's reaction in which he deflates was supposed to be much longer than it ended up in the episode.[2]
Spain dub trivia

Disney XD Spain calls this episode "La Gran Misión". (The Grand Mission)
All onscreen text is still in English. None of it is subtitled, except for the title card which still says "the BIG JOB", but is subtitled "La gran misión".
International premieres
November 22, 2014 (Disney XD Canada)
March 23, 2015 (Disney XD UK and Ireland)
TBA (Spanish-speaking country)
Cast
References
Gallery
v - e - d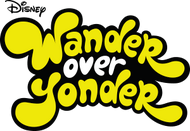 Organizations/Groups
Lord Hater's Army • Insurgent Generals • Wander and Sylvia • Bounty Hunters • Lord Dominator's Army • Galactic Villain Leaderboard • Emperor Awesome's Army
Locations
Lord Hater's Spaceship • Binglebopolopolis • Doomstone • Baaaaa-halla • Phunulon • Ballzeria • Buster • Doom Arena • Planet Ziziks • Flendar • Lord Dominatior's Spaceship • Arachnomorph Homeworld
Community content is available under
CC-BY-SA
unless otherwise noted.