"The Bot" is an episode of Wander Over Yonder.
Plot
Wander adopts a damaged Dominator bot, who he names Beep Boop, as his new travel buddy after it crashes on a vacation planet.
Episode Summary
Lord Dominator yells for her Dominator Probes to get to where she is. She complains about how her army is running low on Volcanium X, a substance used to repair damaged parts of her ship. She asks a probe to come forward to show her the planet he found, and Lord Dominator finds it useless. She then calls Bot 13, who shows her some of the best planets. She then congratulates Bot 13, and then kills Bot 42 for disappointing her. Once she sent the probes besides Probe 13 back to work, Probe 13 went out in search of more planets. He finds one with tons of Volcanium X in it, and goes to scout it. But the bot crashes into Wander's kite, and smashes into the sand. Wander felt bad for it, and then he asked him his name. The bot beeps, and Wander names him Beep Boop. Him and Beep Boop then go for a walk. Beep Boop scans the area for Volcanium X, and when he sees a guy running a game where you're trying to win it, he goes and tries to win it with Wander. However, what he didn't know was that the guy hid the Volcanium is his shirt. Beep Boop was dragged away by Wander, who bought him ice cream and taught him that ice cream is more than just a good meal on a hot day, but it was the smiles of children, and that the secret ingredient was love. After Wander was done explaining, Beep Boop spotted items made of Volcanium X and tried to get it, but Wander stopped him by saying they should try on everything. Beep Boop was skeptical, but they did anyway. They then did all sorts of crazy stuff like roller coasters, treasure hunting, and other stuff. Later, Beep Boop was sitting with Wander, and Beep Boop was given the pictures that they had taken earlier, and the Volcanium X. When Sylvia saw Wander and Beep Boop, she separated the two, and Beep Boop repaired himself and tried to fly off back to Lord Dominator's ship. Wander tried to stop him, but Sylvia came and pulled Wander away, and Beep Boop left. When he got back to Dominator's ship, she was asking Bot 13 to report. When Beep Boop came forward, he showed her the planet, and she was super happy. However, when he was asked to show her the coordinates, he remembered Wander and refused. When Dominator kept calling him "Bot 13", he said, "I am Beep Boop." He deleted the data, and a very upset Lord Dominator punched him to the wall. He was then kicked off the ship like Bot 42, and as he was burning, he pulled out the pictures he was given and said, "I am Beep Boop" one last time. Wander was still sitting there sadly waiting, and when a shooting star came, he wished Beep Boop luck. Then, the pictures were shown floating around.
End Credits
Waves wash away the sand drawing of Wander and Beep Boop that they made earlier in the episode.
Trivia
This is the first time a character dies on the show, not counting Peepers' plan in "The Brainstorm", or Entozoa in "The Fancy Party".
This is also the first episode to feature Dominator without Lord Hater and Peepers.
Cast
Gallery
v - e - d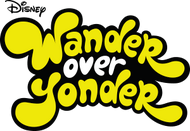 Organizations/Groups
Lord Hater's Army • Insurgent Generals • Wander and Sylvia • Bounty Hunters • Lord Dominator's Army • Galactic Villain Leaderboard • Emperor Awesome's Army
Locations
Lord Hater's Spaceship • Binglebopolopolis • Doomstone • Baaaaa-halla • Phunulon • Ballzeria • Buster • Doom Arena • Planet Ziziks • Flendar • Lord Dominatior's Spaceship • Arachnomorph Homeworld
Community content is available under
CC-BY-SA
unless otherwise noted.