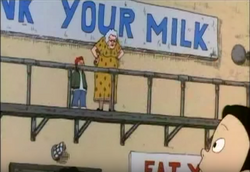 "The Break In" is the first segment of the first episode of Recess.
Synopsis
The gang grows tired of the bad food they've been treated to for years, inspiring T.J. to try to break into the school's stash of good food. He ends up being caught by Ms. Finster, who punishes him without recess.
Seeing T.J. in distress inspires the gang to try to break him out without being caught by Ms. Finster or Randall, the school snitch, and turn to Guru Kid for advice. He tells them to consider the bumblebee; alone they are useless, but together they enjoy bountiful amounts of honey. This confuses the gang, until Mikey explains to them that he simply means they can't do it alone, and need to find assistance.
They first turn to the Diggers, asking if they can help dig T.J. out of detention, to which they agree to, but end up getting into conflict between one another. Realizing this, the gang moves on to get help from the Swinger, in hopes that she might help meet their cause, but, while swinging, she flies forward, injuring herself.
Seeing no other option, they turn to the Kindergartners, trying to reason with them, fleeing after they threaten to eat the gang. Finally, they turn to King Bob, ruler of the playground, who refuses to help, calling T.J. "some dumb kid". Ashley, offended, tries to reason with Bob, claiming that everyone's been called "some dumb kid" some time in their life, and that T.J.'s just as important as anyone. Bob considers this, and calls everyone together to get him out.
Eventually, the group succeeds, with T.J. finding his way out before the group arrives. Ms. Finster finds the group inside the classroom, letting them know that recess has ended, and class was back in session. After school, the gang apologizes to T.J. for not getting to him in time. He forgives them, saying they'd done something nobody else would by trying to save him.
The Diggers finally finish digging, finding themselves at a schoolyard in China, as they are chased away by kindergartners.
Trivia
At the end of the episode, Vince mentions an "upside down girl" not seen in the episode.
Gus Griswald makes his first appearance in the next episode.
Home video releases
DVD
Community content is available under
CC-BY-SA
unless otherwise noted.